Workout Finisher And Abs Superset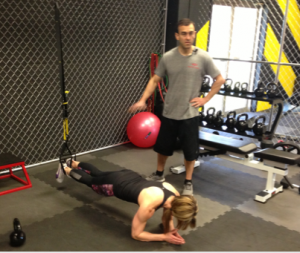 I can feel the pain coming on.
It's been just over 7 hours since I filmed an awesome new follow-along upper body workout that went like this:
1A) Pull-ups
1B) DB Chest Presses with a 3-second lowering phase
2A) 1 & 1/2 rep DB Incline Presses
2B) TRX Wide Grip Rows
2C) DB Shoulder Presses
2D) DB Shrugs
Then we finished with a TRX Beach Body muscle building tri-set. Yeah buddy!
And I can already feel my pecs starting to accumulate extreme muscle soreness.
After all, that wasn't the only workout I filmed today. While you were still probably sleeping, I was already going through 3 rounds of this punishing finisher.
1A) Burpees – 30 seconds
1B) Goblet Squats – 30 seconds
1C) Burpees – 30 seconds
– Rest 1 minute and repeat for three "lung-bursting" rounds.
Warning: That workout is clearly ADVANCED and not for beginners.
But if you can handle it, then add this Free Workout Finisher to your fat burning program this week (and if you're "intermediate level", switch out Total Body Extensions for the Burpees).
Not ready to stop there?
Well, I have an amazing abs superset for you, and this comes from Certified Turbulence Trainer, Kate Vidulich down in New York City.
Kate writes:
"Craig, I just got a new client thanks to the TT referral network. After our first session, she walked in and thanked me for being "the first trainer she's had in 20 years that made her abs really sore without doing a single crunch or hurting her back. I t was all thanks to a killer circuit featuring Power Wheel Rollouts and TRX mountai climbers."
That client has now signed on with Kate for 6 months at $1000 per month minimum. Pretty great return on her Turbulence Training Certification investment, I have to say.
And we all benefit because we get to try out Kate's ab superset for free – saving us $1000!
Speaking of training abs, I really liked this advice from trainer Tyler Bramlett, who said:
"Most people train their abs like a long distance runner. They start with 50 reps and continue adding and adding until they end up doing hundreds if not thousands of reps of basic exercises. Essentially they train like a marathoner – and get NO results."
Well, we all know how marathon runners look – terrible. So avoid long, slow cardio and long ab workouts.
If you want to know how to get ripped abs, you can learn a lot from Tyler. He's created a set of Warrior Ab training programs for you. But there are only a few hours left to get access to these ab workout videos here <= grab them and use them in your fat loss program this week
Enjoy those free workout tips,
Craig Ballantyne, CTT
Certified Turbulence Trainer
PS – The next Turbulence Training Transformation Contest start on Monday.
Watch your email for details on how to win $1500 just for losing your belly fat in the 17th TT Transformation Contest.
Stay tuned!