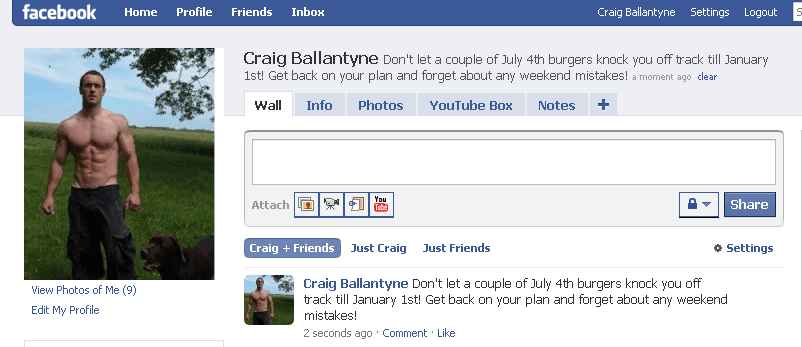 Today I've got a post-workout shake mistake, my total body workout, and a quote on responsibility that I hope will motivate and inspire you to get back on track.
More about that post workout drink mishap in Craig's kitchen in just a sec, but first, here's something I posted on my Facebook page today:
"You must set goals, and upon reaching them, reward your performance. But at the same time you have to be tough on yourself. It is not easy to succeed."
Hopefully that gets you back on track after the weekend…and whatever you do, don't let a couple of burgers kick you off track till January 1st!
So if you haven't already, get out your paper and write down three short term and three long term goals. I'm big on goal setting and have a huge document with goals for the year and for the month in all categories of my life.
The goals are benchmarks and guide posts for all my actions. They simplify my life because I simply use those goals to guide me. Cuts out a lot of tough decisions.
All I need to do is think, "Is this going to get me to my goals?" If yes, then do it. If not, then don't (of course, all things have to be safe, legal, and moral as well!)

So that's a "kick in your mindset" today, I hope you use that as inspiration to move forward.
Now after a couple of kettlebell-bodyweight workouts on my balcony this weekend, it was back to the gym today for a total body workout and then my post-workout shake at home…
I'm digging this workout because it is fast (doesn't require the lengthy warm-up that I used to require when doing heavy bench presses). And it also tricks my mind a bit…because I leave the gym without being exhausted, but a good fatigue sets in when I get home.
The upper body gets quite a bit of work and then the other two workouts this week have more lower body movements.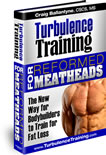 It's very "Reformed Meathead-like".
1A) Overhead squats – 135x3x5
1B) Pullups – 3×11
2A) DB Chest Press – 85x3x8
2B) BB Row – 185x3x10
3A) Chinups
3B) Dips
3C) Pistols
3D) Hanging Leg Raise
Then I walked home and tried out my new blender for the vegan meal plan post workout drink…I added a banana, some Hemp Bliss, cacao nibs, and 1 tablespoon peanut butter.

Mixed it up and I accidently opened up the spout and poured out all over the counter.
Brutal.
I did manage to save 3/4 of it.
But this particular post workout shake tasted brutal too.
Oh well, back to the shake drawing board. Or maybe I'll just never use the blender again.
Maybe I just need some help.
Got any good shake recipes?
Got any good shake ingredients I need to add to my grocery list?
Let me know below,
Craig Ballantyne
PS – The workout was based off of my friend Jay Ferruggia's progams.
He's one of the few guys I'll listen to in the fitness industry.