Best Delta 8 Carts
Best Delta 8 THC Carts
Delta 8 THC Vape Cartridges
Buy Weed Online
Best Delta 8 THC Gummies
THC Gummies
Best THC Gummies
Best Delta 8 Gummies
Area 52 Delta 8 THC Gummies
Diet Depletion – What Will You Give Up?

I have been the victim of "diet creep".
Diet creep is what happens to a great diet when you get a little too confident and a little too lazy. Happens a LOT to folks who finish up the TT Transformation Contest and then start sliding back into their old habits.
It doesn't happen very often, but I've found my diet compliance going from 90% perfect to 85% and down to 80%. Time to do something about it.
(And hey, if you want to give up a few things this month, just let me know in the comments section…we can support one another!)
Now I know that because of my workouts I'm still gaining muscle and not gaining fat, but as a role model to you and hundreds of thousands of other TT readers, I've decided to get strict and lead the way this June.
So for the next 30 days, I'm kicking these foods out of my diet:
Caffeine
Added sugar
"Processed foods"
Dairy
Meat
Alcohol
Let's take a look at why I'm removing each one of those…
1) Caffeine

This one always causes so much confusion. So let's get something straight.
Frankly, I see nothing wrong with folks drinking coffee or tea in moderation. That's not a big deal. Do what you like.

But personally, caffeine makes me anxious, and I already have issues with anxiety, so no need to fuel the flames.
However, I found that more and more caffeine was creeping into my daily intake, and so I'm cutting it out.
I'll be sticking to naturally de-caffeinated Green Tea instead, as Men's Health magazine assures me that I still get the health benefits of Green Tea provided the caffeine is removed naturally.
So that's my stance on caffeine.
2) Added Sugar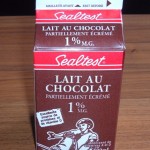 The main source of added sugar in my diet was the chocolate milk I'd drink 3 times per week after my workout. But for the month of June, I'm cutting it out.
And then there was also a little bit of diet creep going on as well…Last week in Vegas I also had a couple of Gatorades, and I noticed I was starting to buy the mixed nuts in the airport that also had the M&M's.
But I know that's not setting a good example for you, so let's get back to square one and cut out all added sugar, shall we? Anyone want to join me on this one?
3) "Processed foods"
Alright, this is a tough one to define, but here's my definition for me this month…
a) No added sugar
b) No refined flours
So for example, I'll still consume bread, but only breads such as the "Organic Sprouted Spelt" from ShaSha Co. that I bought today for my almond butter sandwiches.
The ingredients are:
Organic Whole Spelt Flour, Water, Organic Sprouted Spelt, Organic Sour Dough (Organic Spelt Flour, Water, Bacterial Culture), Salt.
I generally don't eat pasta, pastries, rice, or white bread, so this one should be easy to stick to.
Maybe next month I'll go "no wheat".
Other "organic" and "natural" foods that get cut from this list include:
– Mrs. Renfro's salsa (any versions that contain added sugar)
– Almond milk (the ones I have contain added sugar…so I'll look for ones that don't…any help?)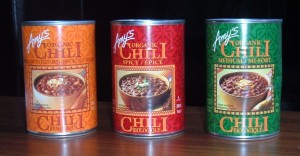 Now here's where you can argue with me…
…but I'm keeping these foods in my diet even though they come in a can or a jar…
– Amy's Organic Chili (Ingredients: Organic Red Beans, Filtered Water, Organic Onions, Organic Bell Peppers, Organic Potatoes, Organic Carrots, Organic Corn, Organic Rice Flour, Organic Safflower Oil, Organic Jalapeno Peppers, Spices, Organic Garlic, Sea Salt)
– Beans (Organic Kidney Beans, Water, Kombu Seaweed)
– Organic and Non-organic nut butters (such as cashew butter, almond butter, pumpkin seed butter and peanut butter)
Alright…feel free to argue my defintion, but I'm happy with it.
4) Dairy
This isn't a big deal because 90% of my dairy intake consists of those 3 chocolate milks per week, so I figured why not throw it on the list. Sometimes I add an ounce of cheddar cheese to my morning omelets, but I'll give that up for now.
Here's a tour of my fridge stocked for this new plan:
5) Meat
I still like meat and plan on eating meat as soon as July 1st hits, but I figured, why not throw it on the list. Besides, I ate enough steak for a month when I was in Vegas last week.
So no meat this month.
6) Alcohol

I usually have 2-3 beers per week, but I'm cutting those all out for June. This should be the easiest thing to give up of them all. Those bottles of Rickard's White Ale will just have to chill in the fridge a little while longer…
So what's staying in my diet?
– eggs, whole-grain breads, nut butters, raw nuts, and dozens of different kinds of fruits and vegetables.
Pretty simple, and of course, regardless of your dietary preferences, your food foundation should feature a lot of fruits and vegetables – so your diet shouldn't be much different from mine even if you eat dairy and meat.
So what will be my challenges?
First of all, getting enough protein will NOT be a challenge. I've discussed that before here…
But my challenges will be the obvious…
– I have a work dinner on Wednesday night, but my colleagues are healthy so we'll go somewhere vegetarian…
– I'm supposed to go to some boat cruise party on Sunday…looks like no cold beers for me
– I have to travel to LA for 5 days next week…the first 2 days will be easy because I'm hanging around Kardena Pauza, a vegan raw food expert for 2 days, so that should be no problem. But then I have a 2 day meeting with some strength coaches who like to eat steaks and party,  so it will be more difficult, but not at all impossible. I'll just plan ahead, right?
– But the biggest challenge will be when I take Bally the Dog to Grandma's house…because it's meat twice per day and plenty of processed food temptation. But again, we'll just plan ahead and take some foods that are on the "okay" list.
Overall, a nice little "diet depletion" challenge for June.
Care to join me?
Is there at least ONE food or ingredient you could give up for an entire month?
Let me know what it is by commenting below…
And make sure to follow my progress and give me support on Twitter and Facebook here:
Click here to join me on Twitter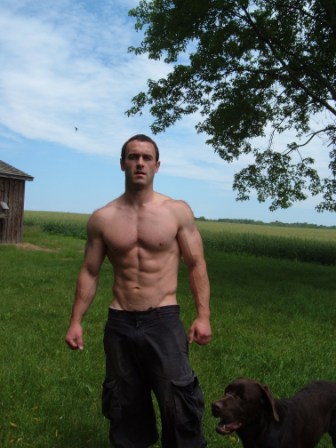 Click here to join me on Facebook
Here's to your diet success,
Craig Ballantyne, CSCS, MS
PS – C'mon, don't be shy…
…commit to giving up one thing this month and tell me what it is below…
Stay strong!