Flavia DelMonte vs Craig Ballantyne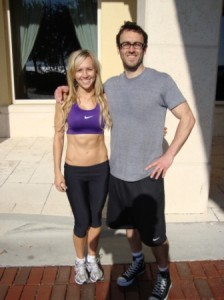 Time for the Flavia Delmonte vs. Craig Ballantyne fitness battle, with no help from her husband, Vince Delmonte.
Let's start with my recent visit to Tampa, Florida, where Flavia and Vince spent the winter training. Both Vince and Flavia are two of the most inspirational and dedicated friends I have in the fitness world, and they were on a fitness mission this winter.
Vince was doing a bodybuilding show, but more importantly, Flavia was doing her own transformation.
On one Sunday morning, we went to the gym, just the three of us. Vince and Flavia picked me up in their rented PT Cruiser – totally awesome – and we hit the legendary Powerhouse Gym in Tampa. Seriously, if you are ever in Tampa, you absolutely, positively MUST train there. It's so much fun.
While Vince did his morning cardio – a technique I've never ever been a fan of – Flavia and I both rocked out separate, but similar workouts.
I traveled into the back room to work the Powerhouse Gauntlet. That's where there were sledgehammers and tires and things to carry and smash. Me, Craig. Me, Hulk. Me, Smash.
Flavia stayed in the main area and went through a hardcore metabolic resistance training workout, doing a variety of resistance training exercises. I loved what she was doing, and it was a powerful program that fueled her body transformation over the winter.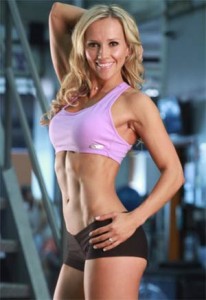 Flavia does sprints. Flavia does lunges. She lifts weights. She kicks butt.
I really liked her routine. She told me about her 5-day per week program, and it was solid. As you can tell, her results don't lie.
She's down to 13.5% body fat, as measured by an accurate machine – the bodpod – at the Powerhouse gym.
She's lean, sexy, and has the right amount of muscle, and this is a dramatic transformation from the still-slim-and-sexy that wore a wedding dress almost a year ago when Vince and Flavia got married, but she's much more athletic looking now.
In fact, the most impressive fitness component Flavia performed while I was there was her sprint training.
When she ran, she looked like an incredibly powerful and graceful female athlete. It was beautiful. That's how girls are meant to look, live and move.
I'm so impressed and proud of my friend Flavia for what she has accomplished in such a short time. She only needed a few weeks to achieve what most guys can't accomplish in months and months of using their own muscle-magazine meatball workout programs.
Flavia's system is better than what most guys use.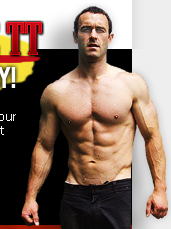 Now as you can imagine, I think I'm pretty smart. So going through Flavia's program, there was one major point where we disagree – ab training.
As you know, I strongly believe that you do not need to do crunches in order to have six-pack abs. It's been over a decade since I did traditional ab training, and here's a photo of me from 2008 – abs are killer, and this isn't one of those oiled up fitness show photos.
This is simply a photo I had done with a cheap digital camera in my backyard. I look like that all the time, with NO crunches.
That said, it's not a big deal. I don't think you need all of Flavia's ab exercises, but they are there for you to choose. I also recommend you skip the bench dips – those don't need to be in your program.
But once you get past those small details, if you are looking for a 5-day per week program that helps you get female fit and sexy, you're going to love learning from Flavia.
She has one of the biggest, kindest hearts of all the people I know, after all, she is a pediatric nurse and cares for little children. Just as she cares about all of the women – and men – that she'll be able to help with her Flavilicious Fitness workout program.
To your success,
Craig Ballantyne, CSCS, MS
Certified Turbulence Trainer