Isabel's Chicken Recipe for Fat Loss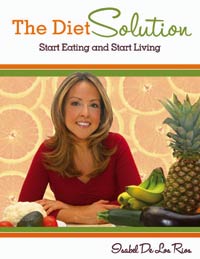 Yesterday I discovered it was my friend
Isabel De Los Rios
' 33rd birthday, and so I made her work EXTRA hard on her big day to bring you a couple of fat loss tips and her birthday dinner chicken recipe for fat loss.
(I know, I'm a big meanie for making her work harder on her birthday!)
First, I asked Isabel for her "fat loss acceleration" tips that will help you in the Turbulence Training Transformation Contest. She said these will also help you overcome a possible fat loss plateau.
Fat Loss Accelerators from Isabel De Los Rios
#1. Eat only protein and low-starch veggies after 4pm. Keep your grains and fruits in your meals earlier in the day.
(You'll love Isabel's Diet Solution Program chicken recipe below…I'd add some broccoli and cauliflower to that dish to round out a dinner that will help you feel satisfied while losing fat.)
#2. Stop eating 3-4 hours before bedtime. This will prevent any "boredom" snacking that happens in the evening.
(I agree with Isabel…there is nothing magical about "not eating after 7pm or any other specific hour EXCEPT for the fact that using that mindset will help you avoid snacking on TV treats. So eat more of your calories earlier in the day.)
And now for Isabel's delicious chicken recipe:
Chicken in Coconut-Lime Sauce
SERVES: 4
3 tbsp coconut oil
4 bone-in chicken thighs
4 bone-in chicken drumsticks
½ cup sliced green onions
½ cup prepared salsa
1 tbsp minced garlic
2 dried red hot peppers
1 tsp curry powder
½ tsp salt
¼ tsp freshly ground black pepper
13½ oz (1 can) coconut milk
½ cup fresh lime juice
a few lime slices (for garnish)
a few fresh red hot peppers (for garnish)
½ cup grated coconut (for garnish)
In large frying pan, warm coconut oil over medium-high heat. Brown chicken in batches, about 5 minutes on each side; remove from frying pan and keep warm.
To frying pan, add green onions, salsa, garlic, dried hot peppers, curry powder, salt, and black pepper; cook about 2 minutes, stirring, until onion is browned.
Return chicken to pan; pour coconut milk and lime juice over chicken.
Simmer over low heat about 30 minutes, or until fork can be inserted into chicken with ease.
Remove and discard hot peppers.
Remove chicken to a platter. Garnish with lime slices and fresh red hot peppers, and sprinkle lightly with grated coconut before serving.
*************
Nice. Thanks Isabel. That's a lot of giving she did on her birthday, and I really appreciate her helping you out with those nutrition tips for fat loss.
Helping you eat your way to faster fat loss,
Craig Ballantyne, CSCS, MS
PS – I'm off to New York City for a few days…
…and then 3 days out in New Jersey at Jason Ferruggia's gym.
Make sure to join my Facebook Fanpage for all my nutrition and workout updates while I'm on the road:
=> The Turbulence Training Fanpage
I'll be eating at "Per Se" on Friday or Saturday night…one of only 6 American restaurants to be awarded 3 Michelin stars.
So if you're a foodie, watch for my update on that next week!