What Clean Eating Really Means (And a One-Day Plan to Do It!)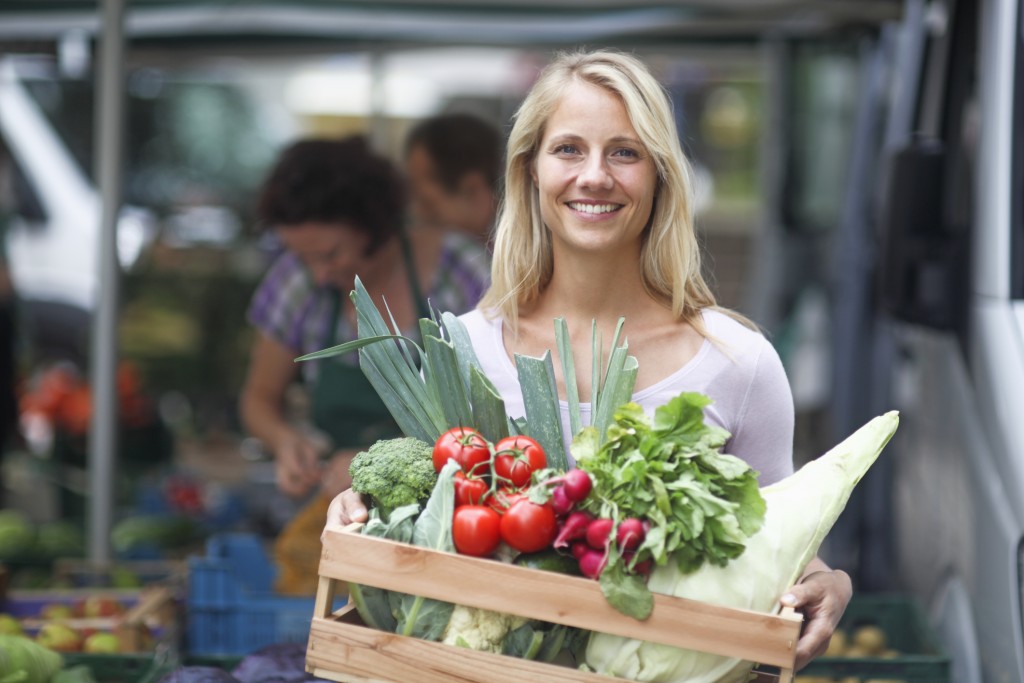 Clean eating is one of those pesky trendy terms in my industry that tends to confuse more than clarify — we pine for acceptance of our nutritional decisions and resort to labels such as "good," "bad," or  "clean" that become so ubiquitous they really mean nothing!
Clean eating may refer to gluten-free, pesticide-free, antibiotic-free, hormone-free, dairy-free, soy-free, nut-free, meat-free, sugar-free, artificial-anything free, or a dozen other ways we describe our food…
All of these terms can be either spot on, or way off depending on your personal predilections.
What if eating clean has just as much to do with what's going on in your heart and mind as what is on your plate?  
For example, if you eat a piece of dark chocolate cake — Vegan and Paleo, of course — but experience guilt, shame, or fear about how it will be used in your body, is that still clean eating?
Is the nutritional goodness of the food tainted by the negative energy of your thoughts and emotions?
I say yes — it can be. And I have both Eastern and Western schools of thought to back me up on this viewpoint, along with countless client testimonials and personal experience with my own mindset shift toward food…
The ancient Ayurvedic teachings speak of the dramatic impact our emotional state has on digestion. There's a particularly deep relationship between our emotions and thoughts — both conscious and subconscious — and our ability to properly assimilate nutrients.
 Scientific research also supports the understanding of the belly-brain emotional connection.
Clinical psychologists at the University of California in Los Angeles, in the field of the food-mood connection, conduct studies supporting the relationship between physiology and emotions, such as anxiety and depression that lead to indigestion, diarrhea, constipation, or myriad other digestive disruptions.
You may think I have derailed from the "clean eating" topic, but stick with me.
My view of clean eating has evolved into a deeper understanding of the word "clean." It's more than the type food I'm choosing. It's how and why I'm showing up to the dining experience.
I invite you to explore this idea with me.  
The "eat clean" label assigns a moral value to food, leading to the judgments of "right" and "wrong." Misplaced and emotionally charged eating is exactly why so many of us struggle with our dietary lifestyles.
Psychologically harmful thoughts toward food choices yield a damaging experience, whether you're eating healthy foods or not.
Clean eating really means a few things:
Foods that provide your body and mind with usable nutrients, physical and mental energy, and undisrupted digestion.

Food amounts that lead to satiety rather than fullness.

Thoughts that gravitate toward life-giving nourishment, pleasure, and gratitude while eating… even if it is something society has deemed shameful!
What good does munching a big salad or nibbling on a piece of vegan, Paleo chocolate cake do for your health and fitness efforts if the experience is sullied by negative thoughts and demeaning words toward your body, your health, or your decisions?
It is true that the quality of food matters. Learning (the hard way) which foods lead to digestive issues and energy slumps has shaped how I choose what to eat… and this impacts my outlook.
When I choose foods that serve my body well and support my unique health profile, I end up having enhanced energy, a healthier approach, and deep gratitude toward my experiences with food.
If you're open to the idea of loving food and to relishing in the experience of eating nutrient-rich and delicious meals, then I have a simple one-day plan for you to follow:
One Day of Clean Eating – Mind, Body & Soul:
Wake: within 20 minutes of rising
What: 14 ounces warm lemon water
Why: Start the day off right by hydrating your body with warm alkaline water that gently awakens the digestive system and stimulates elimination.
As You Drink: Focus on setting an intention for the day — this will positively shift your energy and mindset.
Breakfast: within 1-2 hours of rising, or when you're body signals physical hunger
What: Spiced Blueberry Pumpkin Smoothie
Why: Bathe your tissues with a nutrient-dense, easily digested smoothie that feeds your body and your brain — you'll love this delicious and rich start to the day!
As You Drink: Focus on rejuvenating your intention and energy, inviting focus into your tasks.
Snack: mid-late morning, or when you're body signals physical hunger
What: olives, raw nuts, and fresh seasonal fruit
Why: healthy fats paired with fiber and nutrient-rich fruit create a satisfying mineral-rich snack providing potassium, calcium, magnesium, iron, and copper. Plus these foods are also a good source of antioxidant vitamins A, E and K.
As You Eat: Focus on fueling your body with useable materials for vitality and clarity
Lunch: 12:30 – 1:30 p.m. – when you're body signals physical hunger
What: Lemon Kale with Apple, Avocado & Roasted Chicken
Why: Light, refreshing and full of vital nutrients, healthy, fats, and protein to keep you and your taste buds satisfied through the afternoon.
As You Eat: Focus on cherishing every bite until you're satisfied — not hungry, not full, but perfectly satisfied.
Dinner: 5:30 – 6:30 pm – when you're body signals physical hunger
What: Roasted Salmon "Noodle" Bowl
Why: Noodles are a universal comfort food — veggie noodles offer comfort without the heaviness of a big bowl of pasta. Add hearty salmon and bright lemon thyme dressing to nourish your body and soul after a long day.
As You Eat: Focus on being completely nurtured and enriched by not only the delightful flavors and textures, but also by the company you keep and the conversations you carry.
Dessert: when your body signals physical hunger and your energy is clearly aligned for truly enjoying a treat.
What: Coconut Chia Chocolate Fudge
Why: Delight in the sweet, melt-in-your-mouth chocolate fudge that offers so many nutritional benefits it's impossible not to consider this part of clean eating!
As You Eat: Focus on pure joy and decadent fun!
Clean Eating Recipes
Wild Blueberry & Pumpkin Seed Smoothie
Makes: 1 serving | Prep time: 2 minutes | Blend time: ~60 seconds
Ingredients:
•½ cup frozen wild blueberries
•1 small banana
•½ avocado
•½ cup unsweetened almond milk
•½ – ¾ cup purified water
•¼ cup raw sprouted pumpkin seeds
•2 tbsps hemp seeds
•Generous sprinkle of cinnamon
Preparation:
Add all ingredients into a high-powered blender and puree until smooth. Enjoy!
Olives, raw nuts and fresh seasonal fruit
Makes: 1 serving | Prep time: 2 minutes | Cook time: N/A
Ingredients:
Seasonal fruits:
•Winter: Pears  Summer: Apricots  Spring: Cherries  Fall: Figs
•1 piece or equivalent to 1 cup of fresh fruit
•¼ cup fresh olives
•¼ cup raw nuts of choice (almonds, walnuts, cashews, pecans, etc.)

Preparation:
Eat separately or chop into bite-sized pieces, mix together and enjoy as a fresh "trail mix"!
Lemon Kale with Apple, Avocado & Roasted Chicken
Makes: 1 serving | Prep time: 2 minutes | Cook time: ~60 seconds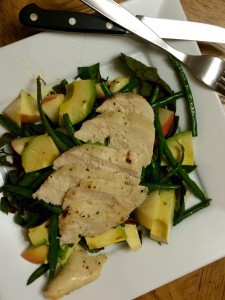 Ingredients:
•2 cups Kale, torn into bite-sized pieces
•½ apple, chopped
•½ avocado, chopped
•½ cup roasted green beans, cut into bite-sized pieces
•4-6 oz. spicy lemon roasted chicken breast
Mix and Marinate Chicken in:
•½ fresh lemon
•Sea salt, red pepper flakes, and garlic powder to taste
•1 tbsp olive oil
Lemon Mustard Vinaigrette:
•½ fresh lemon
•½ tbsp stoneground mustard
•1 tsp raw honey
•Sea salt and black pepper to taste
•1-2 tbsps olive oil
Preparation:
Heat oven to 375 degrees F. Marinate chicken for 10-30 minutes.

Place chicken in a small glass-baking dish. Roast for 10-20 minutes or until juices run clear.

Remove from oven, cover with foil and allow to rest to redistribute juices.

In another glass dish or small roasting pan, toss green beans with a little olive oil, sea salt, garlic powder, and black pepper. Roast for 10-20 minutes. Allow beans to cool a few minutes before adding to salad.

Place kale on a plate. Drizzle ½ tablespoon dressing and toss well to coat greens. Top with apple, avocado, and roasted green beans. Drizzle ½ tablespoon over veggies.  

Slice chicken breast and serve atop the salad. Enjoy!
Roasted Salmon "Noodle" Bowl
Makes: 1 serving | Prep time: 20 minutes | Cook time: 15-20 minutes
Ingredients:
•4-6 oz. filet of wild-caught salmon
•2 cups Swiss chard, cut into long noodle-like strips
•1 medium zucchini, shredded or "noodled" with a Spiralizer or similar device
•1 cup Crimini mushrooms, sliced
•½ golden beet, shredded
•Sea salt
•Garlic powder
•Black pepper
Lemon Thyme Dressing:
•½ fresh lemon
•½ tbsp white balsamic vinegar
•½ tbsp raw honey
•1 tsp rubbed thyme
•½ tsp sea salt and black pepper
•2 -3 tbsps olive oil
Preparation:
Heat oven to 400 degrees F.

Place salmon in a glass baking dish. Season with sea salt and black pepper.

Place zucchini noodles and mushrooms on a small roasting pan or cookie sheet. Drizzle with olive oil, sea salt, garlic powder, and black pepper.  

Roast salmon and veggies for 10 minutes. Check the fish. Remove if cooked through and cover to keep warm until veggies are ready.

Toss the veggies and roast another 5-10 minutes.

While fish and veggies roast prepare the dressing by combining all ingredients in a small bowl or jar. Blend well.

Place chard in a serving bowl topped with zucchini and mushrooms. Drizzle dressing over veggies then top with salmon and shredded beet. Enjoy!
Coconut Chia Chocolate Fudge
Makes: 25 squares | Prep time: 15 minutes | Chill time: 1 hour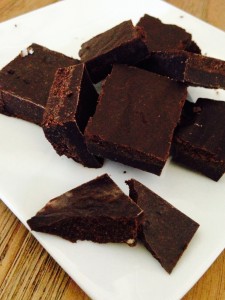 Ingredients:
•½ cup Organic virgin coconut oil
•½ cup unsweetened Dutch cocoa powder
•¼ cup organic raw honey
•1/8 tsp organic vanilla extract
•2 tbsps ground chia seed
•Sprinkle of sea salt (optional)
Preparation:
Melt first four ingredients in a medium saucepan (or over a double boiler) over medium heat and mix until smooth.

Add ground chia seed and incorporate well.

Spread into a small glass container and refrigerate until solid (about an hour). Cut into squares and savor every single bite!