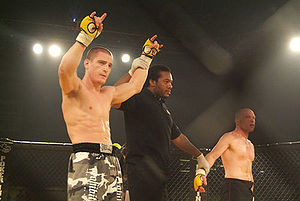 I'm not going to lie to you…I wanted to write an article today about how Mac Danzig, the UFC fighter who follows a vegan diet, won his fight last night…but unfortunately Mac lost.
But that doesn't take away from the message that athletes can achieve peak performance without high-protein meat-based diets.
We'll take a look at a few in a second. You'll be shocked at a few of the names that come up.
Unfortunately the UFC pay-per-view didn't show Mac's fight last night, but I tuned in with some friends to watch the rest of the matches. Some guys ordered pizza and wings, but I kept it vegan and ate a bag of pistachios.
(Pistachios are a good "fat loss diet" movie/TV snack because it takes some work to get the little suckers out of their shells. And that way you don't eat as many as if you were eating peanuts or almonds out of the bag.)
According to the internet, Mac ended up losing a thrilling match in the lightweight division and almost won by submission in the 2nd round but his opponent was saved by the bell. Danzig, who won Season 6 of "The Ultimate Fighter", has put on a lot of great matches and should get another shot in the UFC. Hopefully he'll get some PPV action in the future.
As for me, I continued my vegetarian experiment this morning with more vegan eating and another good workout. I started the day with a vegan breakfast bowl of:
oat groats (soaked in water overnight)
1 banana
1 tablespoon organic peanut butter
some blueberries
And 1 apple and 1 pear
After that, I hit the gym. Here's my workout, you'll notice it included a lot of bodyweight exercises: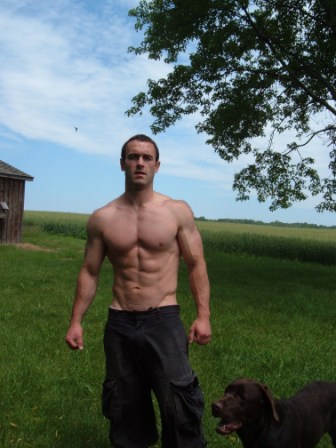 1A) Overhead Squat – 135x3x5
1B) Pullups – 3×12
2A) DB Chest Press – 90x3x6
2B) Inverted Bodyweight Row – 25,20,20
3A) Pistols – 3×3
3B) Hanging Leg Raises – 3×8
3C) Dips – 3×15
Good and fast. Finished in about 35 minutes.
After my workout I walked home and then blended up a shake/smoothie with…
pineapple
banana
almond milk
hemp bliss
cacao nibs.
It was okay. Should have added some nut butter.
Then I had lunch which was one of my infamous "big boy salads" and 1 cup of almond milk.
Spinach
Black beans
1/2 avocado
salsa
red onion, red and green peppers, and broccoli
Then I hit the park with Bally the Dog.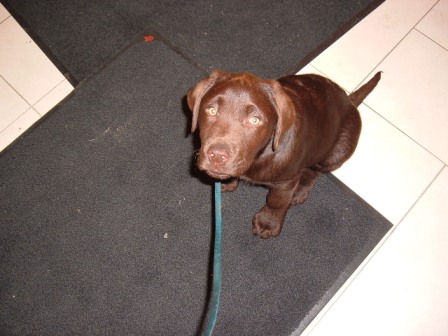 When we got back, I tried another smoothie. The2nd shake attempt featured:
Frozen strawberries
1 banana
1 tablespoon cashew butter
hemp bliss
almond milk.
This was much better, although it still could have used more cashew butter. And possibly some chocolate…
So that's the day in the life of this vegetarian "athlete" for now. As I mentioned before there are many vegetarian athletes, and a couple of them hitting world class performance levels.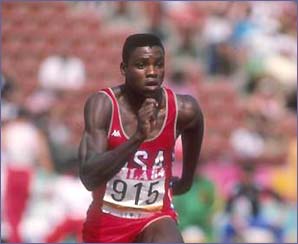 First, I stumbled across this quote from gold-medal winner Carl Lewis.
"Can a world-class athlete get enough protein from a vegetarian diet to compete? I've found that a person does not need protein from meat to be a successful athlete. In fact, my best year of track competition was the first year I ate a vegan diet. Moreover, by continuing to eat a vegan diet, my weight is under control, I like the way I look. (I know that sounds vain, but all of us want to like the way we look.) I enjoy eating more, and I feel great."
But an even better example is Tony Gonzalez, all-pro tight end in the NFL.
Tony is a vegan and has gotten help from my friend, strength coach, and all-around nice guy, Jon Hinds.
Tony's change in diet has even been featured on the Wall Street Journal's website.
Here's a little video of the 247 pound NFL pro-bowler showing you how to make a high protein vegan shake.
Let me know if there are other vegetarian athletes that I've missed, or if you are achieving peak performance on a vegetarian diet.
And hey, no matter what diet you use, just remember to…
Stay Strong!
Looking forward to your success,
Craig Ballantyne, CSCS, MS
PS – Got a good shake or smoothie recipe?
Just let me know in the comments section below.