Is It OK to Drink Alcohol While I'm Trying to Lose Weight?
This is one of the most common questions I get from clients. Depending on your personal health profile and what your goals are the answer will vary, but in general the answer is:
Yes. A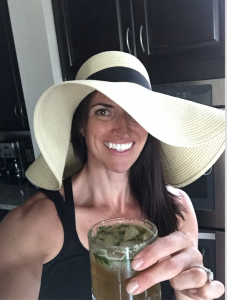 nd here's why:

You are trying to change your body for life. In order to do that you must start living your life in such a way that your goals are sustainable.
Sustainability means there's an allowance for things like dessert and pizza and yes, a drink or two. If the healthy boundaries you have set up for meeting your goals are more than bearable, if they are totally maintainable then you are on the road to long-term success without a constant fight with your willpower.
Now, if you can honestly say, "Missi, I can easily go the rest of my life without another beer, glass of wine, or shot of Fireball whiskey," then you can stop reading because — actually, keep reading, but apply this to whatever is your vice.
If you would like to enjoy a cold beer at a ball game or a nice crisp glass of wine on a patio, and yes, even that rare but 'se
emed-necessary-at-the-time' shot of fireball whiskey in Vegas with your favorite gal pals or old college buddies, then it needs to be woven into your health profile.
It is entirely possible to achieve and maintain the healthy and fit body that you desire while doing such taboo things like drinking alcohol, enjoying carbs, and loving dessert. I'm living proof.
The secret is in your approach. It needs to be done without guilt and without excess.
Tomorrow offers the perfect example of a fun social event that includes the option to enjoy a cocktail — this weekend the 142nd renewal of The Kentucky Derby takes place. It is an event steeped in tradition, one of which is the famous Mint Julep.
This cocktail isn't necessarily the healthiest option but enjoying one drink while at a Derby party isn't going to ruin your "diet." The more insidious destroyer of your success is your perception of it as "good" or "bad"… and that you still see yourself as "on a diet."
Enjoying an event, communing with a group of friends and family, or celebrating a special occasion — even if it's celebrating the beauty of a sunny Saturday afternoon on your deck — is a part of life. Every now and then there are tasty adult beverages involved. It's OK.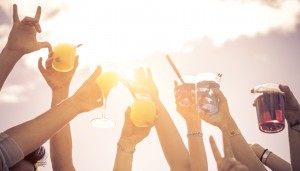 If you're interested in this approach to enjoying life and being fit, here are a few options for this weekend – a quick Mint Julep Cocktail recipe, a refreshing Mint Mango Smoothie, and a Mint & Cucumber Cooler. The last two are non-alcoholic so you'll have something to sip on if you've imbibed your Mint Julep, enjoyed it and are ready to move on, or if you are committed to avoiding alcohol because it fits your personal health profile.
Quick Mint Julep
10 fresh mint leaves
1 ½ teaspoons sugar (try coconut sugar!)
Seltzer water
Ice cubes
Kentucky Bourbon
In a Julep cup or 'Old-Fashioned' glass, muddle the mint with the sugar until it forms a gritty paste.
Add a little seltzer to loosen mint paste.
Add ice cubes to fill glass ¾ of the way.
Pour 2 ½ oz. bourbon over ice, seltzer and mint.
Top with a little more seltzer.
Drink with a short straw so you can smell the mint!
Minty Mango Smoothie
(Non-Alcoholic)
10 fresh mint leaves
1 cup frozen, cubed mango
¼ fresh ripe avocado
1 ½ teaspoon raw honey or organic turbinado sugar
1 cup coconut milk
Extra water for desired consistency
Blend all ingredients in a blender or similar device until smooth and creamy.
Mint & Cucumber Cooler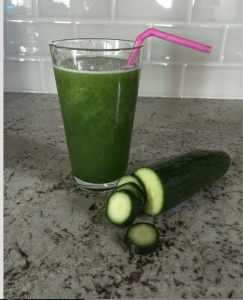 (Non-Alcoholic)
10 fresh mint leaves
½ fresh cucumber, washed & cut into chunks
1 cup water
ice cubes
*Add a splash of seltzer after blending for a fizzy finish
Place all ingredients into a blender or similar device. Blend until smooth.
In Love & Gratitude,

Missi Holt