My Spiritual Experience in Rome (not what you think)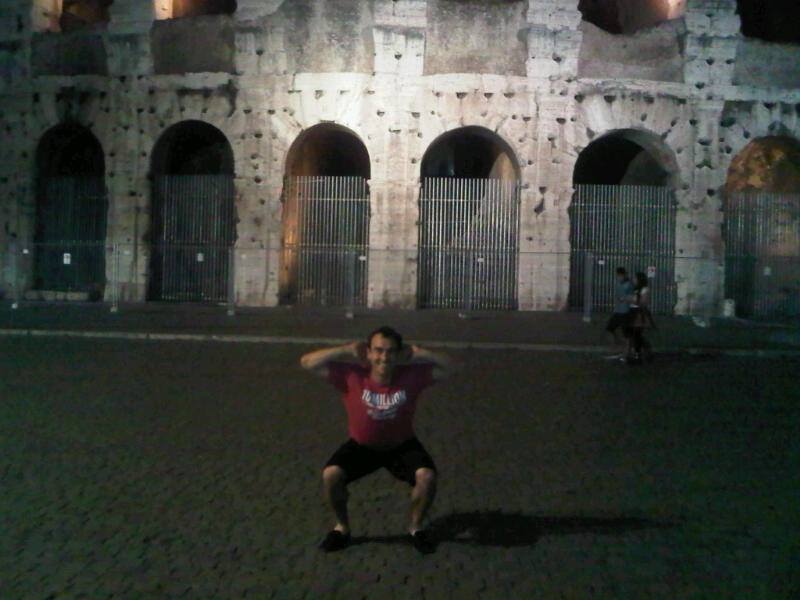 Rome was simply another city on my to-do list…or so I thought. The plan, as it is with every other European city I visit, was to walk around and check off the major attractions. "Look kids, The Vatican. The Pantheon," I'd say in my best Chevy Chase European Vacation impression.
Over 1.3 million visitors journey to the Eternal City and the Vatican each year in search of a spiritual experience. I wasn't one of them, but something magical happened during my visit in the unlikeliest of places.
We arrived in Rome late on a Monday night. For the previous five days I had been helping my friends Simon and Viktorija at their Liberty and Entrepreneurship camp in Lithuania where we taught 65 college-aged students how to overcome the fear of failure and succeed in life.
On Monday afternoon, we said our goodbyes to the students and boarded a three-hour flight to Italy. After gathering our luggage, haggling with taxi drivers, and checking into our hotel, it was ten o'clock. Having gained an hour traveling west, it felt like 11pm. I was tired. Still, I asked Viktorija if she was interested in joining me for a late visit to the Trevi Fountain like the famous scene in La Dolce Vita. After all, when in Rome…
She brought along her fancy camera and away we went, only to find the fountain under construction and cordoned off with an 8-foot wall.
"What does it normally look like?" I asked.
"It usually has lights…and water," Viktorija replied.
I smiled, nodded, shrugged, and laughed.
Undeterred we set off for the Colosseum. This travel gladiator would not be satisfied until I had a goofy exercise photo to share with the 185,000 fans on my Turbulence Training Facebook page. By then it was nearly midnight and time to get back to our cheap hotel near the train station to catch a few hours sleep. The next morning we'd be leaving for a beautiful old villa near Spolenta in Umbria.
I "slept in" till 5am and woke up surprisingly alert. Within minutes I was typing away on my laptop, sticking to my new rule of writing 1,000 words each morning. My book was finally under way and I didn't want to lose the momentum. I had talked about writing a book for so long and yet up until a month ago I hadn't made much progress on something that really mattered to me. I felt low-level shame, and even felt like a hypocrite each day when I'd tell you to take massive action towards your goals, all while I procrastinated on mine. Fortunately, I had overcome the inertia and didn't miss a day of writing while traveling through Europe.
A European vacation seems like an odd time to take up a new habit, especially one that starts at four or five o'clock in the morning. But I had to capitalize on a recent breakthrough that helped me get on track. In an interview with Tim Ferriss, author of The Four Hour Work-Week, he described his book writing method as if he were writing a letter to a friend. This was the final piece of advice I needed to get going. I chose Porter Stansberry as the recipient of my 'letter', a book about how to incorporate the Power of Personal Rules into your life for more Structure and Freedom and to how to have your Best Day Ever – every day.
That morning, in a cheap Roman hotel room I hit the 12,000-word mark. My goal is to have a 60,000 word first draft to ETR's Publisher, Matt Smith, on September 15th. Using his feedback, I'll write a second draft before sending it to my writing mentor, Mark Ford. Ultimately my goal is to have the self-published book done in time for the New Year to share with you.
Within forty minutes my one thousand-word quota was reached. After I continued with my normal morning routine. It was time for meditation, but first nature called. Then the morning hit a snag. The toilet wouldn't flush. Great. I walked downstairs, reported it to the incredulous manager, and told him I was going for a walk. The sun was coming up over Rome and I decided to meditate in a park. Down the street was a dingy fenced in area with broken benches, but it would do. Twenty-one minutes later, my meditation finished, I opened my eyes to see the gigantic summer moon to my left and the sunrise to my right. It was a magical moment.
Exiting the park I noticed an archway about a mile east. It called to me. Walking towards the sunrise in one of Rome's grittier areas, I basked in the presence of early morning espresso drinkers sitting outside the cafes and those lined up inside for their daily dose of liquid 'art'. There's a reason Italy has no Starbucks. Some places still hold a genuine interest in delivering old-world quality in this busy new world we live in.
Reaching the archway I found one of Rome's many cemeteries. I peaked in, ineptly trying to grasp the significance of the history, and gave up. It was the same feeling I experienced at the Colosseum the night before. In my rushed visit, I just couldn't come to appreciate that these buildings and statues had been standing for thousands of years.
What did it matter, I thought, whether these things were here or not?
An hour later I'd have my answer.
I returned to my hotel to see if the manager had fixed the toilet. He greeted me and explained that I simply had to push harder. European toilets can be a mystery. In this instance, the 'flush' button was built into the wall. He sent a maid up to my room to demonstrate. We entered the bathroom and with all her might, the 5 foot 4 inch husky housekeeper drove her palm into the flush button over and over and over again. Eventually the water flowed, as did my laughter thinking how ridiculous this must have looked.
She smiled. I smiled. No translator required. She let herself out and I returned to my morning rituals. Up next in my daily practice was exercise. I pushed through a series of bodyweight exercises. Four hundred repetitions and eleven minutes later, I was done. My legs felt heavy, as though I was one of the stone statues spread throughout the city of Rome. I knew better than to sit. That would only contribute to muscle soreness the next day. I decided to walk around the room as I continued my morning habits. It was time for my Big Thinking and reading of my Daily Guiding Documents.
Reaching into my carry-on bag I pulled out a notepad containing lists of 10 Big Ideas I generated each morning. I started a fresh list, writing down the first ten crazy thoughts that came to mind, from how to create new products faster to ideas for ETR essays to 'trips of a lifetime' that I wanted to take after next year's BlackSmith Camp. Satisfied with this brain dump, I reviewed a few points from last week's Big Ideas to make sure I was taking action on the ones that mattered.
Finally, standing in front of my open balcony doors (the nicest thing about the $89 a night Laurentia Hotel which is possibly the worst hotel in Rome), I began to read my well-worn copy of The Art of Living, an interpretation of the teachings of Epictetus. I owe the modern-day author, Sharon LaBelle, a hearty dose of gratitude for her work. Though I'm on my fifth or sixth reading, it's as though I'm learning from a new book each time.
Epictetus' lessons are my version of a daily horoscope. On certain mornings, such as this one, it's as though his message was sent specifically for me at that very moment, even though it was first written thousands of years ago in Ancient Greece. That morning's message, titled The Virtuous Are Consistent, spoke to me in a way that was as spiritual as a Catholic hearing the Pope deliver mass in the Vatican City:
"To live a life of virtue, you have to become consistent, even when it isn't convenient, comfortable, or easy. 
It is incumbent that your thoughts, words, and deeds match up. This is a higher standard than that held by the mob. Most people want to be good and try somewhat to be good, but then a moral challenge presents itself and lassitude sets in.
When your thoughts, words, and deeds form a seamless fabric, you streamline your efforts and thus eliminate worry and dread. In this way, it is easier to seek goodness than to conduct yourself in a haphazard fashion or according to the feelings of the moment. 
When you free yourself of the distractions of shallow or illusory pleasures and devote yourself instead to your rightful duties, you can relax. When you know you've done your best you can under the circumstances, you can have a light heart. Your mind doesn't have to moonlight, making excuses, thinking up alibis, defending your honor, feeling guilt or remorseful. You can simply, cleanly, move on to the next thing.
It's so simple really: If you say you're going to do something, do it. If you start something, finish it."
In less than a page, Epictetus summarized the core message of my book.
As I explained to the kids attending the BlackSmith Camp, I live a different life. With each passing day I am less and less influenced by external factors, by peer pressure, by what others think of me, and more and more driven by my internal motivation and what I perceive as internal rewards for doing the right thing for my priorities. I am happier and better off for it.
This is my life. I must do what is right for me.
This is why I live by extreme example to you. It is my goal for my actions to encourage you to improve yours and to get you to do what really matters. This is the only way you can leave a lasting legacy – you must concentrate on what counts.
I now see why these ancient buildings of Rome draw us like moths to a flame. In a world of superficial and instant gratification, in a world dominated by Starbucks and reality TV, what really matters is timeless, ancient virtues.
You must know what really matters in your life. Is it Friday night's social event or is it the book you have dreamed of writing? Is it attending another meeting or is it spending an hour with your child teaching them how to grow up to be a proper man or woman? Is it gossiping about last night's television shows while standing in line at Starbucks or is it giving back to the community and making a difference?
I encourage you to think about what matters to you and then to make the Rules for Your Life that will help you live your legacy and live by example.
If you'll excuse me now, I have to get back to the book I'm writing. It will be my legacy, given out to the universe, hopefully existing as strong as a column in the Colosseum for thousands of years, and making a difference for someone in the future.
"Once you have determined the spiritual principles you wish to exemplify, abide by these rules as if they were laws…How long can you afford to put off who you really want to be? Your nobler self cannot wait any longer. Put your principles into practice – NOW. Stop the excuses & procrastination. This is your life! From this instant on, vow to stop disappointing yourself. Decide to be extraordinary and do what you need to do – now." – Epictetus
[Ed Note: Craig Ballantyne is the editor of Early to Rise (Join him on Facebook here) and the author of Financial Independence Monthly, a complete blueprint to helping you take control of your financial future with research of proven methods in your career, in your business and in your personal life. He has created a unique system to show gratitude and appreciation to stay on track for these goals each and every day. Click here to follow the exact 5-minute system you can use to improve your life.]