I've got a very strong politically incorrect opinion for every guy who emails me saying that they are 5'8″ and weigh 145 pounds and want to lose fat before they start building muscle…
…and that is, "You are making the WRONG choice!"
Brother, you need muscle.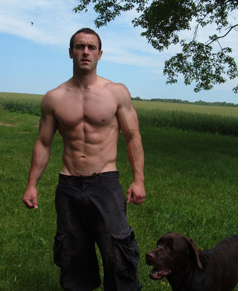 In fact, in my infamous "abs photo" online (including the one recently STOLEN by GQ magazine – April 2010, page 66), I weigh180 pounds at 5'9″. And I still look small!

So listen, the #1 rule for men is this:
When in doubt, a guy should focus on BUILDING muscle, not losing fat.
Unless you are over 15% body fat, you should not even think about losing fat or dieting if you aren't at the right weight for your height. Once you hit your height-weight level, then you can work on fat loss.

Here's my infamous height-weight scale.
5 feet, 6 inches = 150 pounds
5 feet, 7 inches = 155 pounds
5 feet, 8 inches = 160 pounds
5 feet, 10 inches = 170 pounds
6 feet = 180 inches
(For every inch gained in height, add 5 pounds.)
NOTE: If you are below the assigned weight for your height, you MUST – and there is NO debate – focus your workouts on BUILDING muscle.
That's the #1 rule for you.
So what's the solution?
Your 3 best options are:
These programs are for men AND women who are SERIOUS about boosting their lean mass metabolism and overcoming their bad genetics, just like Vince, Jay, and I did.
It is ALWAYS a good time to gain muscle.
Your friend and coach,
Craig Ballantyne, CSCS, MS
Author, TT Meatheads