Home Gym Workout Equipment Warning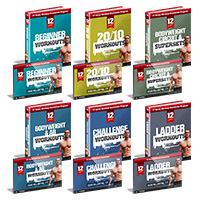 On Monday I received a disturbing comment on my Facebook page from longtime reader, Christine B.
(I've removed the name of the brand, but this goes for allvof your equipment.)
"Craig, please warn your readers about the '___ Pullup' bars.
Used mine for 2 yrs with no problems, then Friday it fell out of the doorway while I was using it. I have two fractured vertebra. The paramedic told me on the way to the hospital that he's  responded to many, many accidents caused by these pullup bars falling."
YIKES!
So please be very, very, very careful with your equipment and how you set things up. Double check equipment, especially if you are suspending your body above the ground!
(Let me know if you've experienced similar issues.)
Or better yet, skip the equipment, be safe, save money, and get amazing results with the Home Workout Revolution System.

www.HomeWorkoutRevolution.com <= open again for 3 days
You'll follow along with me and two other Certified Turbulence Training as we instruct you on proper form for safe and effective workouts. (And YES, there are 10 beginner workouts.)
This is what you've been waiting for.
By the way, back in December I was interviewed about the best home gym set up (I can't remember which magazine because I've done so many email interviews in the last few months).
Here's our brief QnA:
Q: What is the single-most essential piece of home gym equipment?
Answer:
I'm old school, so adjustable dumbbells are my top choice. (Powerblocks are great).
Q: If you could recommend only five pieces of equipment for our reader to build a complete home gym, what would they be?
Answer:
1. Powerblocks adjustable dumbbells
2. TRX Suspension Trainer or Jungle Gym Straps or Elite FTS Blast Straps
3. Kettlebell 18-35 lbs (53 pounds if you're really strong)
4. Power rack with pullup bar (expensive, but awesome)
5. Barbell and weight plates
Q: What's a good "extra" item (maybe something that's really useful/effective, but not critical)?
Answer:
A Power Wheel from Lifeline USA. You can do some cool stuff like rollouts, leg curls, jackknives, and hand walks.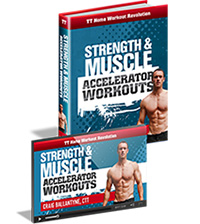 ***
But bottom line, make sure you are using safe equipment.
Or just skip the equipment and use amazing bodyweight workouts at home that harness the power of the Ultimate Fat Loss Key to get you fast results.
www.HomeWorkoutRevolution.com

By the way, I'm back off to Michigan this weekend to film MORE follow-along BONUS videos for the Home Workout Revolution.
And YES, if you already have the HWR system, you'll get these new "4-Minute Miracles" and "6-Minute 6-Packers" as a free bonus.
But they won't be edited for a couple of weeks. Still, today is a great day to take advantage of the limited time discount on the Home Workout Revolution System that is changing the fitness industry.
Get your follow-along bodyweight workouts here
Train hard but safe but hard,
Craig Ballantyne, CTT
Certified Turbulence Trainer