The One Problem with Exercise
The battleground was deep in the heart of one of Toronto's dirtiest and darkest dungeon gyms.
I was in the belly of the beast, looking to slay the Dragon that represents the #1 PROBLEM with exercise. It nearly beat me that day.
Is it beating you in battle today?
My own battle began as I closed my eyes and visualized each nausea-inducing rep that was to come. Then I breathed in a belly full of air, asked the Lord to have mercy on me, and I grabbed the dumbbells and stepped into the split squat position.
Five. Six. Seven. I was beyond the half-way point.
"Aw, just quit. This is good enough!" my weak reptilian mind screamed at my failing legs.
I nearly took my eye off the prize.
Until she walked in.
One of the trainers, a girl I had chatted with a few times, and one of her clients entered the hallowed halls of the dungeon's weight room.
I dare not quit now.
Pain is temporary, pride is forever.
Time to dig deep. Another deep breath, followed by readjustment of my posture, and I focused on grinding out the remaining reps in my set.
I had slayed the dragon.
Barely.
I had nearly been beaten by the #1 PROBLEM with exercising on
your own.
The #1 PROBLEM?
…is the lack of motivation to give it all you've got.
The SOLUTION?
Accountability. Training with a partner. Hiring a trainer. Getting someone to stand there and to encourage you to do one more rep.
We all need this.
Even us pro's.
Now you probably can't afford a good-looking member of the opposite sex to stand in your house and make you do each rep.
But you can at least have me…
…there on your TV or computer screen, doing each rep of every set along with you. Encouraging you to do your best while I'm there doing mine.
That's what you'll get in the 24-7 Fat Loss DVDs that you can use anytime, anywhere, to burn fat with metabolic workouts.
But this is the FINAL day for our sale on the follow-along 24-7 Fat Loss DVD's.
Pick them up for $100 off here: www.BurnFatWithCraig.com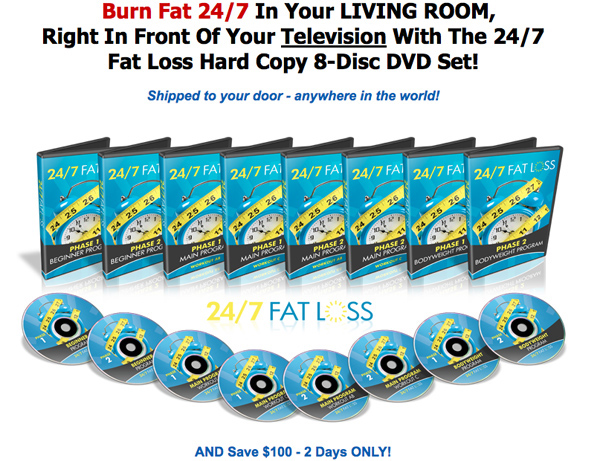 No fancy equipment.  No gym membership required.  And now burning massive amounts of fat in the comfort of your living room couldn't be easier.

24/7 Fat Loss Hard-Copy DVDs <——- Sale ends TONIGHT
But remember, these workouts are no joke.
I know because I did them…and you get to follow-along with me and watch as my muscles burn, my sweat drips to the floor, and I make funny faces and curse my own name.
Payback time – you get to watch me train hard, but I'll also be helping you overcome the #1 problem with exercise.
I'll be there to help you through EVERY set.
So join me, and burn fat at home with Craiggy B.
Keep rockin and burning belly fat,
Craig & Joel
P.S.  We're also going to upgrade the shipping on every order (anywhere in the WORLD)…
…from standard shipping to Priority at no additional charge.
Grab your upgraded copy here:

24/7 Fat Loss Hard-Copy DVDs <—— TODAY ONLY
Fight the good fight…starting now. I'll be there by your side.