TT for Abs DVD Winners!(And 3 worst ab exercises…)
Today, you'll discover the winners of the TT for Abs DVDs, but first, the 3 worst ab exercises…
I saw one on Tuesday when I walked into the gym and what I saw made me cringe like a slap in the face.
There was a guy twisting and turning and contorting himself all over the place while using some type of ab rotation machine.
Ouch.
If he only knew the damage he was doing to his spine and low back.
Heck, most people have no clue that the ab exercises they are doing actually cause major low back injuries and long term disability.
Here are the 3 worst exercises for your back:
1) Machine Rotations/Twists
2) Situps
3) Knee Tuckins
Avoid those like the plague.
Fortunately, you'll get results without those exercises when you use the TT for Abs DVDs. I'll show you all of the right exercises for working your abs while keeping your back safe – and even making it stronger and healthier.
And today, I want to announce the winners of the TT for Abs DVD blog contest…but first, here's what they have won: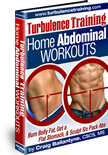 1) The Complete TT for Abs DVD System and Home Workout Manual
You'll start with the beginner program, then intermediate, and then hit the 3-phase, 12-week Advanced Abs workouts. Those workouts were tough, effective and fun. I had a blast filming those.
And YES, these are "follow-along" workouts, meaning you'll get to do every exercise, every set, every rep, and every interval with me, but in the comfort of your own home, and for a fraction of what you would invest if you were a personal training client of mine.
(In fact, the entire TT for Abs DVD System is LESS than the price of a single training session with me.)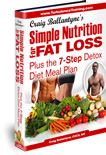 2) The Bonus "Simple Nutrition" DVD and Manual
You'll discover the 15 Simple Nutrition rules that make up my meal
plan, and you'll get to see everything I have in my kitchen, my
grocery list, and the meals that I eat. That one was filmed right
here in the kitchen of the Turbulence Training headquarters – with
my co-star, Bally the Dog.
3) Bonus Workout DVD #1 – TT Beginner Total Torso Training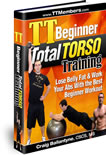 You'll do this workout first, before any TT for Abs DVDs, if you are a beginner and need to lose fat and work on your core strength first.
These workouts are short little circuits – and YES, they are also filmed in follow along style so that you do every rep with me. This 4-week plan will help you lose 10-12 pounds of fat in 4 weeks while getting your abs ready for the next level.
4) Bonus Workout DVD #2 – TT 15-Minute Express Workouts
You'll get beginner and advanced versions of these 15-minute, follow along fat burning workouts to help you get maximum results in as little time as possible.
Again, you'll do every rep with me, and you'll even get to see me challenged by my own workouts. These are fun, but tough, and darn effective, too.
Plus, you'll also receive…
– The TT Bodyweight Abs online workout program
– The TT Amazing Lower Abs online workout program
– A special bonus advanced nutrition program from my friend, Isabel De Los Rios
Whew…that's an amazing package.
And if you didn't win, don't worry, because next week I'm having a special DVD release party and you'll get all of that

for LESS than the price of a training session with me…
…and you'll get free shipping, ANYWHERE in the world! (Next week only.)
So stay tuned for this special offer on Monday…but make sure you act fast, because this offer is only good until Wednesday, March 3rd, at 11:59pm, EST.
You'll only get this special kick-start price and I'll only pay the shipping during those 3 days.
And now…drum roll please….
The FIVE Winners Are (I just had to give out 5, not just 3):
1) Sue B – to help her get her confidence back!
2) Roy – so that his daughter no longer calls him fat
3) Holly Amarandei – to help her get fit before she gets pregnant
4) Stacey Bryant – to help her lose the baby fat & get a healthy back
5) Marco Carrington – to help him train his clients for flat abs!
Congratulations to everyone, and I'll be emailing you for your shipping address.
And thank you to everyone who posted comments and questions, I promise I will answer all of those questions soon.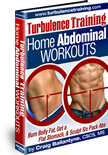 To your success,
Craig Ballantyne, CSCS, MS
Creator, TT For Abs
PS – Coming soon…
I will be answering all of the questions you posted on my blog in future blog posts, emails, and special reports.
However, I promise you that the new TT for Abs DVDs will also fix the problems you have with your abs – I guarantee it.
There will also be a few extra BONUSES during those 3 days next week when the TT for Abs DVDs are available at the lowest price ever!
Big week next week…so stay tuned for some exciting announcements.
PPS – All past TT clients will get a special extra $30 off during the special TT for Abs DVD release!