3 Ab Exercises to Tighten Your Tummy
If you want to tighten your tummy and get rid of that last bit of lower belly pooch, then here's just one of my TT for Abs circuits that you'll be doing in the TT for Abs DVDs with me.
1) We'll start with:
Stability Ball Rollouts or Modified Ball Rollouts for Beginners
That's one of the best moves for getting your abs to "pop" and show
up when you get low body fat levels.)
2) Then it's on to the:
Side Plank (and there are a couple of advanced versions in the DVDs)
We'll do that for 15, 20, or even 30 seconds per side…
3) And then finish off with my favorite move that works your six pack abs and your obliques (I think this one is a big part of me having those famous lines that run from my lower abs into my waistband):
The Cross-Body Mountain Climber
We'll work through that one together, and I'll show you on the DVDs how to get the most out of that exercise, PLUS I'll be there encouraging you EVERY rep of the way.
(You might even just watch the advanced Abs DVDs just to see me struggle through some of the tougher circuits…a little sweet revenge for you, perhaps?)
You're going to have a blast with these new workouts that you can watch in your home gym, or in your living room, or in a hotel room, or while on vacation, or anywhere you choose to do your TT workouts.
We'll even do intervals together in the DVDs.
Plus, you'll get to visit my home kitchen where I'll take you through all of the cupboards and the fridge to show you the nutrition secrets that keep me lean with sexy abs ALL YEAR LONG – even with all of the travel I do.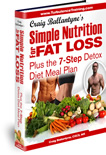 You'll be amazed – and very happy – to hear about all the carbs you can eat on the Simple Nutrition program while still losing belly fat.
So watch your email early Monday morning and be a FAST ACTION TAKER on these DVDs because…
A) You'll save over $100 off the regular TT for Abs DVDs price on Monday
B) You'll get free shipping – that's right, I'll cover the complete costs of getting them directly to your doorstep
C) You'll get access to a bonus abs coaching call with me where I'll go over every flat belly secret and tip to lose love handles
(NOTE: Bonus "C" is only available to fast action takers who get their copy on Monday…so don't wait till Tuesday or you'll miss out on the bonus coaching call.)
And in that big box of DVDs you'll get:
1) The Complete TT for Abs DVD System and Home Workout Manual
2) The Bonus "Simple Nutrition" DVD and Manual
3) Bonus Workout DVD #1 – TT Beginner Total Torso Training
4) Bonus Workout DVD #2 – TT 15-Minute Express Workouts
It will be just like Christmas when that big box of goodies shows up on your door – except unlike at Christmas, these goodies will actually help you get RID of belly fat!
Whew…that's an amazing package.
So stay tuned for this special offer on Monday…but make sure you act fast so that you get ALL of the bonuses.
Have an amazing weekend,
Craig Ballantyne, CSCS, MS
Creator, TT For Abs
PS – Just a reminder for Monday…
…in addition to saving over $100 off the regular price of the TT for Abs DVDs…
…and in addition to getting free shipping of the DVDs direct to your doorstep…
TT readers who grab their TT for Abs DVDs on Monday (and Monday only!) will get access to an EXCLUSIVE coaching call with me where I go over the top tummy troubles and how to get rid of belly fat and love handles once and for all.
So be ready on Monday to be a FAST ACTION TAKER when you get the email with the link to get your TT for Abs DVDs.
I love action takers and people who prove to me that they are ready to do what it takes to achieve their goals and realize their dreams.
And I look forward to talking to you on that coaching call!