How to Turn 15 Minutes into Money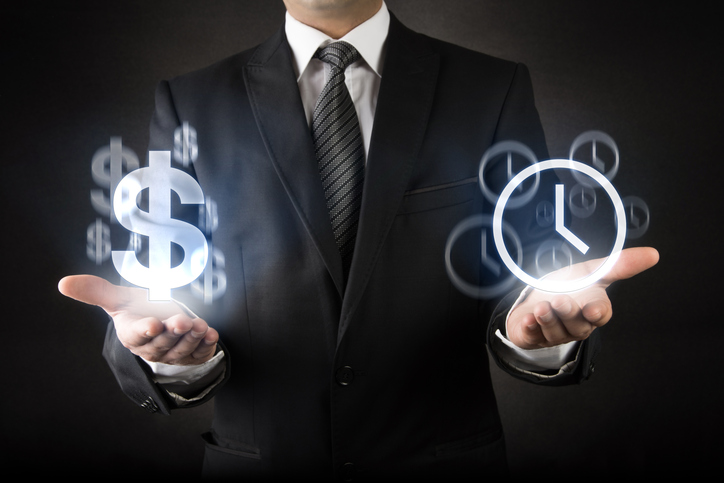 Do you want to turn your minutes into money?
"Time is what we want most, but what we use worst," the 18th-century philosopher William Penn once said.
While that applies to the average person, it doesn't have to apply to you. Imagine if you could be insanely productive and successful at work in fewer than eight hours per day?
Imagine if you could have quality hours each day with your family, rather than just bits and pieces each week?
Imagine if you finally had time to pursue your passions, rather than putting them off to retirement?
All of this is possible. In fact, I'm willing to go one step further. What if I could give you an extra 30 minutes per day to work on your number one priority in your business or job?
Then another 30 minutes per day so you could get more sleep?
And best of all, yet another 30 minutes every day to spend with your spouse, children, or health and hobbies?
No, I don't need to invent a time machine like Jules Verne to do this.
It all comes from tripling your productivity over the course of the day, improving your focus, giving you permission to say "NO!" to what doesn't matter, and delegating the minor so you can focus on the major. That's the system I teach in the Perfect Day Formula kit (get your NEW and IMPROVED version here).
Remember these words. Focus. Vision. Structure. They are the keys to dominating your day and taking back control of your life.
Here is one simple way to turn 15 minutes into money…
Lee Iacocca, the revolutionary turnaround CEO of Chrysler, once lamented his inability to find 15 minutes each day for thinking. He was in reactive mode all day long. That's where most entrepreneurs spend their day, and it stunts their financial growth.
With the Perfect Day Formula system, you'll make time for 15 minutes in the morning of focus on your number one priority in life. When you do this, and when you focus these precious minutes on building your wealth, you'll make rapid progress.
Fifteen minutes a day, six days a week, is 72 hours in a year. Imagine what you can accomplish with 72 hours of clear, uninterrupted thinking.
It was this approach to my schedule that allowed me to master email copywriting for an online fitness business. I woke up at 4:30 AM every morning, studied and practiced the art of copywriting, and did all of that before I left the house to grab the bus to the gym to make my 6 a.m. training session.
Within 12 months of putting this system into practice, I was making 6 figures per year with my business and I was able to quit the energy-draining job of personal training.
Fifteen minutes a day set me free. What will it do for you?
Will it make you a better salesperson? Will it help you write your book faster? Will it give you the mental time and space needed to create wealth-building marketing funnels?
Let's look at several ways to use 15 minutes in the morning to make more money.
First, you must make room for those 15 minutes before anyone else in your household rises from their slumber. This is essential, and it's not often difficult. You don't need to join the 5 AM Club in order to get ahead in life.
Remember, we're building your wealth a simple 15 minutes at a time.
If you get up before the chaos starts in your home, and you go down to your kitchen table with just a pen and a piece of paper, no electronics, you have the perfect environment for BIG thinking.
Sitting there, you can overcome any problem, you can take advantage of any opportunity, and you can leverage the power of being PRO-active. Most entrepreneurs their entire day in RE-active mode, and they struggle.
They hit the snooze button. They are late to work and meetings.
They are fueled by caffeine and suffer inevitable crashes.
But you are different. You are proactive. You get ahead of the game. You open up those 15 minutes to take action and attract the wealth into your life that you have so long deserved.
You might, for example, sit there and script out a better sales presentation to be used later that morning.
With clear thinking, no email or phone calls or co-workers bothering you, you'll find your mind operating faster, more creatively, and more effectively than ever. Suddenly you'll have deeper insights into the problem at hand, benefitting your client and making the sale so much simpler.
Or you might find the 15 minutes is magical for writing your book. Did you know, that as an expert, you can write approximately 500 words in just 15 minutes? Done six days per week for ten weeks, and you'll have a 30,000-word mini-book practically ready for publishing. If you've ever thought, "If only I could find the time to write," well, I've just done that for you.
But the key is not finding time. It's in making time for what matters.
And that's what you must do. Make the 15 minutes of focus in the morning an unbreakable rule, a law of your life, and you'll make more progress in this quarter-hour than you do over the rest of the day.
That's the power of focus, vision, and structure.
When you know what you want to achieve, you can focus your 15 minutes like a magnifying glass focuses the sun's rays, amplifying its power and turning it into an incredible force.
All of this is within your control (part of the 3-C system for success that I teach in The Perfect Day Formula kit).
You can have greater wealth, and you don't need hours of time to do so. It's all right there, for the taking, if you make it.
It worked for me, and it'll work for you too.