The 2011 Turbulence Training Trainer Awards
Every year I make fitness predictions for the upcoming year. It truly is my favorite blog post of the year. And I thought it would be a great idea to give out Turbulence Training awards as well.
So welcome to the 1st ever edition of the TT's. If you work hard, play by the rules, and add value to the world, you might end up winning a TT next year. Let's start out with the client awards first, and then move into the trainer awards.
Client of the Year – Catherine Gordon
Catherine has been a long-time supportive reader and participant in the contests and forums over at www.TTMembers.com. This year I finally had a chance to meet her at the 1st ever TT Summit and we had a great time. She even joined us on stage and shared her success tips and personal transformation story. It was very inspiring to everyone in the TT world.
Here's Catherine…. And James Cheyne…
Transformation of the Year – James Cheyne
Surprisingly, James didn't win his category in the 12th TT Transformation Contest (coming in second by just 7 votes), but he did manage to lose over 45 pounds of fat in just 12 weeks (plus he finished 2nd in the 12 week contest and did in fact win the 6-week mini-contest). His results are incredible…dropping almost 4 pounds of fat per week and nearly achieving a full set of six-pack abs. Well done, James.
TT Trainer of the Year – Chris Lopez
Here's to the longest serving TT Trainer (except for yours truly, of course). It was a big year for Chris Lopez, re-launching his www.KettlebellWorkouts.com product and having a record-breaking year with that website. He also schooled us with kettlebell exercise tips at the 1st ever TT Summit. Oh, and he has 5 kids. It's always worth mentioning that, because most people think Chris is a kid himself. It goes without saying that 2012 is going to be an even bigger year for Chris Lopez, RKC, CTT.
Rookie TT Trainer of the Year – Mike Whitfield
Aw yeah, what an awesome and deserving winner. Mike Whitfield has been an extreme pleasure to work with as part of the TT Certification and as the author of one of the hottest new fitness programs, www.WorkoutFinishers.com. He's also been a huge help for contributing dozens of articles to my blogs. Don't miss his new products – such as his Abs Finishers program – coming out in 2012. It's going to be a big year for Mikey W. All thanks to that fateful day when he threw his Playstation controller on the ground and was shocked to realize he needed to transform his body…interesting how things turn out. Congrats Mike.
Workout of the Year – 24-7 Fat Loss, Advanced Phase 1, Workout C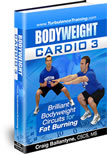 The one with 20-10 bodyweight squats – and that's on video here for you to enjoy my suffering. This workout also features some beach-body arms for good measure. Truly a classic. If you disagree, please email Lesa and let her know what you thought was the 'workout of the year' in the TT family. Drop us a line at: TurbulenceTrainingHelp@gmail.com
Bodyweight Exercise of the Year – Total Body Extensions
The fake squat, as I like to call it, played a huge role in the 24-7 Workouts, as well as my TT Metabolic Finishers program. It also showed up and made a lot of friends at the 1st ever TT Summit. This exercise is a fantastic, low-impact way to provide an MRT or finisher stimulus for clients of all fitness levels. It's like a jump, but without the jump, and I promise you that if you do 20 reps – or better, 40 seconds – of this exercise, your heart rate will be waaaaay up and your quads will be burning. If you aren't using this in your programs, check out my video demonstrations to find out how to use it ASAP.
Exercise of the Year – Narrow-Stance Barbell Squat
You probably thought I was going to give this award to the deadlift, after all, that's my favorite exercise. But with the popularity of MRT, and more recently, M-MRT, this exercise has become a staple in my advanced programming. Here's why…the set-up of this squat variation allows you to exhaust your quadriceps better than any other two-leg squat movement. Try doing 4 sets of 10-15 reps at a 2-0-1 tempo and your quads will feel pumped up like never before. C'mon, tell me the last time you had a "quad pump". Probably not too recently, unless you do leg extensions. Enjoy this exercise and let me know on the TT FB page here – www.TurbulenceTrainingFanpage.com – how you are using this movement.
I hope you have enjoyed the 2012 TT's awards. Keep working hard, doing the right thing, and never, ever giving up on your dreams and lifestyle design. By committing to the TT lifestyle, you could be one of our winners in next year's TT awards. Stay strong.
Craig Ballantyne, CSCS, MS
Certified Turbulence Trainer