Turbulence Training Success Stories of the Month for July 2011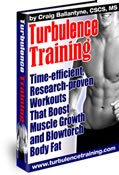 Congratulations to our two winners of this month's "TT Success Story" Contest.
Each winner receives a 1-year Platinum TT Membership, so they'll have access to all TT workouts from the past PLUS all TT workouts coming in the next 12 months.
If you have a success story, please email it to TurbulenceTrainingHelp [at] gmail.com.
Looking forward to hearing from you.
*********************
Success Story #1 from the Phillipines
Hi Craig, Mabuhay! Greeting!
My name is Audie Salvador from Philippines. Turbulence Training change my life and perspective in life.  Before I downloaded your
ebook, i've been following your books and articles.
To cut it short, it changed my life completely. I was an obese before. I weighted 100 kg, now after training hard but safe I dropped my  weight to 70kg and maintaining it. Now i feel comfortable and confident about myself.
Of course with a change lifestyle and eating habits. Now i also recommend it to all my friends here and abroad. I also sharing some
important tips in my friends in Facebook.  And many of my friends way back in high school, are very much surprise that i look younger my age ( im already 40) that i still managed to take care of myself and my body as well.
Thank you Craig and more power to you.
Regards
—
Audie Salvador
***************************

And Success Story #2:
Craig
Just wanted to say thanks for your life-changing TT program. I am 6 ft tall, almost 49 yes old and work in an office. I weighed 257lbs on Jan 1. I bought your program and managed to procrastinate doing anything until early Feb.
Started at the beginner level as you recommended. This week I began your original TT workout. I now weigh 205 and have gone from squeezing into a size 42 pants to comfortably wearing size 36. I have found that this is much more than just losing weight.
My marriage has been strengthened through a vastly improved love life, my self worth has significantly improved, and my overall mindset has changes to where I welcome any and all challenges.
Thanks for helping to change more than just my body. Know that you are positively affecting more lives than just your customers.
Matthew E.
***************************
Congratulations to our two winners.
Please send in your story, or if you are new, make sure you take before and after photos with your results. And think about joining the 12th TT Transformation Contest that will start in September.
To your success,
Craig Ballantyne, CSCS, MS
Certified Turbulence Trainer