This Fall Chili Recipe is Packed With Flavor — and Fiber!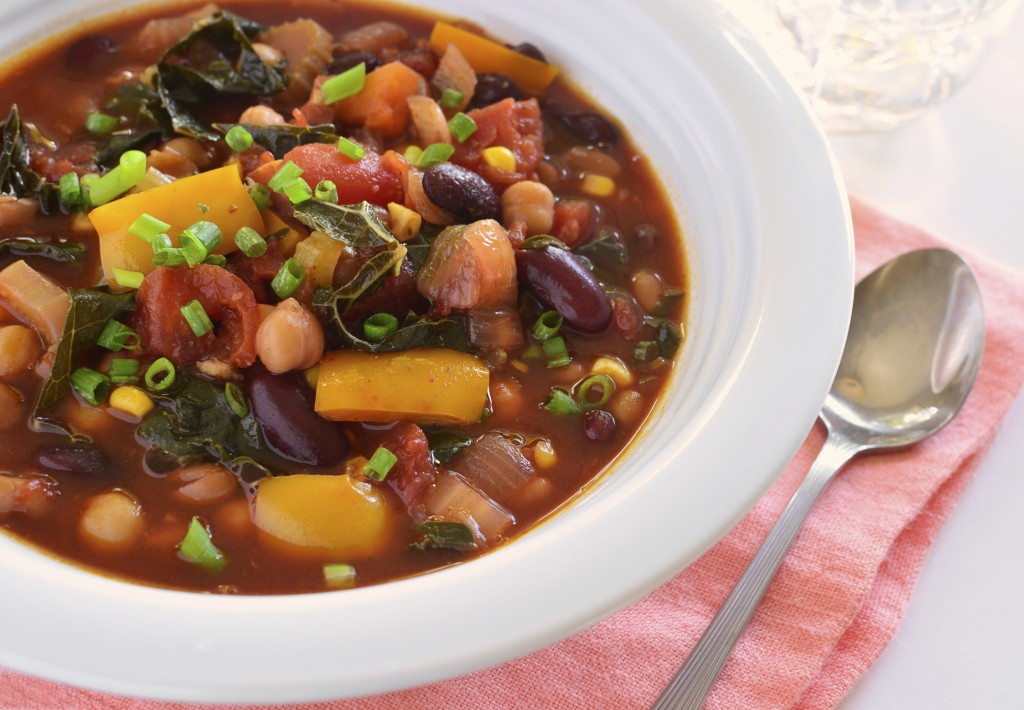 I recently shared with you a meal plan that helps you easily reach the recommended 30 grams of fiber you need each day if you're looking to shed pounds.
With fall upon us, I want to share one of my favorite high-fiber dishes. Not only will this chili recipe satisfy your comfort-food craving — it's also loaded with fiber.
Black Kale Chili
Is there an easier comfort food recipe than chili con carne? While serious chili fans argue over contentious ingredients like tomatoes or even beans, I think most of us can agree that ground meat, chili powder, tomatoes and kidney beans are the minimum ingredients for a great chili. The variations are up to you. Add sweet or hot peppers, spices of your choice, corn, or even okra if you so desire. I add black kale because I love it, it adds fiber and vitamins, and because it looks good and wholesome in my chili.
My recipe "as is" will give you an awesome-tasting chili con carne. Make a huge batch of it. That way you'll have leftovers for the next few days, or portion and freeze. Chili freezes very well.
Now, talking about reheating chili, let me bring you up to date with a simple principle of chemistry called osmosis and diffusion. Things that you start cooking in a cold environment and bring to a simmer, exchange flavors better and faster than things you start in a hot environment and cook for the same amount of time.
What does it mean for your chili? Simply that it will be much better the next day. Why? Because when you make the recipe once, flavors are what they are.
If you chill your chili, and then bring it to a simmer, then the chemistry principle of osmosis and diffusion applies, and each ingredient exchanges flavors with the others very efficiently. Your chili ends up much better than it was the day you prepared it.
For that reason, just like soups, stews, and casseroles, this chili is even better the next day. Don't hesitate to serve it as leftover.
Quick tip: The more you cook chili, the better it is. If you have time, don't hesitate to simmer it very slowly for 2 or 3 hours.
Active time: 10 minutes / 
Cook time: 30 minutes to 1 hour / Yield: 4 servings
Ingredients:
1 onion, chopped
2 tsp. chili powder
3 small cans kidney beans, drained
1 bunch of black kale, stems off
1 lb 90% ground beef
2 tbsp. tomato paste
1 medium can tomato diced
1 cup water
Preparation:
Over medium-high heat, cook the onions and the chili powder until onions are soft and translucent.
Add the beef and brown. Stir from time to time to break it up with your spatula. Add tomato paste, kidney beans, water, kale, and tomatoes.
Bring to a boil, give it a good stir and cover. Turn down the heat and simmer for at least 30 minutes, preferably 1 hour or more. (Optional: serve with brown rice.)
Options: There are many options here. Add sweet peppers or spice it up with Poblano peppers or jalapenos. Tomatillos are a good addition for a variation of chili verde (green chile).
Of course, you can make a vegetarian alternative by simply replacing the beef with chopped vegetables (zucchini, celery, carrots, broccoli, etc.).
I'll be sharing more of my favorite Full-Fiber Recipes on EarlytoRise.com in the coming days. If you missed my "Supercharged Guacamole," click here.
Want to get 30 grams of fiber in by lunchtime? Check out these ideas from ETR's Missi Holt.