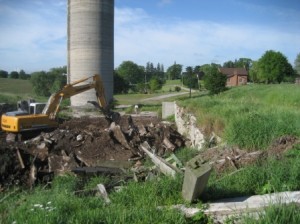 Today's article has nothing to do with fitness…I hope you don't mind.
It's just a little personal update I wanted to share with all of my friends, including you.
From time to time, everyone has days in their lives they will remember forever. Yesterday was one of them.
Yesterday, we sold the farm.
Ever since my dad passed away in 2008, it was inevitable.
But after over 40 years of her living in the same house, and after 36.5 years of me having a bedroom in the same northwest corner of that house, it was time for my mom to sell the old homestead and move on.
The house is just too big for one old little lady.
Plus the farm comes with a massive lawn that takes her and her brother (my uncle) over 3 hours to cut – and they have to recruit her old friend Gord, a dairy farmer up the road to bring his tractor down to cut the slope of the large front yard.
(Good ol' Gord also has to come down after every winter snowfall to clear the 150 yard laneway too.)
Yesterday, after Bally and I went for a big walk from the farm all the way into where I went to high school, we loaded him up into the back of my mom's SUV. Then we drove to nearby St. Mary's to sign the legal documents that finalized the sale of the ol' Howie Ballantyne farm.
Then again, there's not much left of the farm now anyways.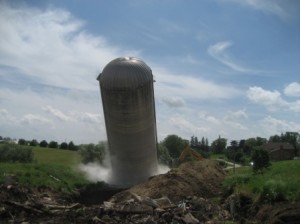 If, like many readers, you've been around for a while, then you probably remember the article I wrote about the day they knocked down the barn and silo out here.
If not, you can read that article about "getting out of your comfort zone" and you can see photos of the demolition here.
I wasn't around the day of that demolition, but those pictures sure tell an interesting story, don't they?
After we left the lawyer's office yesterday morning, we drove home through the beautiful countryside, past farm after farm getting ready for harvest, and we eventually drove by the small elementary school where I went from Kindergarten through Grade 8.
It looked like the old place hadn't changed one bit, but for the cars in the parking lot.
The soccer field where lil' Craiggy used to play and get in fights with other kids to impress the girls was still there.
The old baseball diamond…the bus loading zone…the swings…same as it looked 30 years ago.
Hard to believe it's been that long. But on we went, passing by the old township baseball diamonds where I used to play as a kid.
Believe it or not, my mom would send me – alone – on the 3 mile bike ride from home to the ball diamonds – and back, every Monday and Wednesday during the summers when I was just 9 years old.
That's how things were back then, you could just send a kid on his own biking down the back dirt roads and not worry about him.
Yes'um, I was the original dirt road scholar.
I'd buy my jumbo freezie after baseball, hop on my bike, and slowly get home just before dark.
Boy, those were some tough rides on a two-wheeler without any fancy gears when you're just 9 years old. But it sure kept me lean even though I would get home and dive into some soda and chips each night. Maybe steal a few gumdrop candies from my old man while he was sleeping, too.
Those were the days.
The days gone by.
My good old days.
We'll have one more Christmas out on the farm.
Maybe even one more summer too, before my mom gets her new house built.
Then we'll have to be a little more careful when crazy ol' Bally the Dog goes to visit my mom, since her new house will be closer to the road.
But until then, we'll get up Thursday morning before the sun and start our walk through the fields just as it begins to crest the hills that surrounds the old ranch.
Lil' Bally will run through the streams, bark at some ducks, sniff around where the old barn used to be, and mark his territory – as soon it will no longer be his.
I hope you enjoyed that little roll down memory lane for me, letting me show you where I'm coming from.
Reminds me to be both thankful for everything I have but also to remember that life hurries on, and that time is ticking on everything.
Maybe there's a fitness lesson in here after all…a reminder to us that we gotta get moving on our goals.
How's about this…
Take some time on the weekend and run through a list of all the things you have to be grateful for…
And then make another list of all the things you still want to accomplish…
And then let's start working on an action plan to help you get what you want and deserve out of life.
Let me know what you have planned for the future in the comments section below.
To your success,
Craig Ballantyne, CTT, MS
Certified Turbulence Trainer