The Punisher Workout and Turbie Dance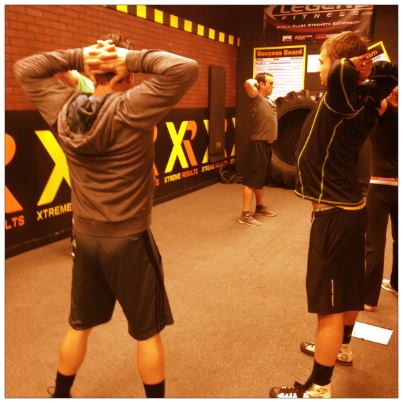 What a way to spend a crisp, fall Saturday afternoon!
I just put 11 new Level-2 Certified Turbulence Trainers (CTT's) through the official "20-10 Punisher Graduation" workout. It went like this:
1) Prisoner Squats (2 rounds )
2) T-Pushups (2 rounds)
3) Total Body Extensions (2 rounds)
4) Pushups (2 rounds)
5) Swing Lunges (2 rounds)
6) Mountain Climbers (2 rounds)
7) PUNISHER SQUATS!!! (8 rounds)
Everyone finished because they used today's kick-butt mindset tip:
"Try, fail, learn, keep going, keep pushing, stay strong, get stronger, fall down, rise up, adjust course, & success will be yours."
Great times!
If you want to find out more about how you can be part of my life-changing 10 Million Transformation Mission through the Certified TT Trainer program, just go to this link to read about…
The Amazing People of the Turbulence Training Certification
Thanks to this weekend, we now have 11 new "TT Family" members and my goal is 1,000 new CTT Trainers by the end of 2014.
That means I'll be doing a LOT of CTT LIVE! events in 2014 all over North America, throughout Europe and Australia, and even Asia, too.
Each event is always awesome. Lifelong friendships are established, lives are changed, and newly Certified TT Trainers get PUMPED for our biggest event, the annual Turbulence Training Summit held every June in sunny San Diego.
2014 is going to be amazing.
Hope you choose to join us.
I promise to Punish you too if you do! haha.
By the way, you can watch me do the 20-10 Punisher and "The Turbie" (the official dance of Turbulence Training)here:
Watch me do the 20-10 and then involuntarily dance "The Turbie"
Hilarious, right? Can't wait to dance the Turbie with you.
Looking forward to it,
Craig "The Punisher" Ballantyne, CTT
Certified Turbulence Trainer
PS – Stay tuned for BIG Home Workout NEWS…
…about how you can burn more fat at home with NO equipment.
I've put together some special Holiday workouts, for the busiest time of the year, and I'll be sending those your way this week.
It will eliminate all "I don't have time to workout" excuses and you'll be able to burn fat and LOSE weight over the holidays. It's actually really easy.
I'll show you how all week long!
 PPS – I'm about to film a couple hundred burpees…
…this morning at Brian Kalakay's gym. We're working on 10 brand new 4-Minute Miracles that will be coming your way soon. Keep me in your prayers! LOLz