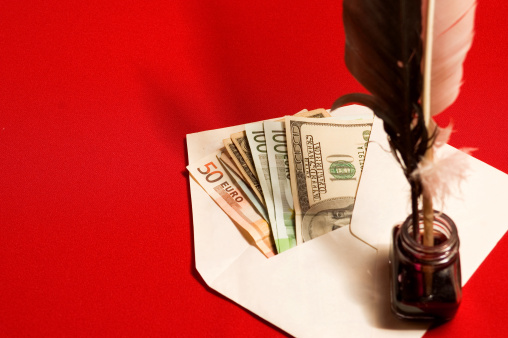 It's 4:21am. The stars and moon are out on another gorgeous night in South Florida. I'm working in my friend Joel Marion's sunroom office. It's big enough for four people, but it's just he and I.
Every morning I get up at 4am, no matter where I am in the world. This is my magic time for writing and turning my words into money.
Joel is still up from the day before. Soon, he'll head upstairs to the master bedroom of his grand mansion on the Gulf Coast and sleep until his precious two baby girls wake him up around ten o'clock in the morning. I'll still be here writing.
Our daily routines could not be more different. However, the results are similar.
Each day we send workers deep into the depths of our brains to mine our minds for money. The workers extract words that sell, phrases that pay, and motifs that motivate.
We are truly blessed. Joel and I can take our skill on the road (as I often do, having worked from Italy, Germany, Japan, Canada, Mexico, and America in the last sixty days). But we both started off from humble beginnings.
Joel was a schoolteacher in New Jersey. His classes began at 7:30 each morning, and he taught physical education until 3pm. After finishing his teaching responsibilities, he would head home for a nap, followed by nine hours of study in his apartment as he learned how to turn words into money. Twelve months and two coaching calls with me later, Joel launched his first information product on the Internet and netted $300,000 in a 3-day sale.
Joel mastered a skill that made him a multi-millionaire before he was thirty. His ability to turn words into money led to him being named Marketer of the Year at Yanik Silver's 2010 Underground Online Seminar.
My career started in similar humble beginnings. You've probably heard rags-to-riches stories of writers working in spare bedrooms or at kitchen tables. I didn't even have that luxury. I learned how to turn words into money when I was just out of college, living in a cramped apartment with two high-school buddies. Each morning at 4:30am and again each night at 8pm, I sat for hours on the floor in my bedroom, straining my neck over my lap top, with my trusty, tattered copy of Bob Serling's Info Millions at my side.
Most people whom claim to be writers are living a fantasy life. They'll never get anywhere. They wake up late, have coffee and the morning paper at a local café, and then eventually settle down for a short stint in front of their computer before taking the rest of the day off at their leisure.
That will get them nowhere. As Mason Curry outlines in his book, Daily Rituals, many of the most successful and prolific authors in history confined themselves to a mandatory marathon writing session starting early each morning. They had to fight temptation and inner demons to do their work. It was a war. Turning words into money isn't pretty. Success demands the lunch pail approach of a manual laborer. But it is labor that you can love.
The truth about turning words into money is that very few can make the cut.
Writing is a skill. It takes practice and guidance. Sure, you can call yourself a writer by simply keeping a journal or scribbling out some short stories in a personal notebook. But writing to transform lives is difficult and demanding, yet ultimately far more rewarding.
Turning words into money is a labor of love. If you really want to turn words into money you need a routine and formula.
Stephen King writes at least four hours per day, three hundred and sixty-five days per year. No days off. Many writers and editors describe their job as a constant struggle, as though they are going to war against themselves every day.
I concur. Writing is a mental battle, a war that must be waged against more distractions these days than at any other time in history. The endless amount of anonymous criticism delivered on the Internet has surely killed more than one talented writer's ambition. You must be stronger than that, and you must have a big vision and dream of what you can accomplish. I'm living proof that you can change the world if you can win your war.
Ten years ago my job was to transform people's lives as a personal trainer. But I was not satisfied helping people one at a time. I had a world to change. So I taught myself to write, slowly and painstakingly. I've written well over 30,000 words a month for the last decade, and I've been able to use my skill to communicate with millions of readers through Early to Rise, Turbulence Training, and the many magazines that I have contributed to, including Men's Health, Details, Maxim, Prevention, and more.
I've broken through every barrier you can imagine, but my progress would have been much faster with a mentor, as yours will be.
Begin Your Journey With a Blank Sheet of Paper
This is where it all starts. You have plenty to say, but stare at a blank sheet of paper or computer screen. You need inspiration. You need a plan. Overcoming this obstacle requires a proven system to getting started. I will show you how to do this.
It doesn't end there. You will also learn how to captivate your audience with storytelling. They want to be entertained. They want to learn through your experiences. They want to know your thoughts on current events. You need to be a thought leader. You have to, as Ted Nicholas says, prove to the world that you are extraordinary because the world does not reward the ordinary.
If you are an artist, if you care for words as a master gardener does for his roses, taking the pain of the thorns to prune the prizewinning flowers, then this opportunity is for you.
It's your chance to make an impact. It's your opportunity to take your love, your curiosity, and your ability to teach through the art of writing and turn that into a career, rather than just a dead-end hobby.
Your job is to create. You'll write for hours each day. Your pace will be aggressive.
You'll be building the foundation needed to become a good writer.
[
Ed Note:
Craig Ballantyne is the editor of Early to Rise (
Join him on Facebook here
) and the author of Financial Independence Monthly, a complete blueprint to helping you take control of your financial future with a web-based business that you can operate from anywhere in the world – including a coffee shop, your kitchen table, or anywhere around the world where there is Internet access.
Discover how you can achieve the American Dream and your financial independence here. You've never seen anything like this before
.]