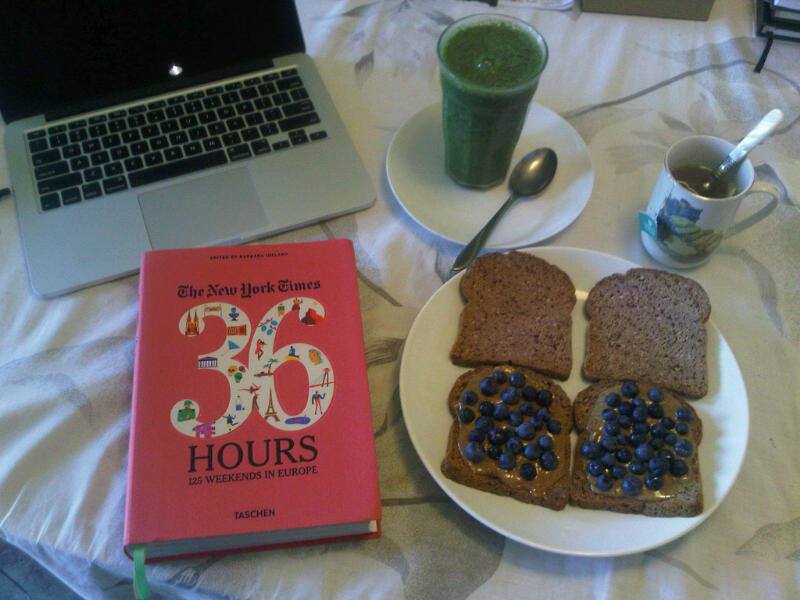 Think you can't eat sandwiches ever again if you go "Paleo"? Well, I have good news for you below.
But first, your 10-Minute Paleo workout. Why do I call it that? Because you're going to do basic human movement patterns – Jumps, Lunges, Squats, Crawls, and Pushups. There are no fancy machines needed. And yes, I have a beginner version, too. Let's start with it.
Beginner 10-Minute Paleo Workout
1) Jumping Jacks – 20-10 (20 seconds work, 10 seconds rest)
2) Split Squats (place hand against wall for balance if needed) – 20-10/side
3) Pushups or Kneeling Pushups – 20-10
4) Squat or Wall Squat Hold – 30 seconds
5) Mountain Climbers or Plank -30 seconds
– Do each exercise for 20 seconds and rest 10 seconds before the next.
– Rest 1 minute at the end of the circuit.
– Repeat up to 2 more times.
Advanced 10-Minute Paleo Workout
1) Burpees – 20-10 (20 seconds work, 10 seconds rest)
2) Overhead Lunge – 30s/side (hold broomstick overhead to work upper back)
3) Pushup or Decline Pushup – 30 seconds
4) Prisoner Squats – 30 seconds
5) Bear Crawls or Mountain Climbers – 30 seconds
6) Bodyweight Rows or – 30 seconds
– Rest 30 seconds at the end of each circuit.
– Repeat up to 2 more times.
And now for…
The Paleo Lunch
I ordered almond flour Paleo Bread from Julian Bakery (it delivers in Canada and the United States, sorry International readers!). It's a hefty little slice of high-fiber, high-healthy-fat bread and makes great lil' sandwiches.
After my workout on Sunday I had 2 almond & hazelnut butter sandwiches with blueberries. I also had a blender drink using Paleo Protein Powder (ordered online from True Nutrition), Athletic Greens, spinach, raspberries, maca powder, and creatine. Oh, and a cup of tea, too.
Yes, I know…a little weird, and not 'hard-core' Paleo…but delicious…and filling! Scroll down for a picture (sorry for any formatting issues).
You'll also see the book I was reading for 'homework' as I prepare for my annual trip to Europe this week.
On Wednesday I fly overnight to Frankfurt and then on to Vilnius, Lithuania, where I'll be teaching at the annual BlackSmith entrepreneurship camp. This is my 5th year and we have over 65 college-aged kids coming in from 35+ countries.
Last year one girl traveled for 72 hours from Zimbabwe (and ran out of money along the way). That's dedication. The kids are fantastic and so full of energy (they learn and party non-stop for 4 days!).
Plus, I put them through tough bodyweight workouts every day at 4pm. That's good new for you because I'll be bringing you a couple of bonus bodyweight workouts…if the Wifi at the camp is working.
After Lithuania I'm off to Rome and the surrounding area for 3 days, and then finally spending 3 days in Prague with a couple of old friends.
There will be lots of walking and sightseeing in these beautiful cities.
I absolutely love Europe. If I believed in past lives, then I'd surely have spent several living in the heart of Europe.
My favorite places are the rolling hills of Austria (near Zell am See), Munich (I loved the Englischer Garten), Stockholm (what a gorgeous city full of even more beautiful girls!), the history of Krakow, the cafes & culture in France, the streets of Amsterdam, the little towns – and BIG passions – in Tuscany, the Grand Place in Brussels, the relaxed environment of Copenhagen, the picturesque houses in Bergen, Norway…
…ok, I'll stop now. This isn't a travel blog…
…but it will be a Travel Workout Blog starting on Thursday.
That's when I'll do my first road-warrior bodyweight workout, from get this, the shower room in the Frankfurt Lufthansa lounge.
Seriously.
I did a 4-minute workout there last year, and I have one planned for my layover this time as well.
Stay tuned…I'll put together a nice Euro Fat Burner for you. And some pictures, too, of course.
NO EXCUSES!
That is how you succeed,
Craig Ballantyne, CTT
Certified Turbulence Trainer
PS – If you know a young…
…ambitious entrepreneur (under 25), then tell them about this website:
They can apply in January, 2015 for our camp next summer. Each year we receive over 300 video entries and it gives you incredible OPTIMISM for the future of the world.
The kids are alight!
Check out the video – I have a starring role in it.
The camp is free…the attendees just have to get accepted and then find their way to the camp in the middle-of-nowhere, Lithuania – but it's worth it!
Alright, get to work on that Paleo Circuit, and I'll talk to you soon.