The 3rd Annual Denver Marines Toys for Tots Drive with Early to Rise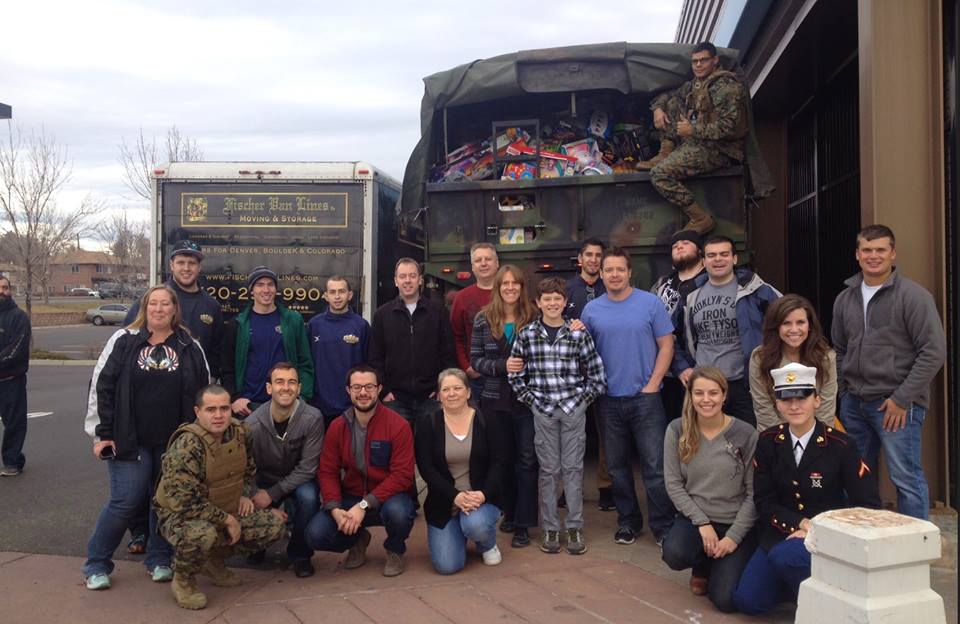 Even President Obama is getting into the Christmas spirit, joining in a Marines Toys for Tots drive. The President and his wife, Michelle, distributed toys in Washington, D.C., and praised the event. "Since the 1940's," President Obama said, "the Marines have given out over 260 million toys to children across America through the Toys for Tots program." That's why Early to Rise is a part of a Toys for Tots drive every year in Denver.
This year, thanks to your generosity, our ETR Toy Drive set a new record, and over seven thousand Denver-area children will wake up to a life-changing Christmas morning. With your help, our Early to Rise team and sixty of our close friends were able to buy over $110,000 worth of gifts for the Denver Marines annual Toys for Tots drive. Your online donations came in very handy. But it's not over, as you'll see in a minute. There's still something you can do…
But first, you'll want to read about a breakthrough moment I had at this year's event. It all started on a beautiful Saturday, December 6th morning in Denver. Over 70 ETR team members and friends gathered in our hotel lobby where we were bussed off to three local superstores for a shopping spree. It was entertaining to watch grown 'boys and girls' zipping through the toy section and living out their childhood fantasies of being able to put whatever we wanted into our carts.
Of course, these gifts weren't for us. They were for the kids of the Denver community. And this year something happened that really helped hit home for me.
On the bus ride home from Wal-Mart I found myself riding along with fifteen members of Team BioTrust. They had joined us for the shopping and had made an incredibly generous gift. They must have bought over 1000 toys!

Team Biotrust and Craig

Craig and part of the ETR crew!
As we mixed and mingled on the jingle bell bus, one BioTrust member shared how she once used the Toys for Tots program. "It was over 15 years ago," she said, "and we were living in a battered women's shelter. My children were three and four years old at the time, and the Marines came around with gifts. It made their Christmas. Today my kids are in college, and they'd love to see what we did today. This was really special."
Wow. It was the first time in all these years of doing Toys for Tots that we'd met someone who had used the program. It helped me understand how important the Toy Drive is to those that have found themselves in tough circumstances.
Our goal for this year is $125,000 worth of toys, so we still have a ways to go. And as part of that total, we need your help to raise $25,000 from online donations. We are only at $8,150, so we need your help. Every dollar counts, and each purchase of $10 or more will buy at least one gift. That's not much to ask, and we're sure the every ETR reader can reach deep down for at least 10 bucks.

Filling the Marines' Toy Truck

I have faith in you, and I'm sure we'll get to our goals by the end of Friday, December 12th – that's the deadline for donations.
Click here to make a donation to the 2014 ETR Toys for Tots Drive!

Thank you for your help. Maybe next year you can join us in person to experience this wonderful event. But even my friends that couldn't make it had a smile on their face when I told them about how we put their online donation to use.
"Hi Craig, thinking of you and everyone at toys for tots, hope you had a great day and lots of fun! … Amazing achievement!! Glad to be a supporter." – Barry Dunlop
There was a second moment on Saturday that will stay with me forever. We had a tremendous amount of help from the Wal-Mart employees, and they enjoyed being a part of this magical day. One of them caught me off guard with a comment, so much so that I nearly choked up. "I hope that you are really blessed," the Wal-Mart employee said as she bagged up the toys. I was speechless, and could barely mumble back a "thank you". I really appreciated her kind words.
Matt Smith had a similar experience at last year's event. Here's what he shared…"One of the ladies on check-out duty broke down in tears because she was blown away by how generous we were. And on Christmas morning, my 6 year old daughter Bella, had a huge smile on her face when she said she wished she could see all the kids open the toys that we got them."
You'll get a wonderful Christmas feeling when you help others. No matter what level of donation you can make, I want to wish the greatest blessings upon you this holiday season. I hope you have the best Christmas of your life, because what you are doing for these kids is truly magical. Your gift could be the catalyst to change their situation. Just imagine how they will feel to have that gift from a stranger on Christmas morning. It means more to them than we'll ever know, and I thank you for your generosity.
That's the power of the Toys for Tots event. So again, thank you so much for your giving, and for making this a magical event for us, and a magical Christmas morning for all the kids you are helping.
The impact of the day carried on well into the night at our ETR Christmas party. Even Santa was impressed by our collective generosity, and it looks like we improved our chances of making it on his nice list. I'm sure you will as well too!
Click here to make a donation to the 2014 ETR Toys for Tots Drive!
Thank you, from Santa, the kids, and everyone here at ETR.
Merry Christmas,
Craig Ballantyne
[
Ed Note:
 Craig Ballantyne is the editor of Early to Rise (
Join him on Facebook here
) and the author of Financial Independence Monthly, a complete blueprint to helping you take control of your financial future with research of proven methods in your career, in your business and in your personal life. He has created a unique system to show gratitude and appreciation to stay on track for these goals each and every day. 
Click here to follow the exact 5-minute system you can use to improve your life
.
]