Swing Pain-free with My Quick Golfer's Warm -up
Ah, the Masters. The tournament sparks nostalgia for the historical titans of golf, impresses us with the enchantment of the immaculately tended grounds, and expectantly summons the next generation of golf greats to rise to the challenge of Augusta.
I love this time of year – the fairways are greening up, the sandpits are drying out, and that incredible final round of the Masters has me inspired to swing into spring and attempt, once again, to master my own golf game!
If you are one of America's more than 25 million avid golfers who want to be ready on the first tee to shoot par, then you'll need to do some simple dynamic warm-up exercises to prime your golf muscles for peak performance.
Silly injuries on cold muscles sideline more of us than we want to admit – but it's totally avoidable.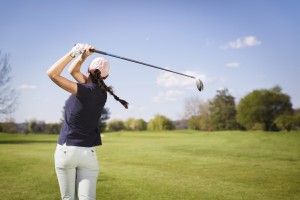 Engaging in dynamic, movement-oriented stretches are the key to preparing your muscles for a fluid swing with minimal effort that is consistent, accurate and pain-free.
These golf-specific movements target your lower back, hamstrings, shoulders and hips. Plus, you'll need to engage your core, which allows you to connect the power of your legs to the timing of your swing to reduce stress on your spine.
Follow along with my video for a quick and effective pre-round warm up.
Once you feel loose and warm, take some practices swings−starting small and building up to your full swing before you tee off.
You'll be sure to have your best round as you birdie and par your way to a fun, pain-free season!
In Love & Gratitude,

Missi Holt