Turbulence Training Survey
I want to thank you again for filling out the 1st ever Turbulence Training survey…we had over 5085 readers (!!!) respond. I am humbled. And today, I'm going to share with you ALL of the results, but…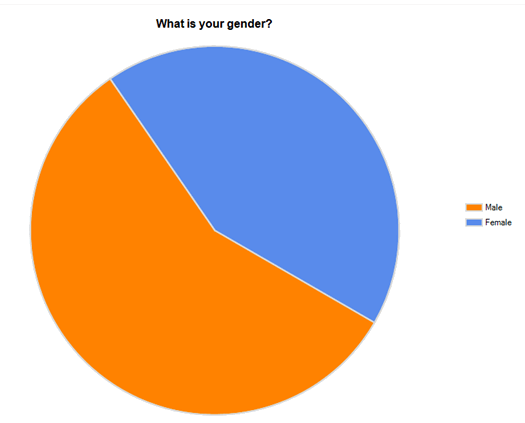 First, I apologize for not putting Africa on the questionnaire…not sure what I was thinking, because I have spoken to many TT members from South Africa, and even from Kenya and other countries. So to ALL of Africa, I apologize for the omission.
Here's how our readership breaks down:
59% USA
10% each from Canada, UK, and Australia/NZ
And then smaller numbers from the rest of the world.
It is so amazing that there are TT readers all over. Again, I'm humbled by your interest.
Now on to the first surprise of the survey – Gender.  I expected an even 50-50 split but was surprised by the small male majority. Fifty-seven percent of respondents were male, and forty-three percent female.
Next category was age, and there were no surprises here. Great to see folks of all ages…we even had someone 92 years old!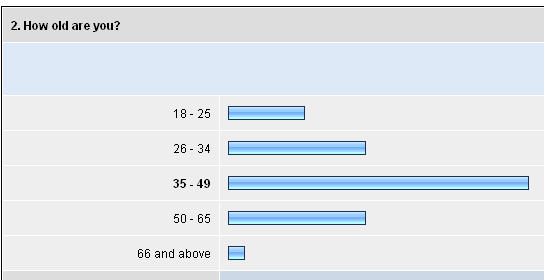 If you take a look at most of our TT contest winners, they are often in the 35-49 age range, although we've had older and younger champs, too.
And I just want to let you know that I've heard all of your requests for workouts for folks over 60…we'll work on those.
Speaking of what you want, its no surprise that most TT readers want fat loss and weight loss.
Although it was good to see – from a selfish standpoint – so many folks looking for muscle building (the purple piece of the pie)…since I love to create muscle building programs.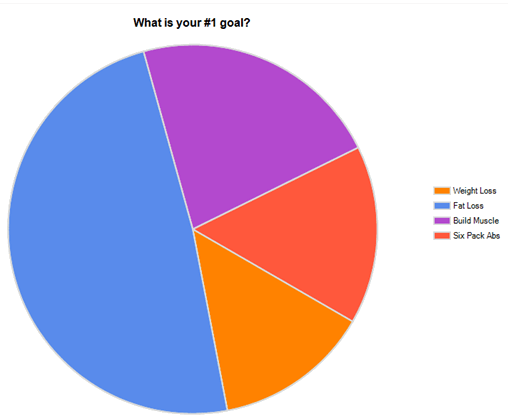 I also see that while six pack abs are something to shoot for, most people just want to lose the fat first.
The next question I asked was even more specific…asking you to list how many pounds of fat you wanted lose.
Well, I was surprised here as well.
I didn't expect so many TT readers to want to lose only 10 pounds. But that's interesting, and great to see that so many of you are that close to your goal.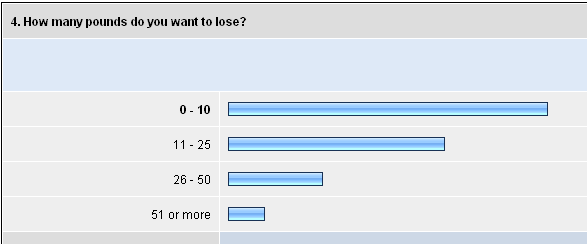 Most TT readers need to lose just 25 pounds of fat, however, there are lots of success stories who have lost more than that.
Again, if you take a look at our contest winners, we've had people lose up to 34 pounds of fat in just 12 weeks…and my friend Juan Ruiz lost 100 pounds in 10 months. Epic!
Next question…what fitness level are you?

And most folks said, "Intermediate", with an equal mix of advanced and beginner.
Now another surprise…I asked how many hours you have to workout each week…
…and you surprised me by saying 3-5 hours. That's great…and I'm going to bring you a 5-day per week program soon.
Now let's take a look at your favorite type of programs.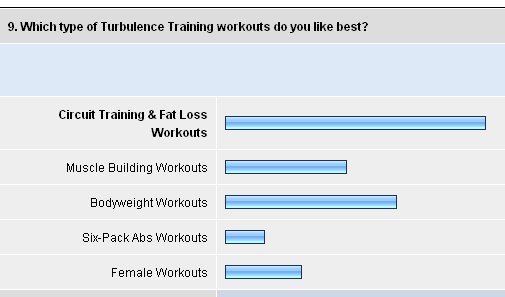 Most of you enjoy the circuit training and fat loss programs the most, but a lot of people were also asking for more bodyweight workouts…so I'll be combining those together.
In fact, the next TT program I have for you is "TT Bodyweight Cardio 3", coming soon.
And again, I over-estimated how interested you were in six-pack ab workouts.
So awesome…but there was also a…

TROUBLE ALERT!
There were a few concerns that came up that I need to clear up:
A) You want more video demonstrations of the workouts
Fortunately, that problem is solved…here's the deal…
The main Turbulence Training for Fat Loss program does come with video demonstrations – the videos are online in the members site and are very easy to access.
Also, make sure you watch all of my free Youtube workout videos here:
=> http://www.Youtube.com/cbathletics
There are almost 200 TT videos on that youtube channel.
B) The second concern was that there are a LOT of TT programs and that means you sometimes aren't sure where to start.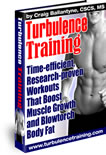 Here's my recommended sequence for getting started with TT.
If you are a beginner, start with the Beginner workout from the main Turbulence Training for Fat Loss manual.
If you are not a beginner, I want you to start with the Intermediate workout from the main Turbulence Training for Fat Loss manual.
You can take a 21-day test drive of that manual for just $5 here:

=> http://www.TurbulenceTraining.com/trial-offer.shtml
Once you've gone through those programs, then you are free to choose any other TT program you want.
All the other TT programs have been built for our long-time users, after all, we have some folks who have been with TT since 2003!
Speaking of the individual TT workouts…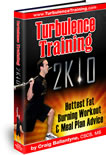 C) Many TT readers wanted to get individual access to specific workouts.
You can pick and choose from all of the TT programs here:
=> http://www.TurbulenceTraining.com/workouts
Browse by category (bodyweight, muscle building, six-pack abs, etc.) or by year (from 2006 to 2010).
By the way, the TT Gauntlet program was voted the most popular program, and you can find a free link to that program when you become a fan of Turbulence Training on Facebook here: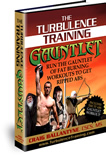 => http://www.TurbulenceTrainingFanpage.com
Finally, I want to let you know that I read ALL of your requests for the types of programs and information that you want…
So based on your requests, I am going to bring you more info on:
– Stretching
– Injury information (knee pain, back pain, arthritis, etc.)
– Exercise substitutions
– More interval training science & workout ideas
– Off-day training ideas
– More Bally the Dog, because he is cooler than I am
– More menus; meal plans, more nutrition help
– Beginner tips
– Seminars & certifications (for Andy in the UK & Jefferson in Brazil)
– maybe even a world tour as requested!
– Shorter workout programs
And I'm going to improve:
– More video
– Better audio
– Improved exercise demonstrations & descriptions
– TT "Swag": You requested T-shirts, workout posters, log books, and more…so I'll get right on those…
It was a lot of fun going through your answers…I'm going to create a cool new incentive gift for another survey…coming soon!
Thank you again for your TT Survey feedback,
Craig Ballantyne, CSCS, MS
Author, Dozens of TT Workouts