Recipes! Invite these 2 Spicy Chicks to Your BBQ this Weekend — Burgers 2 Ways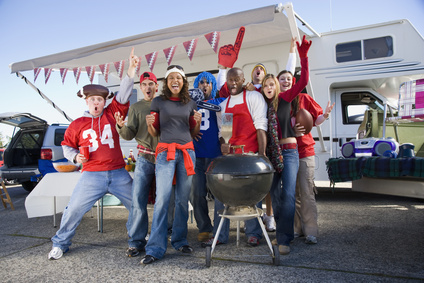 Burgers are always fun for a weekend meal — whether it's tailgating, watching the game, or simply hanging out with friends and family. And you don't have to be afraid of it "ruining" your diet.
Vegetarians and meat eaters alike will love these healthy recipes for Spicy Peanut Burgers! One uses chickpeas and Sriracha while the other uses chicken and Thai Chile Paste — talk about two spicy chicks!
Spicy Peanut Chicken Burgers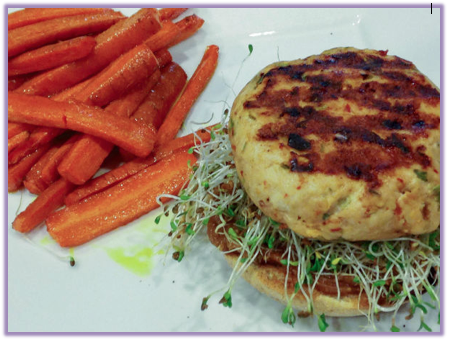 The spiciness in this juicy chicken burger comes from the Thai Chile paste and a sweet, creamy sauce balances the flavors nicely. Make your own ground chicken by grinding lean chicken breasts in the food processor.
Prep time: 20 minutes | Cook time: 8-10 minutes | Yield: 4 servings
Sauce:
2 tbsps all-natural peanut butter
2 tsps low-sodium soy sauce (or gluten free Tamari)
1 ½ tsps dark sesame oil
1 tsp water
1 tsp rice vinegar
1 garlic clove, minced
Combine all ingredients in a small bowl, stirring with a whisk until smooth.
Burgers:

½ cup finely chopped green onions
1 tbsp chile paste with garlic
2 tsps grated peeled fresh ginger
¼ tsp salt
2 tsp low-sodium soy sauce (or gluten free Tamari)
1 pound skinless, boneless chicken breast, chopped
Cooking Spray
Extras:
Ezekiel Buns, Gluten free buns, or lettuce cups
Fresh zesty sprouts
Preparation:
Prepare the grill.
Place green onion and the next 5 ingredients in a food processor; process until coarsely ground.
Divide into 4 equal portions, shaping each into a ½ inch thick patty.
Place patties on a grill rack coated with cooking spray.
Grill 4 minutes per side or until done. Remove from grill and cover with foil to allow juices to redistribute.
Option to toast your bun — then spread 1 tbsp of sauce and ¼ cup of sprouts over one side. Add the burger and top with other ½ of bun.
Chickpea Spinach Burgers
These are a quick way to create rich and creamy burgers that are hearty enough to stand alone. Boost the spiciness with extra cumin or hot sauce!
Prep time: 20 minutes | Cook time: 8-10 minutes | Yield: 6 burgers
Ingredients:
1 medium onion, minced
3 cloves garlic, crushed
1 cup chickpeas
3 cups packed spinach leaves
1 carrot, grated
2 tbsps low-sodium soy sauce  (or gluten free Tamari)
1 tsps cumin
2 tbsps all-natural peanut butter
1 tbsps nutritional yeast
1 tsps Sriracha hot sauce
1/2 cup chickpea flour
Preparation:
Add chickpeas, spinach, and carrot. Cook until spinach is fully wilted and carrot is softened. Cook off as much liquid as possible.
Transfer to a mixing bowl. Add soy sauce, cumin, peanut butter, nutritional yeast, hot sauce, and chickpea flour. Incorporate well, mashing the chickpeas a bit.
Allow the mixture to cool.
Separate into 6 equal portions, ~ 1/3 cup, to form thick patties.
Heat 2 tsps oil in a pan and lightly pan fry over medium heat until browned on both sides.
You really can't go wrong with these 2 Spicy Chicks! Invite your friends and family over to delight in good food with good company this weekend.
Now that's nourishing on a lot of levels!