No-Shame Pasta: Mediterranean Shrimp with Spaghetti Squash & Toasted Pine Nuts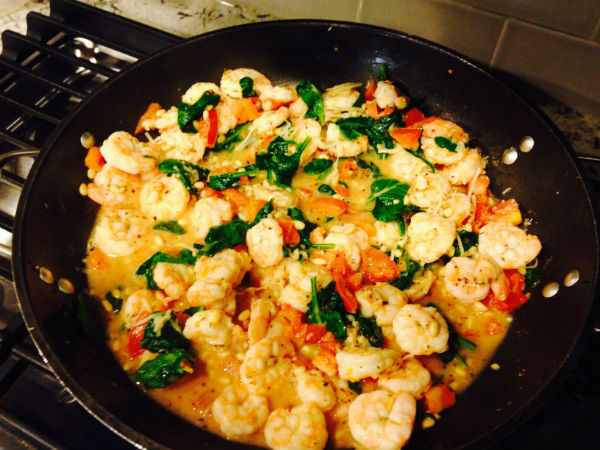 Lately I've been inspired to try out some of my client's recipes they have shared on Facebook.
This one comes from one of my 30-Day Transformation Challenge Members, and it does not disappoint!
The perfect blend of bright Mediterranean flavors pair well with the nuttiness of toasted pine nuts and almost buttery bite of freshly grilled shrimp.
The health benefits of a Mediterranean style diet are wide known – longevity and reduced risk for the most notorious chronic diseases, including obesity are at the top of the list.
My personal touch was adding some savory olives in place of Parmesan – but you could always indulge in a little of both for an extra delicious and bold bite.
It's light, yet completely satisfying for a quick weeknight meal!
PS – Have a recipe you're dying for me to try? Tag me on Facebook with #makemymeal. We'll connect and I'll feature it in one of my Foodie Friday emails and on my Facebook page!
Mediterranean Shrimp with Spaghetti Squash & Toasted Pine Nuts
Prep time: 10 minutes | Cook time: 30-45 minutes | Yield: 4 servings
"Tonight's Dinner was great – found it online and made modifications to make it healthier" – Ted Lindquist, 30-Day Challenge Member
Ingredients:
1 medium spaghetti squash (about 3 lbs.)
2 Tablespoons olive oil
2 cloves garlic, minced or crushed
28 frozen shrimp, unfrozen, shelled and cleaned
2 Tablespoons fresh lemon juice
1 ½ Tablespoons fresh oregano (or 1 teaspoon dried)
1 teaspoon Sea salt
½ teaspoon Black pepper
2 small tomatoes, chopped
4 cups watercress or spinach, washed
¼ cup toasted pine nuts
¼ cup grated Parmesan cheese
and/or ¼ cup pitted Kalamata olives (my addition)
Preparation:
Cut squash lengthwise and remove the seeds. Bake face down on oiled cookie sheet at 375 degrees for about 30-45 minutes or until easily pierced by a fork.
Scoop out the flesh with a fork into spaghetti strands.
While squash bakes heat oil in a sauté pan and add garlic sautéing for 1 minute or until fragrant.
Add shrimp, lemon juice, and spices. Sauté 3 minutes, stirring occasionally.
Add tomatoes and watercress or spinach. Cook 1-2 minutes longer, until vegetables are wilted.
Add pine nuts, olives and/or cheese.
Add squash to serving bowls. Top with shrimp and veggie mixture.
Enjoy!