How to Burn an Extra 1000 Calories In Your Workout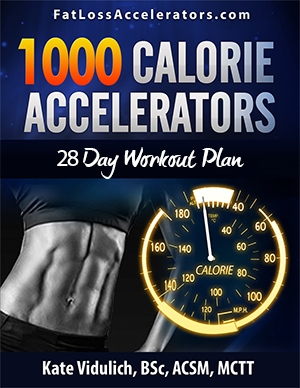 You're going to love Monday's Triple Phase 10-Minute Workout Stacking Solution, but if you can't wait until next week to burn an extra thousand calories (because of all the chocolate this weekend…) then check this out:
Click here to burn an extra 1000 calories this Easter weekend
Remember that no matter what you are struggling with:
"Whatever is in your way, you're stronger than it, you're tougher than it, and you're better than it. You're going to beat it." – The TT Code
And I've teamed up with one of my top trainers, Kate Vidulich, Master Certified Turbulence Trainer, to bring you this fat blasting workout that burns the equivalent of…
– 2 large slices of pizza
– 3 beers
– 1.5 Snickers bars
– 13 Girl Scout cookies
– 3 bowls of cereal
– 6 bowls of dog food (What? Bally the Dog wanted to know!)
– 3 pancakes
– or 500 calories of chocolate in any form
The Easter Weekend Fat Loss Accelerator
1) Start with Kate's fun-n-fast Dynamic Warm Up
– No rest between exercises
– 30 seconds rest at the end of the circuit
– Repeat for 2 rounds
1A) Squat with T-Squeeze x 30s
1B) Glute Bridge x 30s
1C) Mountain Climbers x 30s
1D) Stick Ups x 30s
1E) Jumping Jacks x 30s
2) Move into Kate & Craig's Calorie Crushing Fat Loss Accelerator
– 30 seconds per exercise
– Rest 15 seconds between exercises
– Repeat for 3 rounds
2A) Cross Body Mountain Climbers
2B) KB or DB Reverse Lunge
2C) Stability Ball or TRX Jackknives
2D) KB or DB Swings or Total Body Extensions
3) After a 60 second break move on to Metabolic Resistance Training.
– No rest between exercises
– 45 seconds rest at the end of the circuit
– Repeat for 3 rounds
3A) DB Romanian Deadlift x 40 seconds
3B) T-Push Up x 40 seconds
3C) DB Chest Press x 40 seconds (using lighter weight than normal)
3C) Alternating DB Step Up x 40 seconds
4) After a 60 second break, finish your fat loss acceleration with Kate and Craig's Metabolic Density Training.
– 20 seconds per exercise with 10 second rest = 1 round
– Do all rounds of the exercise before moving to the next
– Do not rest between exercises
4A) Total Body Extensions – 8 rounds of 20-10
4B) Bodyweight Rows – 4 rounds of 20-10 (use a TRX if possible)
4C) Push Ups – 4 rounds of 20-10
4D) Jump Rope – 8 rounds of 20-10
Awesome work!
*But wait… you're not done yet.*
There is another quick metabolic density Accelerator to finish your workout with a bang to keep metabolism cranking until Easter.
It's on page 10 of the Intermediate program from 1,000 Calorie Fat Loss Accelerators System here:
=> Click here to burn an extra 1000 calories this Easter weekend
You'll also discover new bodyweight moves that burn more calories like…
– Sprinting Walkout on page 12
– Cross Spider Plank on page 7
– Burpee T-rotations on page 17
You will find these unique hybrid exercises in the 1,000 Calorie Accelerator Challenges manual, that you'll get as an Easter Chocolate Calorie Burning Bonus.
And don't worry, if you're a beginner, Kate has you covered, too. You'll start off with non-impact exercises, burning 300 calories a workout, then 500 calories (like the workout above)….
… then BOOM! You'll progress faster than ever to burn a whopping 1,000 calories a day with your fat loss workouts.
Happy Easter from Turbulence Training!
Now go burn those calories,
Craig Ballantyne, CTT
Certified Turbulence Trainer
PS – Kate's having…
…an awesome Easter Sale on her 1000 Calorie Burning Workouts.
Click here to burn an extra 1000 calories <= Super cheap workout deal