Grilled Shrimp Recipe (Sriracha-Rosemary Recipe!)
There is no simpler, easier, and cleaner cooking technique than grilling to help you lose a ton of weight.
Crank up the grill and follow my simple instructions to cook ultra-fast meals in minutes. Nobody has to know it also helps you achieve the slim and sexy body of your dreams.
You see, my Sriracha-Rosemary Shrimp Skewers have just a couple of ingredients. That's a huge benefit: only a couple of items to pick up and buy, and no artificial or nasty ingredients you can't pronounce.
Shrimp are amazing. And super easy to cook.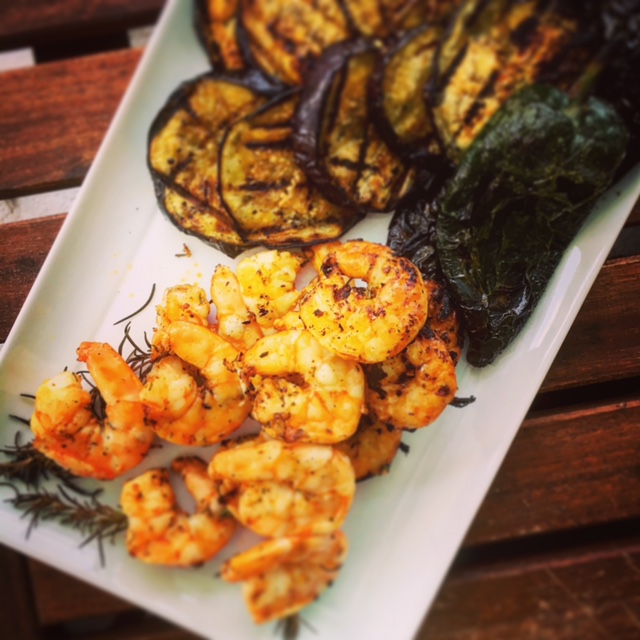 [Chef Tip Alert #1] You see, shrimp tell you when they're cooked; they change color!
And they'll do just that in a couple of minutes, so this is "fast food," but it's actually healthy and good for you.
I previously shared with you my tips for marinating chicken to spice things up and break the cycle of plain, boring food. You can use the tips in that article to marinate shrimp the exact way YOU like. My technique is easy, gives you freedom, creativity, and will empower your healthy, as I always say!
For this recipe, I decided to marinate my shrimp with a bit of Sriracha (a delicious Thai chili sauce), a dash of Cajun spices, minced rosemary, garlic, and a drizzle of olive oil. That's what I had on hand that day.
I toss my shrimp (or whatever protein you want) with the marinade ingredients in a stainless steel bowl. Then they're ready to be skewered.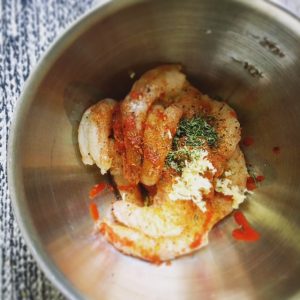 And since my herb garden had plenty of rosemary, I decided to use the sprigs instead of bamboo skewers.
[Chef Tip Alert #2] That's a great, fun tip, folks. Your friends and family will be impressed. Just cut rosemary sprigs to about 8-12 inches. Make sure you use scissors and cut at an angle, so it's easier to skewer the shrimp. Then use the sprigs just as you would use normal skewers. The shrimp will cook just the same, and the rosemary will help flavor your dish. But mainly, it's great for show!
If you're grilling something else, like a side dish with your shrimp (I grilled eggplant and poblano peppers as you can see in the photos), make sure you hold back on the shrimp because they will cook in a couple of minutes. You want to grill them last, just before serving, so that they stay fresh and moist.
Now, you're supposed to know your grill. It has "cold" and "hot" spots. That's important because you want to monitor the perfect heat to make sure you achieve a nice golden brown crust, without burning anything.
[Chef Tip Alert #3] I recommend cranking the grill up, then lowering the heat to medium-high before putting the food on the grates. Give it a good sear on each side to mark, then lower the heat to low, and cover until it's done. This technique works great with chicken, pork, beef, and of course shrimp.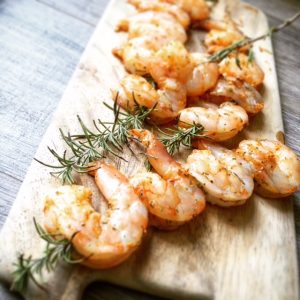 [Chef Tip Alert #4] Never, ever use a spray or other kind of fat to oil your grill. All that does is burn the fat to an unhealthy state. Plus, there is no need. The natural oil of the ingredients, and the extra-virgin olive oil you use to toss them will be enough to grill them without scorching.
[Chef Tip Alert #5] Finally, always rest your protein for ½ the time it has cooked, so that the natural juices rehydrate the meat from the inside out. It makes a huge difference.
This summer, don't hesitate to grill. Think about all the dishes you can create with my simple technique. Better yet, drop me a line or reach out to me on Facebook. I love to hear from my readers.
Sriracha-Rosemary Shrimp Skewers
Active time: 15 minutes | Cook time: 6 minutes | Yield: 8 skewers
Ingredients:
1 lb peeled and cleaned jumbo shrimp
1 tbsp Sriracha sauce (Thai chili sauce)
1 tbsp chopped rosemary, plus 8 12-inch rosemary sprigs
1 garlic clove, peeled and minced
1 tbsp of extra-virgin olive oil
Salt to taste
Lime wedges, for serving
Preparation:
In a stainless steel bowl, combine the shrimp, Sriracha, rosemary, garlic, olive oil and salt together. Make sure the shrimp is generously coated with the olive oil, or add a bit more.
Skewer the shrimp with the rosemary sprigs.
Heat up a grill on medium heat. Grill the shrimp on both sides, until they change color (about 6 minutes).
Rest 3 minutes and serve with some lime wedges.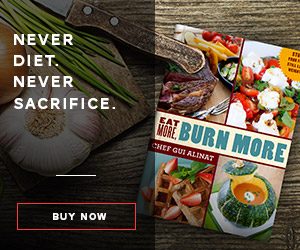 Further Reading: