Grilled Marinated Shrimp!
Shrimp are the most popular seafood in the United States, and certainly where I live in Florida (a block from the Gulf of Mexico), we have access to delicious shrimp.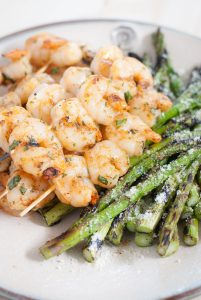 Sure, shrimp is a great protein choice. And if you're interested in losing stubborn flab, then a nice shrimp recipe with a few grilled vegetables like, say, asparagus, zucchini or red peppers, will definitely get you there. Who needs carbs?
Like all seafood, the main nutritional advantage to eating shrimp is the Omega 3s. Omega 3s — great for your cardiovascular health — can also assist your weight loss.
But mostly, shrimp are the easy choice. They cook in seconds. Providing you buy them shelled and deveined, all you have to do is throw them in a pan. Or on the grill.
And they're — magic! You don't even have to monitor anything: shrimp tell you when they're cooked; they change color!
Add them to salads, pasta, stir-fry, soups… They go great with Asian-themed dinners, as well as Italian, Caribbean, Pacific, "Floribbean," or Latin cooking. So versatile!
In my cookbook, Eat More, Burn More, I included a few of my best shrimp recipes. One of them being on page 143– Grilled Marinated Shrimp.
>>Grab the downloadable recipe card here.<<
This is a breeze to make. Less than 30 minutes will get you there. And as I said, shrimp cook in seconds.
Which shrimp to choose?
If you can buy local (if you live in a place like Florida or California), then go ahead and do that. The bigger shrimp, the better. It's great to have something big and meaty to chew. Remember that the "weird" number usually associated with shrimp indicates how many shrimp come in a pound. For instance, if you have the choice between some 26-30 (26 to 30 shrimp in a pound) or 16-20, then go with the 16-20; they are almost twice as big.
I often make the case that if you don't mind buying and cooking shrimp with the shell on, and peeling them at the dinner table, then that's the way to go. Why? Because the shell brings a lot of taste to the shrimp as it cooks, and also preserves moisture.
For my recipe of Grilled Marinated Shrimp though, that's not an option, and your goal is to barely cook the shrimp to preserve moisture. Again, as soon as they changed color, they're ready.
[Chef Tip Alert] If you use wooden skewers, make sure to soak them in water one hour prior to skewering the shrimp, so that they don't burn as you grill them.
If you are interested in spicing up your plain food with marination, I wrote an article that can help. Or you can just use my recipe, from page 143 of Eat More, Burn More for Grilled Marinated Shrimp.
Grilled Marinated Shrimp
Active time: 25 minutes | Cook time: 5 minutes | Yield: 4 servings
Ingredients:
•2 lbs. large shrimp, peeled and deveined with tails on
•¼ cup extra-virgin olive oil
•¼ cup Italian parsley, chopped
•1 lemon, juiced
•2 tbsps hot sauce
•3 cloves garlic, minced
•1 tbsp tomato paste
•2 tsps dried oregano
•Salt and pepper to taste
•Limes or lemons, quartered, for presentation
•Wooden skewers, soaked in water
Preparation:
1. In a medium bowl, mix together olive oil, parsley, lemon juice, hot sauce, garlic, tomato paste, oregano, salt, and pepper. Pour marinade into a large resealable plastic bag with shrimp. Seal, chill, and marinate for 2 hours.
2. Preheat grill on medium-low. Skewer shrimp, piercing once near the tail and once near the head. Discard marinade.
3. Lightly oil the grill grate. Cook shrimp for 5 minutes per side, or until they change color. Serve at once.
2-Hour Timesaver: If you're running out of time, it's ok to skip the 2-hour marination. You can use an instant marinade.
As always, I love getting your mail and feedback on recipes. Let me know how this one helps you and your family stay on the right track to great health.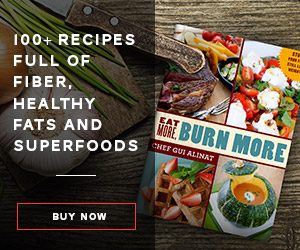 To your success,

Further Reading:
#1 Deep-Frying Hack: Delicious Coconut Shrimp!
Mediterranean Shrimp with Spaghetti Squash & Toasted Pine Nuts
Dinner Tonight! Chili-Lime Shrimp with Avocado-Basil Zucchini Noodles & Mushrooms