10 Herbs For An Easy Kitchen Garden
I wasn't much of a gardener. But I'm a chef and herbs grew on me out of necessity.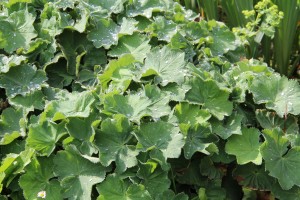 Wherever you live, if you can manage to grow your own herbs, then a whole bounty of flavors become available to you, and that's a fantastic thing.
If you're trying to lose weight or otherwise eat healthy, you want to avoid tasteless chicken breast and plain broccoli. Let's herb it up, folks! The timing is right, and Spring is the time to plant herbs you can use.
This is why I keep a few herbs on hand. My favorites (and easiest to grow, frankly) are basil and rosemary. They remind me of the hilly countryside of Southern France, which I would hike as a kid. Basil and rosemary were growing wild everywhere.
Today, in Florida where I reside, Carissa and I make it a fun activity with our children. Check out this fun video of my 3-year-old daughter, Scarlett, and I collecting herbs in our front yard (it was actually her birthday that day).

I don't have a green thumb. In fact, my thumb is probably brownish and rotting, I'm so bad at growing herbs. But this is easy stuff to grow. If I can do it, trust me, you can too.
HOW TO GROW HERBS
Find the sun
That's easy. Find the southernmost point in your house or yard. That's where your garden needs to be. Just so you know: The more sunlight, the more flavor your herbs have.
Design your garden
Take a piece of paper and first, place oregano, thyme, rosemary, sage, mint, and tarragon, because these stay in place permanently. Then fill in with basil and cilantro, because these need to be replanted each spring. Parsley needs to be replanted twice a year.
Allow for breathing room
Choose a 4-by-6-foot parcel, but don't plant the herbs all over each other or near a fence. Allow for an 18-inch gap between them. Make sure they get some breeze, so that they can dry and not grow fungus.
Raise them up
Your herbs will do better on a raised bed or a deck, so they can get proper drainage. That's important for their good health.
Good soil
Depending on where you live (ask your county extension office) a good starting point is equal parts of topsoil, peat moss, and sand.
Don't do seeds.
Unless you know what you're doing. Transplants will easily get you started faster. Three plants for each herb will feed your family forever.
Water the herbs in the morning.
In general, keep the herbs dry. They only need about an inch of water per week. Don't water at night or risk fungus.
Harvest time
That's one of my kids' chores. They go and clip the top of the herbs, so they don't flower and keep growing.
Use them!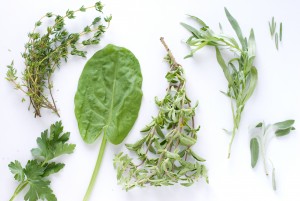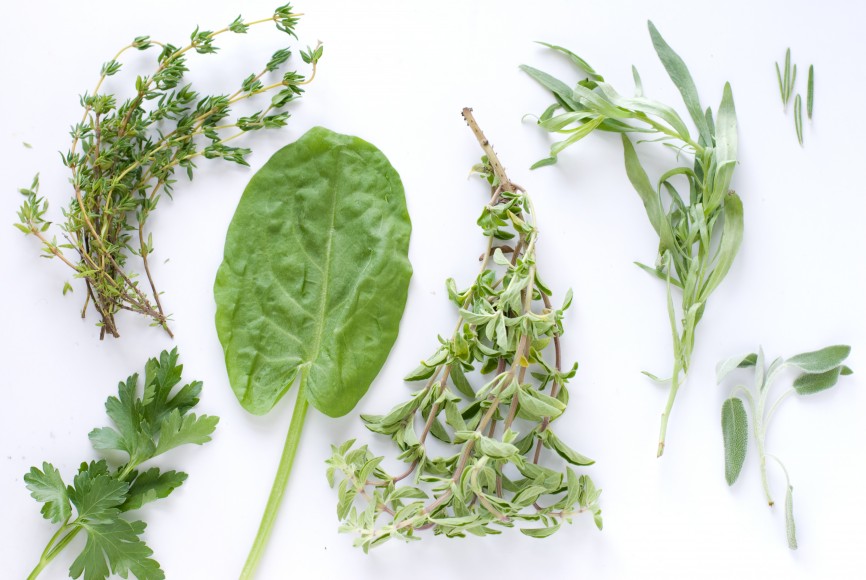 That's the most important, right? That's why we're doing this.
WHICH HERBS TO PLANT
(In descending order of most common use)
Note: Remember, use fresh herbs at the very end of the cooking process or they will lose their flavor.
Once harvested, rinse them in cold water, wrap them in a damp paper towel, and store in a Ziploc bag in the refrigerator.
#1 BASIL – Sweet and peppery
You'll use basil everywhere. With Mediterranean vegetables, with chicken, beef, fish, or tofu. In tomato sauce, stir fries, curries, whole-grain pasta, or just mixed within your salad. And, of course, you'll want to make pesto.
Chili-Lime Shrimp with Avocado-Basil Zucchini Noodles & Mushrooms
#2 CILANTRO – Bright and citrusy
Cilantro is reminiscent of Mexican and Asian cuisines. So you'll use the leaves with tacos, guacamole, Asian coleslaw, salsas, soups, and fresh salads.
#3 PARSLEY – Fresh and grassy
Parsley is so versatile you can use it pretty much everywhere. Especially delicious with peas, cucumber, lamb, beef, chicken, or fish. Sprinkle over salads and load up my Tabouleh recipe with it (page 74 of Eat More, Burn More)
Red Quinoa, Artichoke, and Parsley Salad
#4 MINT – Sweet and cool
Mint is so refreshing (one of the reasons toothpaste is minty!) so use it for summer salads, especially paired with watermelon, tomatoes, cucumber or Greek yogurt. And of course, it makes for a great garnish on sorbets or fat-burning desserts.
Refreshing Soda Alternative: Minty Watermelon Fizz
#5 OREGANO – Pungent and peppery
Italian style! Use the leaves, chopped or not, and load up tomato sauces, fat-burning pizza
#6 CHIVES – Mild and reminiscent of onion
Such delicateness! Goes well with eggs, tomatoes, avocado, fish, and salads. Sprinkle on everything. Trust me, you'll love it!
#7 ROSEMARY – Woody and pungent
That's a slightly more difficult herb to work with. The needle-like leaves can get cumbersome so they need to be chopped thinly. Rosemary is the only fresh herb that will withstand the test of a long cooking time and, therefore, can be used at the end or the beginning of the cooking process.
Great in stews, sauces, roasted vegetables, and with lamb, beef, pork, and chicken.
The Spices That Fight Inflammation and Burn Fat
#8 THYME – Minty and fragrant
Use the tiny little leaves on roasted vegetables, lamb, pork, mushrooms or chicken.
#9 SAGE – Woody and flavorful
A classic pairing is pork, apple, and sage. Just roast a pork tenderloin with quartered apples and sage leaves. Delicious! Otherwise, try it with eggplant, winter squash, stuffings, soups, or roasted vegetables.
#10 TARRAGON – Peppery and licorice
This may be the most elegant herb of them all. It's a classic of French cuisine. I actually recommend using the delicate leaves with Dijon mustard, beans, fish (especially salmon), carrots and marinades.