A Fresh Spring Recipe to Awaken More Than Just Your Tastes Buds
One of the best parts about spring is that it's a time of renewal. As new life springs forth all around us, we welcome the opportunity to renew our minds and bodies as well.
Food is a source of life, energy, and abundance. It plays a role in healing the body, building community, and cultivating gratitude.
The spring season brings all sorts of bright and delicious foods to create meals that renew your body from the inside out!
Inspired by a post for roasted eggs – which I had never heard of – I created this meal for my own family. The roasted egg symbolizes renewal and fruitfulness during Passover and I found it a fitting representation for awakening the right mindset for spring with abundance and revitalization of body, mind and spirit.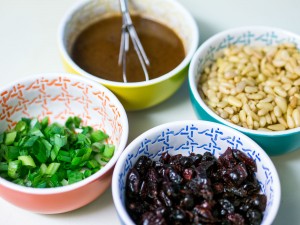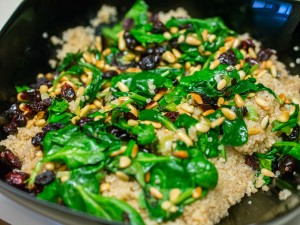 Basil Spinach Quinoa with Pine Nuts & Roasted Eggs
Prep time: 10 minutes  |   Cook time: 20 minutes |   Yield: 4 servings
Ingredients:
1 cup quinoa, rinsed
2 cups water
4 scallions, sliced
2 cloves garlic, thinly sliced
3 Tablespoons olive oil
1/3 cup pine nuts
4 teaspoons apple cider vinegar
2 teaspoons honey
½ teaspoon ground cumin
½ teaspoon ground cinnamon
¼ tsp kosher 

salt

¼ teaspoon black pepper
1/3 cup dried cranberries
2 cups fresh spinach leaves
1 cup fresh basil leaves, thinly sliced or torn
Preparation:
In a small saucepan add quinoa and water. Bring to a boil then reduce heat to a simmer for 15-20 minutes or until water evaporates. Remove from heat and keep warm.
While quinoa cooks: Combine 2 Tablespoons olive oil with apple cider vinegar, honey, and seasoning (through black pepper) in a small bowl. Set aside.
In a large skillet add 1 Tablespoon olive oil, garlic, and scallions – sauté for 1-2 minutes until fragrant.
Add pine nuts sautéing for another minute or until beginning to brown.
Toss cranberries and spinach with pine nuts and scallions until spinach is just wilted.
Pour apple cider mixture over greens tossing to incorporate. Remove from heat.Assemble:
When quinoa is finished cooking, transfer to a large serving bowl. Season with a little kosher salt and pepper.
Add spinach and dressing mixture and combine well. Finish with fresh basil just before serving.
Top with a roasted egg and Enjoy!
Roasted Eggs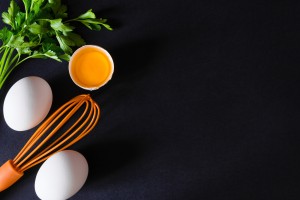 Prep time: 1 minute  | Cook time: 20 minutes  | Yield: 4 roasted eggs
Ingredients:
4 eggs
Water to cover eggs
Preparation:
Heat the oven to 350 degrees.
Place the eggs (in their shell) in a saucepan on the stovetop. Cover eggs with water and bring to a boil.
Remove saucepan from heat once the water 

boils. Cover and allow eggs to cook for ~11-13 minutes.

Strain the hot water from the eggs.
Place boiled eggs directly onto the racks in the oven. Roast eggs in the shells until they begin to brown or appear charred.
Remove eggs from the oven and from their shells before adding to your plate.
In Love & Gratitude,