The Secret Finisher Superset Formula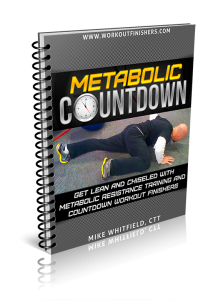 The Secret Finisher Superset Formula by Mike Whitfield, CTT
You've probably already seen everyone flocking to the cardio equipment to reach his or her New Year Resolution Goals.
Thankfully, 10 years ago, I knew better. Yes, I'm celebrating 10 years of a healthier lifestyle this year. In fact, at this point in 2003, I was about 300 pounds as I began my exciting ride of losing 105 pounds.
But much like you, I struggled with gimmicks and fad diets, and I even tried the cardio approach myself. I didn't know any better. That's what we're exposed to in the media… some kind of gadget or "amazing" treadmill that creates these miracle transformations.
But cardio didn't work for you, and don't worry, it didn't work for me, either. In fact, here are my before and after photos of doing cardio for my fat loss: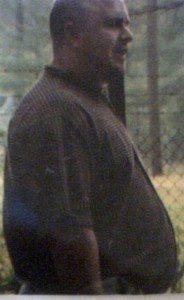 Before and after using cardio as my fat loss tool. Coooooool!
I soon discovered that when I simplified my approach, it was much easier to stick to my goals. So, that's what I'm going to do for you. Let's simplify YOUR approach so you can make 2013 YOUR year.
The Simple Nutrition Fix
The first thing you need to do is quit trying to stick to a boring diet. Hey, I get bored of diets just like I do with my workouts. I've been known to change my diet every 4 weeks just like my workouts.
Now, you already know me as "Mr. Finisher", so that's why I created a Diet Finishers program for my clients. For one thing, I don't want them to get bored with their diets. Second, I don't want them using a diet that won't fit their lifestyle.
I also explain how to start each of the 13 strategies with a simplified approach. Just like exercise, you need to "ease" into a nutrition program just like an exercise program. And why not – go against the media and change your nutrition approach so you won't get bored. That's what my clients do and it works (I've had 6 clients either win or place in the TT Transformation Contest).
The Simple Strength Training Fix
Now that we have your diet fixed, let's simplify your weight training program. That's an easy fix…
Use Metabolic Resistance Training and replace your boring cardio with metabolic finishers. Metabolic Resistance Training (MRT) will give you the best of both worlds by using big compound movements with an elevated heart rate.
You can even simplify the metabolic finisher by using the superset Finisher approach (Finishers are so cool, I capitalize the first letter of it most of the time).
Finisher Supersets look easy on paper, but when they are actually performed, you'll soon discover you're breaking a sweat pretty quickly.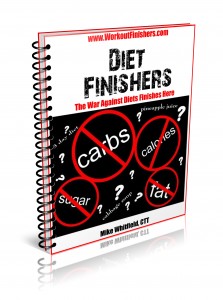 Let's rock one.
Do the following superset as many times as possible in 3 minutes, resting only when needed:
KB or DB Swings (10)
Squat Thrusts (5)
It's funny. When my clients read something like that, they think, "Wow, just 5 squat thrusts… thanks Mikey!". Then I get emails of rotten tomato photos in my inbox. That's when I know I wrote a good one. You'll soon find out you'll be able to get through that superset about a billion times (remember, leave it all on the floor – that's what finishers are for).
There's also the fun ladder (also known as countdown finisher) approach, too. That's when you are given a certain amount of reps and you work your way down. Do this challenging countdown finisher to burn more fat without the boring cardio:
The "BOG" Ladder Finisher
(look at the first letter of each exercise… brilliant)
Do the following circuit, resting only when needed. In the first circuit, you'll perform 8 reps of each exercise.
In the next circuit, you'll perform 7 reps. Continue in this fashion until you complete 1 rep of each exercise.
Box or Bench Jumps (8)
Offset Pushups (8/side…1/side)
Goblet Squat (8…1)
It's finishers like these you can do with your favorite workout program or even as off day conditioning that will help you shed that holiday flub FASTER.
So, to sum up, simplify your approach:
If you hate your diet, try a new approach and remember to "ease" into it for permanent results. Don't be afraid to try new things (remember the Diet Finisher approach)!
Use metabolic resistance training (MRT) for faster results and get in and out of the gym faster, too.
Use metabolic finishers instead of ineffective cardio to use with your favorite workouts or as off-day conditioning (and watch your holiday flub disappear).
Eat pancakes for your cheat meal (optional)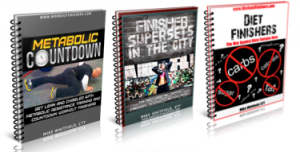 Rock 2013,
Mike Whitfield, CTT (Mikey)