Healthy Pancakes! ( Recipe Included)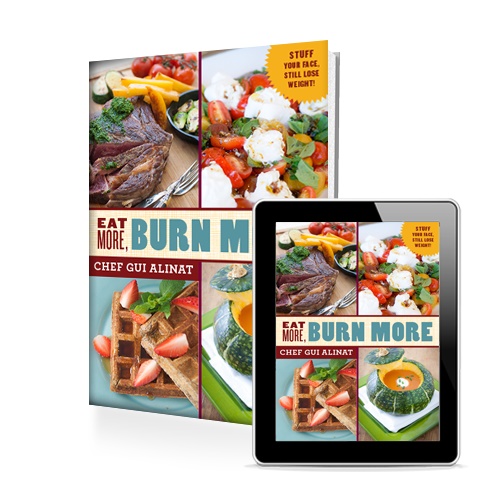 If you're like me, you grew up eating big, delicious breakfasts on lazy Saturday mornings. My favorite was Mom's pancakes. Fluffy and filling, covered with real maple syrup and farm fresh butter. Sometimes we even added chocolate chips.
But pancakes, waffles, and muffins are "bad" for you, right? => Wrong!
I have great news for you today. There's a GREAT cookbook that turns classic waffles, pancakes, muffins, and more of your favorite breakfast, lunch, and dinner recipes into versions that boost your metabolism and help you lose weight – all while filling you up and even letting you OVEREAT!
Yes, it's true! My good friend, Chef Gui Alinat, has done the impossible… turning all of the best comfort foods into weight loss-approved recipes. You're going to love him because you'll now have diet foods that don't taste like the cardboard "gluten-free" or "lean meal" versions you've bought at the grocery store in the past.
  Get instant access to Chef Gui's fat-burning cooking secrets here
And when you're done with this delicious breakfast, you won't crash or be tired, like when you eat processed and fattening versions of these foods. Instead, you'll have more energy so that you can burn more calories all day long. You'll stay full and satisfied for hours so that you can enjoy your weekend, rather than being cranky and hungry all morning when you should be enjoying your time off.
So say goodbye to boring breakfasts. Say hello (again) to delicious foods.
Skeptical?
Well, I'll let Chef Gui Alinat prove it to you. Enjoy this recipe for Old-Fashioned Pancakes… It's just one of ONE HUNDRED amazing new recipes from Chef's cookbook that will allow you to Eat More Burn More.
***
Old-Fashioned Pancakes
Story: I once knew a short order cook who could make pancakes that looked like photos of the faces of the four Beatles singing group. You could actually recognize John Lennon, Paul McCartney, Ringo Starr, and George Harrison. Chances are you won't try to mimic the cook's artistry but you can enjoy eating these mouth-watering pancakes in any shape you choose.
Quick Tip: Using a funnel, pour batter into squeeze bottles. That way you can control how much batter to put on the pan. Even better, kids love squeezing pancake batter, making faces, writing stuff, or drawing Mickey's big ears.
Active time: 10 minutes
Cook time: 10 minutes
Yield: 4 servings
Nutrition: 210 calories, 8g fat, 25g carbohydrates, 9g protein, 5g fiber, 10g sugar
Ingredients:
1/2 cup coconut flour
1/2 cup whole grain flour
½ tablespoon honey
1/2 teaspoon baking soda
1/2 teaspoon baking powder
1/2 teaspoon ground cinnamon
3/4 cups low-fat buttermilk
2/3 tablespoon canola oil
1/3 teaspoon vanilla extract
6 large eggs
1 large, ripe banana, mashed
A pinch of salt
Preparation:
Combine flours, honey, baking soda, baking powder, cinnamon, and salt in a large bowl; stir with a whisk.
Combine buttermilk, oil, vanilla, and eggs; add to flour mixture, stirring until smooth. Fold in banana.

Spoon 1/4 cup batter per pancake onto a hot nonstick pan. Turn when tops are covered with bubbles and edges look cooked. Be gentle while flipping pancakes over.

Serve pancakes with pure maple syrup.
***
If you want to lose weight and feel great, you'll want to start the day with the BEST breakfast ever. And in Chef's book, you can choose from these pancakes, Belgian Waffles, Easy Banana Bread (another one of my favorites!), Blueberry Muffins, French Toast, the high-protein Spinach and Tomato Frittata (Chef's favorite), and many more.
Enjoy those filling, delicious recipes that your family will love. And the best news of all… you'll lose weight and look great thanks to Chef's insider secrets that allow you to get the best of both worlds.
Enjoy these amazing weight loss meals that actually fill you up,

Craig Ballantyne, CTT
Certified Turbulence Trainer
Me with Chef's book and a handmade cooking knife he sent from France
PS – Own your mornings and win your days!
Plan ahead, be pro-active, and control your morning so that you win your day. Start the morning right with this fat-burning breakfast today.
3 Breakfast Tricks For Faster Fat-Burning
Add Chickpeas for a Quick and Easy Fat-Burning Breakfast