Burn The Fat and Feed The Muscle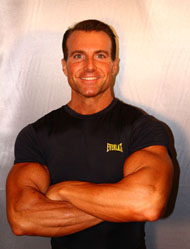 Back in 1998, I was one of the first trainers with a bodybuilding background to start using interval training for fat loss. Heck, most bodybuilders still don't use interval training for fat loss, and that's one of the reasons why I give those ol' lunkheads such a hard time about their workouts.
However, there was one other bodybuilder and trainer who was ahead of the scene when it came to using interval training for getting really low body fat, and for using it to bust through fat loss plateaus.
His name was Tom Venuto.
Tom's advice is respected by trainers, bodybuilders, athletes, researchers and nutritionists. There aren't many who get respect from all those groups.
And not only did Tom know about interval training, and how to burn the fat and feed the muscle with the right diet, but he's also one of the most dedicated trainers when it comes to researching every last aspect about burning fat (besides me, of course).
Tom reads studies on…
– Social support for fat burning
– Psychology for overcoming emotional eating
– Supplement studies to help you understand Green Tea & glutamine
– Interval training for more results in less time
– The TRUTH the BEST cardio intensity for fat loss
Each time I'd read one of Tom's articles, I'd sit back and say, "No way was this written by a bodybuilder!" It made too much sense!  It didn't rely on only silly tradition, or long-exposed myths.
This guy Venuto really knew what he was talking about.
And check this out. I once asked Tom,
"Do you have any tips on staying motivated? That's the number one problem my TT members have when they want to lose weight for a BIG DAY. What are your secrets?"
And Tom said…
"One trick I use to stay on track is my 'countdown calendar.' I either use a desk or wall calendar, or I type up a chart that shows a week per row with an open block of space for each day.  I start by marking the 'BIG DAY' date on the calendar.
Then I start counting backwards from the deadline to the present day… T Minus 94 days… T Minus 93 days… and so on. I also write down what I will be training each day and what time.
Most people say they start strong but lose motivation as they go along. I actually find myself getting more motivated and focused with each passing day as I see the deadline getting closer.
If you don't quantify and feel the time pressure, it's really easy to say, 'I have plenty of time, so this one cheat meal doesn't matter… it doesn't make much difference at this point if I skip this one workout — I'll have time to make it up.'
But it does matter! When you read your goals every day and also use a countdown calendar, it's a great way to give instructions to your subconscious mind.
WOW!
That single tip could be the tipping point to help you finally go all the way and reach your weight loss goals before your BIG DAY.
Tom is one of the best when it comes to finding the Body Fat Solution. Not surprisingly, that's the name of his book that has hit the #1 spot on Amazon.com in weight loss and nutrition -and it only went up on Amazon this week!
Check it out at: http://www.BodyFatSolution.com
The Body Fat Solution is not any old diet book. It's about the emotional and psychological struggles we all have with fat loss.
Plus, it comes with a TT-approved training program.
But most importantly, it covers:
– Why it is so difficult to balance calorie output with input
– What prevents people from eating appropriately and exercising more
– The emotional and psychological factors that sabotage Success
It's a powerful book that will help you overcome all obstacles to your fat burning success,
Craig Ballantyne, CSCS, MS
PS – One of the most respected trainers…
…who has managed to cross all training and nutrition boundaries, and get the respect of athletes and bodybuilders alike is Alwyn Cosgrove.
Here's what he had to say about Tom's book.
"In 2003 Tom Venuto changed the fat loss world with his e-book 'Burn the Fat – Feed the Muscle'…In 2008, he's done it again with the Body Fat Solution. The World's expert on fat loss speaks – I listen.
I've often said — Fat loss doesn't start with an exercise program, a diet or a supplement… It starts with a mindset shift. That mindset shift begins with Tom's new book. If you want to change your body – you need to change your mind. And to do that – you need Tom Venuto."  – Alwyn Cosgrove, Co-Author, The New Rules of Lifting and The New Rules of Lifting for Women