Bodyweight Circuit and Metabolic Finisher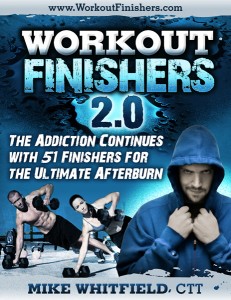 Mike Whitfield, Certified Turbulence Trainer, and I team up to give you a Kickbutt Bodyweight Circuit and Metabolic Finisher.
Let's start with your 12-Minute Circuit…and then a Finisher from Mikey using his 3-Exercise Ladder (unique exercise)
(By the way, Mikey's breakthrough system saves you 35 minutes a day. Too many TT readers are STILL wasting their time with cardio. So stop the cardio. Switch to Finishers. You'll lose belly fat, have more energy, and save more time.)
Craig's 12-Minute Workout for You
Ol' Bally the Dog and I were out on the farm this week, and we cranked out this awesome conditioning circuit. (Well, I cranked it out while he was laying down and supervising!)
This is your quick Easter Weekend workout that will energize you and keep the chocolate from showing up as belly fat.
1) You have 2 minutes to do 35 bodyweight squats + 20 pushups
2) And then you get to rest for the remainder of 2 minutes (the squats and pushups should take about 75 seconds).
3) Do 6 rounds.
4) To make it easier, give yourself 3 minutes per round or do kneeling pushups.
5) BONUS Add-ons after the 12-minute workout:
a) 3 minutes of pullups or TRX rows
and
b) 4 rounds of KB swings supersetted with Power Wheel Rollouts (15 to 20 reps each with 30-60 seconds rest between sets).
Do your mobility before and stretching after as needed. Good times.
OR…add a Finisher from Mikey Whitfield.
Finishers are a life saver thanks the the Metabolic Stacking System that Mikey uses. These calorie-blasting "mini-workout add-ons" deliver a unique fat burning stimulus to your body. This is what's needed to bust a plateau and accelerate fat loss (not working out longer).
You can TRIPLE your results and even burn off stubborn fat (even if you think there's no chance) by using his approach that has helped thousands already, including an incredible SIX Turbulence Training Transformation contest winners.
Here's a sample NEW Metabolic Finisher workout from Mikey:
The 3-Alarm Ladder Finisher
You can do this finisher immediately after your main workout or even on an off day to accelerate fat loss and improve your performance.
– Do the following circuit resting only when needed.
– In the first circuit, you'll perform 6 reps of each exercise.
– In the next circuit, you'll perform 5 reps of each.
– Continue in this fashion until you complete 1 rep of each exercise.
1A) KB or DB Swings (6 reps down to 1 rep)
1B) Spiderman Pushups or Regular Pushups (6 down to 1)
1C) Total Body Extensions (6 down to 1)



==> Get 51 more finishers here
And NEVER forget these Kick-Butt Mindset Tips to motivate you on tough days and through the weekend:
"If you want to accomplish anything, get out of your comfort zone." – Kekich Credo #1
"Whether you think that you can, or that you can't, you are usually right." – Henry Ford
"There is no try, young Skywalker. Do or do not do. Start NOW." – Yoda + Craig Ballantyne Mash-up
Finish your Easter chocolate with Metabolic Finishers from Mikey,
Craig Ballantyne, CTT
Certified Turbulence Trainer