The Best Diet News About Meal Frequency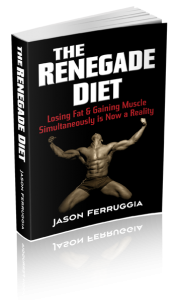 Back in 2001 I was dating this really cool girl who didn't care one bit about working out or eating obsessively, like most of her friends. One day she asked me, "Why do some girls just eat these little tiny snacks all day long? I'd rather just eat two hearty meals
each day."
At the time, I was deep into the bodybuilding culture, but her 'naive' look on nutrition got me thinking, as beginners often do with their fresh take on 'commonly accepted behaviors'.
So I spent some time tracking down research studies, and I went on to write my first article on the #Truth About Meal Frequency…all the way back in 2001. But before you read that, I have great news for you.
If you're sick and tired of preparing six meals per day – and worse, cleaning up from six meals per day – then you're going to love Jay Ferruggia's Renegade Diet. (Sale ends today, by the way.)
Let's look at the facts, shall we?
According to the NY Times, "One study, published in 2009 in The British Journal of Nutrition (2010 Apr;103(8):1098-101) involved groups of overweight men and women who were randomly assigned to very strict low-calorie diets and followed for eight weeks.
"Each subject consumed the same number of calories per day, but one group took in three meals a day and the other six. Both groups lost significant and equivalent amounts of weight. There was no difference between them in fat loss, appetite control or measurements of hormones that signal hunger and satiety."
That's PROOF that you don't have to slave away, preparing and cleaning up from 6 meals per day.
Not that there's anything "wrong with that", as Jerry and George  used to say on Seinfeld…
…however, its NOT necessary. It's NOT essential. It's NOT mandatory.
You can lose fat, build muscle, and save time by eating fewer meals per day…
…and in many cases, you'll have less stress.
Plus, some folks OVER-eat when they try to use a 6-meal per day system. After all, if you're a women eating '6 meals per day' but only consuming 1500 calories, that's an annoying amount of  250 calorie meals.
I mean seriously, who eats 250 calories per meal.
That's just awful to even think about.
So here, check out what Jay says about eating less, but eating MORE each time you do eat. Having real meals, and getting REAL results.
Stop eating 6 meals per day and start losing fat with this diet

But hurry, the price increases tonight at midnight.
Jay has always been my #1 go to guy for heavy lifting info, and now he's becoming a great source of fat loss nutrition advice for TT users.
Let me know about your success with his plan,
Craig Ballantyne, CTT
Certified Turbulence Trainer
PS – Of course, for those who love heavy lifting, Jay is NOT
letting us down.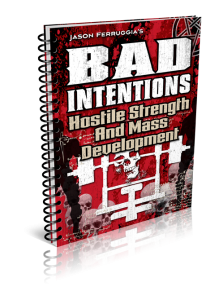 He's adding a special bonus workout to go with everyone who
gets his new nutrition plan before the end of the weekend.

Lose fat and gain muscle with Jay's simple diet
And get hooked up with his training bonus this weekend only.
This special offer EXPIRES at midnight tonight.