Your Done-for-You Fat Burning Weekend Menu & Grocery List: Plus 4 Delectable Recipes!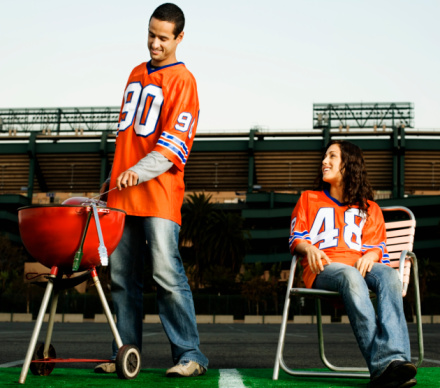 Autumn weekends are made for BBQ's, tailgating, dinner parties and dining out in the beautiful weather. Along with good company, all sorts of foods and drinks can be found that wreak havoc on your health and fitness goals.
But you can have fun this weekend, eat good food, enjoy good company AND stick to your (diet). Just follow my simple guide. I've even made a meal plan and grocery list for you!
MENUS
Friday Night:
•Fresh Margarita (tequila, fresh lime juice, agave, club soda)
•Spicy Mahi Mahi Tacos*
Saturday: 
•Veggie omelet
•Turkey & bell pepper stacks (turkey, kale & hummus on bell pepper)
•Bison burgers with sweet potato fries*
•Lemon and Rosemary infused water
Sunday:  
•Protein Pancakes*
•Egg & Veggie Salad (hard-boiled eggs, chopped veggies, hummus,
seasonings)
•Crock Pot Spaghetti Squash & Meatballs with Italian Salad*
•Glass of red wine
                             GROCERY LIST
Produce:                                        Protein:
•Limes                                              •Eggs
•Lemon                                            •Mahi Mahi
•Broccoli or Cabbage                      •Turkey deli (slices)
slaw (not dressed)                           •Bison (ground)
•Bell Pepper                                     •Turkey (ground)
•Cilantro
•Rosemary                                           Dairy:
•Spinach                                             •Cottage cheese
•Mushrooms (button)                     •Plain Greek yogurt
•Sweet potato                                    •Parmesan cheese
•Spaghetti Squash
•Carrots                                                 Grains:
•Celery                                                  •Corn tortillas
•Broccoli                                               •Ezekiel hamburger buns
•Tomato                                                •Rolled oats
Spices, Pantry, Etc.
•Cumin                   •Italian seasoning
•Chili powder        •Red wine vinegar
•Sea salt                 •Olive oil
•Black pepper       •Marinara
•Garlic powder
 RECIPES:
Spicy Mahi Mahi Tacos         Makes: 6 servings
12 oz. Mahi Mahi
1 package broccoli or cabbage slaw
1 red bell pepper, thinly sliced
1 handful fresh cilantro, chopped
1 lime, juiced
2-3 tbsp. olive oil
½ tbsp. ground cumin
½ tbsp. chili powder
¼ tsp. garlic powder
½ tsp. sea salt
½ tsp. ground black pepper
6 Corn tortillas, warmed
In a large bowl, combine slaw, bell pepper and cilantro. In a separate bowl, mix lime juice, olive oil and spices. Pour over slaw mixture and toss to incorporate well.
Season the fish with sea salt, black pepper, cumin, and garlic powder. Drizzle with olive oil and bake for 10-15 minutes at 350 degrees or until fish flakes easily with a fork.
Fill each corn tortilla with 2 oz. fish with ¼ cup slaw.
Bison Burger              Makes: 4 servings
¼ lb. bison patty (1 lb. package makes 4 burgers)
Ezekiel bun or lettuce cups
Sea salt
Garlic powder
Onion powder
Black pepper
Form the burger patty and season to taste.
Grill on med high heat for 3-4 mins each side then remove from grill & cover with foil so it can rest & redistribute juices.
Top with your favorite burger toppings on a toasted bun or in fresh lettuce cups.
Roasted Sweet Potato Fries Makes: 4 servings
1 medium sweet potato, washed, sliced into strips equal in size & length
1 tbsp. olive oil
1 tsp. sea salt
½ tsp. garlic powder
½ tsp. black pepper
Preheat oven to 425.
Mix oil, salt, garlic powder, and black pepper.
Place sweet potato fries in a large glass baking dish coated with cooking spray. Drizzle seasoned oil mixture over veggies & toss to coat.
Roast 10 minutes then toss veggies.
Roast another 5-10 mins or until desired degree of doneness.
Protein Pancakes                  Makes: 2 servings
½ cup rolled oats
½ cup cottage cheese
½ cup egg whites (3-4 eggs)
½ tsp. ground cinnamon
½ tsp. vanilla
sprinkle of sea salt to taste
Blend all ingredients in a blender until smooth. On a hot, greased griddle pour batter into 2-3 inches pancakes. Cook 1-2 minutes per side or until desired degree of doneness.
Crock Pot Spaghetti Squash & Meatballs   Makes: 4-6 servings
1 medium spaghetti squash.
1 lb. ground Italian sausage or turkey
1-2 jars Hot Sicilian Marinara (or your favorite marinara)
2 tbsp. of hot pepper relish (optional)
4 to 6 cloves of garlic, whole
2 tbsp of olive oil
Italian seasoning (Oregano, Basil, Thyme) to taste (I used 2 tsp.)
Make sure you use a large 6-quart slow cooker for this recipe. Add marinara sauce, olive oil, garlic, hot pepper relish and Italian seasoning into your slow cooker and stir well.
Cut squash in half and scoop out the seeds. Place 2 squash halves face down into your slow cooker.
Roll ground sausage/turkey into meatballs, then fit as many as you can in the sauce around the squash. Add extra sauce to cover if need. Cook on High for 3 hours or cook on low for 5 hours.
Use a large fork to pull the "spaghetti" out of your squash
Top with meatballs and sauce. Garnish with fresh parsley or basil
Italian Salad                                    Makes: 4-6 servings 
Make the dressing first:
1 tbsp. red wine vinegar
1 tbsp. extra virgin olive oil
Sea salt & pepper to taste
Dried Italian seasoning to taste (be generous!)
In a large bowl combine 1 cup each: broccoli, tomato, bell pepper, zucchini, carrots, and button mushrooms. Plus ¼ cup each: Pepperoncini, black olives, and pine nuts. Add dressing & toss to coat. Let it "marinate" for 20 minutes or more.
Serve over mixed greens or spinach.
Top with cooked chicken, shrimp or salmon.
Have a Fabulous, Nourishing Weekend!