Super-Powered Green Soup (Recipe Inside)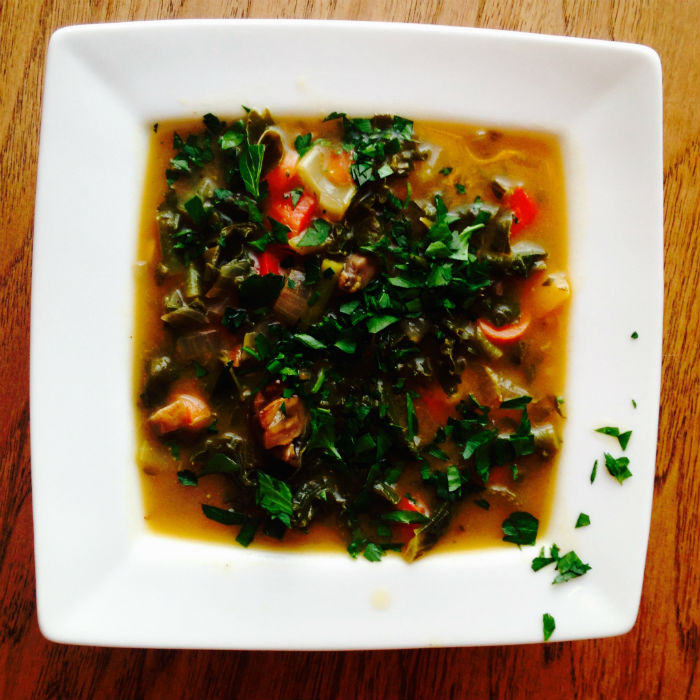 Ok, I admit it… Though I really love cooking super-healthy, delicious meals I also need them to be super quick!  
However, some things are totally worth the extra time. Like my Homemade Vegetable Broth that creates the foundation for my Super Greens Soup. Even though it would save time, it just wouldn't be the same if I used a store-bought broth.  
There's something soul-nourishing about taking time to develop the complexity and rich flavors of a homemade broth.
It actually has super healing powers even the characters of Marvel would envy! (I know because my boyfriend's 9-year-old son has thoroughly educated me on the subject!)
By choosing the ingredients that go into your body with care and pouring your energy into the cooking process, you can transform ingredients into miraculous immune-boosting, tissue-healing, and heart-warming meals.
And let's be honest, allowing a broth to simmer on the stove for 60 minutes isn't exactly back-breaking work — in fact, the time it takes to release vital minerals and develop delicate flavors may just be the opportunity you've been seeking to slow down, dive into a good book or snuggle up on the couch for some relaxation and reflection.
(If you're really strapped for time, you can create a homemade broth in your slow cooker and, voila! Time issue solved!)
Vegetable broth is delightfully versatile, yielding many different flavor profiles based on the ingredients incorporated. Most vegetable broths begin with a base of onions, garlic, celery, and carrots. Additions such as mushrooms and leeks only add to the incredible healing properties, crafting broths that offer:  
An easily absorbable form of an array of nutrients and minerals

Gut-healing effects from quercetin found in onions

Immune-boosting benefits known to mushrooms

Anti-bacterial, anti-microbial, anti-candida, and anti-cancer properties of garlic

A rich source of prebiotics that support the growth of healthy bacteria in the large intestine
[sc:mealplan-free ]
How to Make The Best Vegetable Broth
Follow these simple tips to help guide your broth to perfection!  
What To Do:  
Begin with the base ingredients: onion, celery, garlic, and carrot.

Add fresh herbs: parsley, bay leaf, thyme, or rosemary.

Incorporate layers of flavor: leeks, mushrooms, zucchini, asparagus, fennel, chard, or bell peppers.

Add the Umami flavor:

(it's one of five basic tastes — sweet, salty, sour, bitter, and umami)

found in sea vegetables, soy, mushrooms, or sun-ripened tomatoes.
What To Avoid:
Vegetables from the Brassica family: broccoli, cauliflower, cabbage, kale, rutabaga, and turnips, along with artichokes (these are too strongly flavored and can taste bitter).

Potatoes will absorb flavor rather than add to it.

The outer leaves of celery — use the inner leaves which aren't as bitter.
Making the broth is actually quite easy. A little love goes a long way — prepare the vegetables then sauté them in your stock pot before you add any liquid — you'll gain a richness and complexity that is simply divine.
Here are 8 Steps to Make Homemade Vegetable Broth:
Chop veggies into ½-1 inch pieces to maximize surface area.

Brown veggies in your stock pot before adding herbs and water to bring out sweetness and unlock flavors.

Add cold water to the pot, allowing it to warm over time — different flavors are extracted at different temperatures.

Keep the heat on medium and allow the broth to come to a boil slowly.

Once broth is boiling, immediately reduce heat to a simmer to avoid damaging the delicate flavors (if using kombu strips, add them now).

Do NOT stir the pot — seriously, go read your book!

Simmer for

no more than

90 minutes to avoid vegetables getting mushy and disintegrating.

Allow the broth to cool, then pour through a mesh strainer or coffee filter to get a clear smooth broth. Store in glass jars.  
And now, for the super-healing recipe of my Super Greens Soup! Put it on the menu for this weekend and you'll have a very happy family.  
[sc:WOTD-fatburning ]
Super Greens Soup
Prep time: 20 minutes  |  Cook time: up to 1 hour | Yield 8-10 servings
Ingredients:
2 cups each:

Chopped onion
                                  Chopped celery
                                  Chopped carrots
                                  Sliced mushrooms
2-3 cloves garlic, minced

1 tsp sea salt

½ teaspoon black pepper

½ cup minced fresh parsley

½ cup minced fresh sage

1 bay leaf

1-2 dried kombu (sea vegetable) strips — if not already used in homemade broth

4 liters of Homemade Vegetable Broth, room temperature (see 8 steps above)

2 cups curly kale, torn

2 cups Swiss chard, torn

zest of one lemon
Preparation:
In a large stockpot, add 1 tablespoon olive or coconut oil to medium heat.

Add chopped onion, celery, carrots, and mushrooms. Sauté vegetables until tender, about 5-7 minutes.

Add garlic, sea salt, and black pepper. Incorporate well stirring for 1 minute.

Add parsley, sage, bay leaf, and kombu strips (if using.)

Pour Homemade Vegetable Broth over the vegetables and herbs. 

Increase heat, bringing soup to a gentle boil then reduce to a simmer. Simmer for at least 30 minutes up to 1 hour, stirring occasionally.
Add kale and Swiss chard the last five minutes of cooking. Stir in lemon zest just before serving. Enjoy!
[sc:MKSMorningFatBurningTrick ]