"SOUPer" Immunity-Boosting Recipe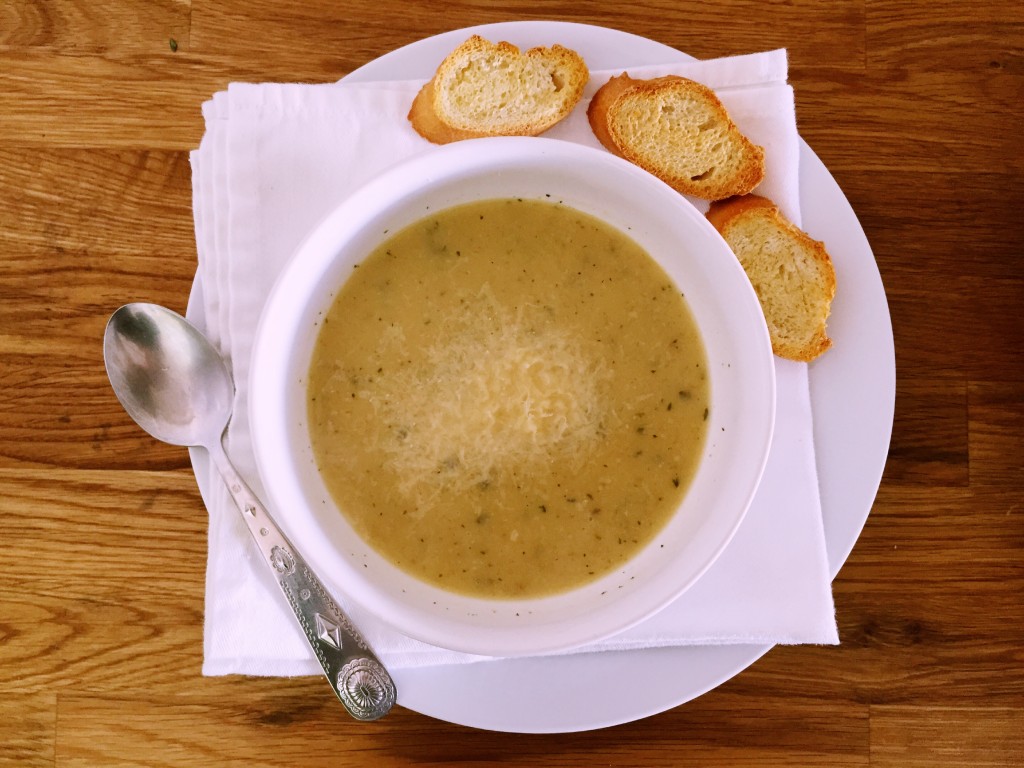 What's a girl to do with a sick chef husband? Make him a super immunity-boosting soup, of course! OK, I admit it. I stole this recipe from his mama who lives in France. But I knew it would warm his heart and soothe his soul.
Not to mention, every ingredient enhances immunity. Garlic is an elixir for good health, and a natural antibiotic so powerful that it was used to prevent gangrene in both world wars. Thyme and onions also have antibacterial properties.
And don't worry… Your sweetheart will still be nose-friendly after having this. Eating cooked garlic vs. eating it raw leaves a much less pungent aroma.
[sc:EMBM_12foods ]
I am NOT a chef; I'm a nurse practitioner. But I believe that I rocked this one! And you can, too if you just follow these simple directions.
Roasted Garlic Soup
Prep time: 25 minutes | Cook time: 70 minutes | Yield: 4 servings
Ingredients:

•25 unpeeled garlic cloves
•18 peeled garlic cloves
•2 tbsps extra virgin olive oil
•2 tbsps butter
•2 cups sliced onions
•3 ½ cups chicken broth
•2 tsps fresh thyme leaves
•½ cup finely grated Parmesan cheese
•Salt and pepper to taste
[sc:mealplan-free ]
Preparation:
Preheat oven to 350 degrees F. Place 25 unpeeled garlic cloves in a small baking dish.
Toss with 2 tablespoons of extra virgin olive oil and sprinkle with salt and pepper. Cover and bake for about 45 minutes, until the garlic is golden brown and tender.
Cool down. Squeeze the cloves with your fingers and the garlic should slide out. Transfer them to a small bowl.
Next, melt the butter in a large saucepan over low-medium heat. Butter burns easily so don't let it get too hot. Add onions and thyme and cook until the onions are translucent, about 5 minutes.
Add the roasted garlic and the 18 peeled garlic cloves and cook for 3 minutes. Add the chicken stock and cover and simmer for about 20 minutes, until the garlic is very tender.
Put in a blender and blend until smooth. Season with salt and pepper until desired.
Divide the Parmesan cheese among 4 bowls and fill with soup. Serve with toasted baguette slices if desired.
Enjoy!