5 Minute Cardio and Abs with 8 Unique Exercises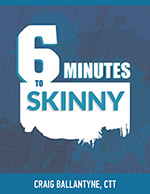 Here's the CURE for any weekend diet disasters or attacks of the low-energy Monday mornings you might be dealing with…In this fun 5-minute session, you're going to hit a New-School Cardio and Abs workout.
Of course, you won't be doing any silly crunches or dangerous sit-ups, or using any expensive, but useless elliptical machines. Here's the plan:
5-Minute Fat Burning Cardio & Abs
1) Total Body Extension – 30 seconds
2) Mountain Climber – 30 seconds
3) Rocking Plank – 30 seconds
4) Spiderman Climb Pushup (alternating sides) – 30 seconds
5) Swing Lunges – 30 seconds per leg (quad burner!)
6) Side Plank with Leg Raise – 30 seconds per side
7) X-Body Mountain Climber – 30 seconds per side
8) Burpees – 30 seconds
Done! 5 minutes of fat burning and belly flattening fun.
Click here for more 4-Minute Cardio and Abs exercises
You'll follow that up with one of our fat burning shakes (recipes here) and then you can get on with your busy – and high-energy – Monday.
Make sure to use a different workout on the other exercise days of your week.
You'll get results like these with my program:
"I lost 8 pounds in 12 weeks with Craig's program. Really enjoyed it. I'm really happy with the fat loss (5-6%). My starting weight was 162 lbs and my ending weight was 154 lbs while maintaining my muscle." – Jim Talbert
"I have been doing the home workout revolution since the beginning of July (and have lost 21lbs) and feeling great!" – Abby Miller
"Watching the videos is like getting a personal trainer to come to my home 3 times a week, to help me work out and motivate me to keep going! So far, I've lost 3 pounds." – Michelle Hayes
"I am into my 2nd week of performing the exercises and I already have some definition in my thighs and abs. I lost 4lbs last week too." – Anne Marie
"These bodyweight exercises are GREAT for traveling as well. No more excuses to skip workouts or to stay in shape during vacations, especially to places where free weights are not readily available. Thanks!" – Elle Donato
So what are you waiting for?
Get Abs in Just a FEW Minutes in the Morning
And the success keeps on coming…
"On week 4 and loving it. I can feel myself getting stronger and love how efficient it is. Your eating advice while traveling was really helpful too, and the workouts were perfect for doing in a hotel room. Thanks and look forward to continuing!" – Liza Van Cauwenberghe
"I absolutely LOVE the efficiency and endless progression your workouts provide. I consider myself advanced and your cues and form reminders are absolutely invaluable! The make every workout effective, productive, and amazingly efficient! I am a 43 year old mother of two and I don't have time to waste time! Thank you so much for your research and development of such an amazing system/product! I look forward to future workouts and advancements from you ;)" – Rina Schneider
"I just wanted to say I completed the beginner section and I am greatly enjoying the workouts. I like the fact that the workouts are short but they are not easy and I am already getting compliments on my weight loss. Thanks Craig for a very effective program." – Chris Cox
'The videos have really helped and the short nature of the workouts helps my schedule. I have two kids, 4 and 2 who wear me out. I have incorporated many of your routines to maximize my workout. I love it. Keep up the good work Craig; I enjoy your positive and enthusiastic attitude in your materials." – Ronny Redd
Happy to help,
Craig Ballantyne, CTT
Certified Turbulence Trainer
PS – This is one of my favorite success stories…
"Hey, just wanted to let you know that after six months of joy riding through Southeast Asia, I've arrived in New Zealand leaner than when I left Canada. As anyone who has traveled that corner of the world can tell you, there are many things you need to ingest that aren't ideal from a nutrition standpoint. From grasshoppers to spectacular curries to the odd party "bucket", loaded with booze and Red Bull – and the sugar that goes with it. However, by using your bodyweight routines a couple of times a week, and eating lots of the fresh and varied produce in the markets, I actually arrived in New Zealand in better shape than when I left Canada. The workouts are a great challenge, and convenient enough to do anywhere – including hotel rooms. I also found your emails a useful touchstone to remind me that while taking a vacation from work, I didn't need to stop all of the easy and useful habits that go along with the TT Lifestyle. Thanks again Craig." – Patrick O'Reill y