4-Minute Bodyweight Workout from Europe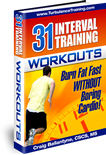 Hey, it's Craig Ballantyne here, creator of 6-Minutes to Skinny, the Home Workout Revolution program, and the classic fat burning program, Turbulence Training.
I've left my good buddy, ol' Bally the Dog, back on the Ballantyne farm in Canada and I've trekked thousands of miles to Lithuania for my annual trip to Europe.
I love it here and will be visiting Rome and Prague next week…but for now, I'm teaching bodyweight bootcamp workouts to college-aged kids from all over the world.
It's a blast! And we just did an incredible workout I want to share with you. This one is so simple that I was able to do it in a shower room this morning at the Frankfurt Airport. I had a few hours between flights and wanted to get moving, just like you do each morning.
Here's what we did.
1) Bodyweight Squats – 1 minute
2) Pushups – 1 minute (hold a push-up plank if you tire out)
3) Total Body Extensions – 1 minute
4) Mountain Climbers – 1 minute
I stopped there because I only had a limited time to use the shower room and didn't want to seem "weird" by being in there for 20 minutes – ha!
But you can rest 1 minute and repeat 2 more times for a bigger challenge.
The kids loved this workout when I showed it to them at the camp, too.
Here's another one of my fat-burning systems that we'll be using:
31 Fat Burning Interval Workouts
If you are still using cardio to try and lose weight, then STOP right now and click on the link above to get 31 proven workouts that are far superior to slow, boring, ineffective cardio or aerobics.
Helping you get results fast,
Craig Ballantyne, CTT
Certified Turbulence Trainer
PS – If you are still struggling with nutrition…
…you need to read this free meal plan program from my good friend and go-to fat loss nutrition expert, Isabel De Los Rios.
Click here to get your FREE meal plan for fat loss
You'll burn belly fat and tone up your trouble spots fast with this lil' workout and those free meal plans.
Enjoy!
And I'll be back EVERY Monday with a brand new free workout for you.
PPS – If you've never met…
…Bally the Dog, here he is! He's friendlier in person that he looks in this pic.