3 SuperCharged Bodyweight Exercise Tips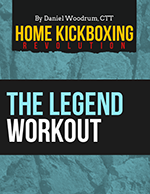 I've worked out in some strange places this year, but the strangest has to be…
…the large bathroom in the SAS Lounge at the Copenhagen Airport. That's where, last month on my way to Lithuania, I did a 4-Minute Total Body Extension Punisher workout after sitting for 12 hours on a plane.
I just needed to move!
It also proved a point…that you can get an amazing conditioning – and pretty darn good fat burning – workout anywhere and in just a few minutes. You do NOT need equipment, especially if you use these 3 advanced bodyweight exercise tips from Certified Turbulence Trainer, Dani Woodrum:
Dani's Tip #1) Use Bodyweight Density Training
To fight stubborn belly fat, you need to increase your training density (the amount of work you do in a short time) by using my SuperCharged bodyweight circuit training technique.
But there's a BIG difference between my Density Training and other types of circuit training. With my SuperCharged System, you will focus on doing as many reps as you can within a certain time period for the first set.
Then, you will INCREASE the number of reps you do for the second set.
That's SUPERCHARGES your results! (Or as Craig would say for some strange reason, "SuperChargez")
By using my unique Density Training SuperCharged System, you'll burn more calories and more belly fat so that you'll get a beach body faster than you ever have in the past with any other diet or exercise program.
(The SuperCharge System Secret is in the fat burning hormonal response to density training!)
Dani's Tip #2) Multiply Your Results with Hybrid Bodyweight Combos
Take, for example, the Squat – The "King" of Exercises. Well, we can SuperCharge it, too.
While the squat hits the lower body, it lacks targeting the upper body muscles. So what if we added an upper body movement with the squat?
The "Squat to Punch" is a perfect exercise combination that works the entire body. We now have an incredible full body exercise that is going toburn MORE calories and CUT training time.
That's what's we call "getting the most bang for your buck" down here in Charleston!
Dani's Tip #3) SuperCharge Your Burpees!
How? With my trademarked Burpee/Front Kick Combo. You've never seen this before!
The burpee is one of the most effective conditioning exercises because it is truly a full body move. It will get your heart pounding while working your chest, arms, deltoids, thighs, hamstrings, and abs. The burpee is a fat burning machine!
But I SuperCharged it by adding a Front Kick combo at the end to make it the ultimate fat burning finisher exercise. If you are looking to melt stubborn belly fat so that you are SuperLean for the final few weeks of the summer, the burpee/front kick combo is the perfect choice!
Those are just 3 of my SuperCharged bodyweight conditioning exercise secrets that dramatically boost the belly fat burning hormones in your body, while giving you more energy, and a hot body, too.
Not only will these exercises blast fat and build lean muscle, but you'll significantly improve your life outside of the gym too, thanks to the increased confidence you'll have from these self-defense movements.
My SuperCharged workouts can be done anywhere with ZERO equipment.
I wanted to eliminate all of the obstacles that prevented you from getting super fit, no matter how busy you are. My SuperCharged System will completely transform your body in just a few weeks.
***
Thanks Dani, awesome ideas. That's why Dani was a finalist for TT Trainer of the Year!
Try Dani's SuperCharged Home Bodyweight Workouts Here
I'm really proud of the program and energy that Dani has brought to the Turbulence Training World. It's going to change lives and transform thousands of bodies.
Let me know what you think of his SuperCharged System,
Craig Ballantyne, CTT
Certified Turbulence Trainer