2-Minute Interval Training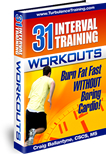 Today's workout will be a long one for me.
First, I drove to the airport. Now I'm sitting around for 2 hours. Then there's the five hour flight to California, followed by sitting in LA traffic. After that, meetings, more traffic, and dinner. Too much sitting, not enough moving.
Fortunately, I discovered a new research study (during my weekly Sunday science journal review) that shows us how to get the fitness benefits of interval training in just 2 minutes. And I used this new research to do a pretty darn cool workout this morning before heading to the airport.
Here's another Excuse-Busting Exclusive that you'll only hear about from Turbulence Training.
After all, according to new Swedish research our fitness levels decrease 8% per decade without proper training. (Ref: Edvardsen, E., et al. Values for Cardio Fitness in a 20-85-year-old Population. Chest, January 2013.)
As you also know, intervals are superior to slow cardio for fat loss, and is just as good at increasing your fitness levels (as are bodyweight workouts). "Research has shown that high-intensity interval training can burn 15 to 20 percent more calories than a moderate, steady workout of the same duration," says Cedric Bryant, chief science officer for the American Council on Exercise.
That's why we get more results in less time with intervals. A new study, from researchers at the Universities of Leeds, Glasgow, and Cambridge, shows us a faster way to get fit. Here's what they studied:
Group A: 4 intervals of 30 seconds with 4.5 minutes rest between each
Group B: 1 interval of 2-minutes straight, no rest
Group B tried to maintain the intensity of the short intervals for 2 minutes. Eventually they got tired and slowed down, but they kept going.
Results showed the SAME health benefits from doing the single interval. (Ref: Whytea, L.J., et al. Effects of single bout of high-intensity exercise on metabolic health in overweight sedentary men. Metabolism: 62: 212, 2013.)
That saves a lot of time.
So here's what I did this morning…usually when I have travel days like this, I'll run some hills by my townhouse in Toronto. But today I tried one long hill run of 2 minutes straight. Fortunately, I live in a very hilly part of "Hogtown" (as Toronto is known). And while these aren't San Francisco-level hills, they can be steep and long, so a street nearby me offered the perfect challenge.
After an indoor warm-up, I walked out into the dark of night, with the temperature just above freezing. It was dry and clear, and I ran hard for 2 minutes up the hill. Done. Walked inside, puttered around the house doing some packing for a few minutes as a cool-down, and that was it.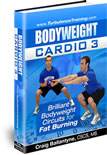 Get 31 more Interval Training Workouts here
Now I'm ready for lots of sitting, and some random walking in the airport.
Tomorrow I'll do a TT Meathead weights workout with my good friends Jason Ferruggia and Adam Bornstein.
More details on that workout next week,
Craig Ballantyne, CTT
Certified Turbulence Trainer
PS – The intervals sale ends…
…in just a few hours.
Grab all those interval methods for faster fitness here:
www.turbulencetraining.com/31intervalsdeal
Have a great weekend!