10 Minute Workout Challenges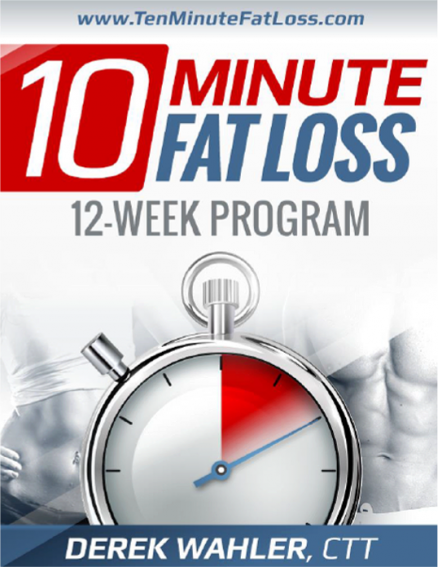 On Saturday morning I set a new personal record by doing 105 pullups in a workout (in sets of 5-10 and supersetted with squats and pushups). I also did a 10-minute burpee challenge (see below).
The workout was powered by 3 teaspoons of cacao nibs (little caffeine boost from a unique superfood) and a banana taco.
A what taco?
Ah yes, my infamous banana taco recipe. it goes like this.
A banana taco is a banana and cashew butter in a coconut wrap (from JulianBakery.com). It's somewhat like a riddle, wrapped in a mystery, inside an enigma.
Anyways…It takes less than 3 minutes to make and about 1 minute to eat. We're all about efficiency today, and that's why I'm giving you some 10-Minute Workout Challenges to start the week.
#1) The Squat-Pushup 250-Rep Challenge
1A) Bodyweight Squats – 30 reps
1B) Pushups – 20 reps
– Go back and forth with as little rest as possible.
– Aim for 5 sets in 10 minutes for a total of 250 reps.
– Use ANY style of squat and pushup you prefer.
– The last rounds sure are tough! Beat the clock if you can.
#2) The 10 Minute 75-Rep Burpee Challenge
1) 10 Burpees Every Minute on the Minute (if you can)
I couldn't keep up that pace, but I did 75 burpees in 10 minutes. Let me know if you can hit the full 100!
NOTE: Beginners MUST use Total Body Extensions instead.
Train SMART and SAFE!
Finally…
#3) A Classic Workout video for you (free)
Here's a 10-minute CLASSIC bodyweight fat burner for you…enjoy this free workout video
Ten minutes in the morning to win your day,
Craig Ballantyne, CTT
Certified Turbulence Trainer
PS – Monday motivation…
Whatever is in your way, you're stronger than it, you're tougher than it, and you're better than it. You're going to beat it. Truly believe in yourself.
You must end the "I'll give this a try" mindset, and switch to an, "I'm going to succeed" belief. You can do it. Stay strong and never give up on what is important to you. Plan ahead for tonight, Saturday, and Sunday's obstacles now so that you have solutions to all of your temptations.
Have an amazing week!
PPS – If you lack motivation, read this…
It's the tips YOU gave me when I was struggling with motivation last week.