10 Minute No Equipment Surprise Bodyweight Workout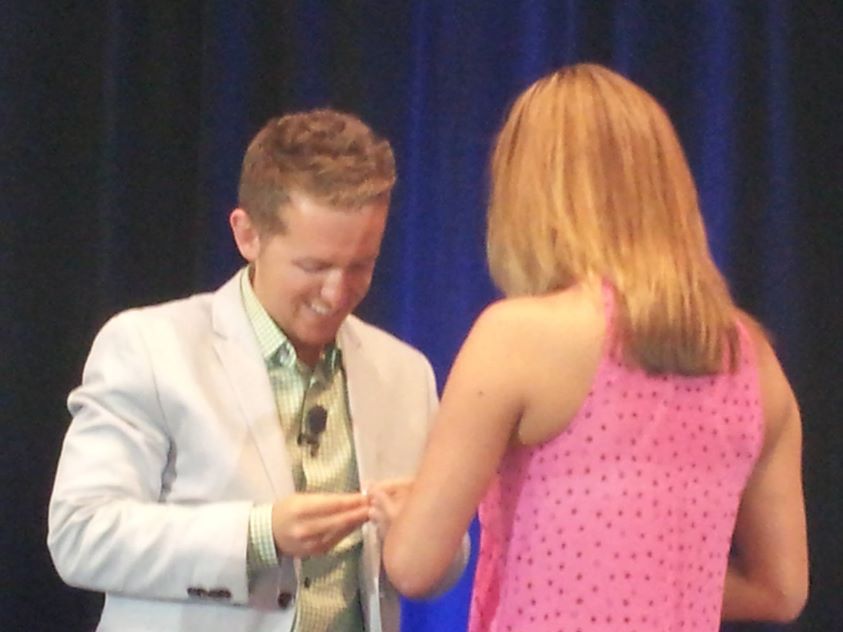 NO ONE expected this surprise. The crowd gasped. The men cheered, the ladies teared up, and everyone grabbed their phones to take photos.
This was an amazing moment at the 4th Turbulence Training Fitness Summit as young Brian Kalakay surprised his girlfriend (now fiance!) Kristen by proposing on-stage. What a huge surprise and just one of the fantastic memories from the weekend down here in San Diego.
(Click on the photo to post your best wishes on the TT FB page!)
It was really, really great. Maybe next year, at TT Summit 2015, ol' Bally the Dog can get his
Minister's license on the Internet and marry them! Ha!
Until then, let's get in wedding shape with this 10-minute no-equipment fat burning circuit that I put TT Summit attendees through on Friday morning.
10-Minute No-Equipment Circuit
1) #1 Pushup – 30 seconds
2) Prisoner Split Squat or Bulgarian Split Squat – 30 seconds per side
3) #2 Pushup – 30 seconds
4) Jumping Jacks – 30 seconds
5) Plank-to-Triceps Extensions – 30 seconds
6) Total Body Extension – 30 seconds
In this circuit, here's what you'll do.
1) Choose a "#1 Pushup". This is the toughest pushup that you can do for 30 seconds with great form, getting close to failure at the end of 30 seconds.
2) Do NOT rest between exercises.
3) Choose a "#2 Pushup". This is an easier pushup than #1 that you can still do for 30 seconds with great form.
4) The Plank-to-Triceps Extension is one of the unique exercises I have on video here.
5) Rest 1-minute at the end of the circuit.
6) Repeat the circuit one more time. (Workout takes less than 10 minutes!)
If you liked this workout, then you'll love the unique bodyweight exercises and circuits in this fat burning workout:
Bodyweight only fat loss workouts to get skinny
No need for equipment to burn belly fat,
Craig Ballantyne, CTT
Certified Turbulence Trainer
PS – Too long?
Then you must be super busy!