10 Minute Metabolic Booster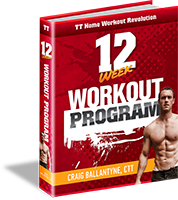 You are going to love this workout and FUNNY interval story today.
Let's get you started with a NO-equipment bodyweight-only workout to keep the fat burning all day long. I tested this one first thing Saturday morning after an eventful walk with ol' Bally the Dog, my chocolate lab.
10-Minute Metabolism Booster – aka "Metabolic Treasure"
1) Cross-Body Mountain Climbers (or Plank) – 30 seconds
2) Total Body Extensions – 2 x 20 seconds + 10 seconds rest
3) Pushups (or hold Push-up Plank) – 50 seconds + 10 seconds rest
4) Prisoner Squat Jumps or Prisoner Squats – 20 seconds + 10 seconds rest
5) Bear Crawl or Mountain Climbers – 30 seconds
6) Prisoner Reverse Lunges (alternating) – 60 seconds
– Rest 30 seconds and repeat 1 more time
Following the circuit I did a WEIRD interval.
I blame ol' Bally the Dog (even though it was my fault).
Before doing the 10-Minute Metabolism Booster, Bally and I went for his normal walk. That also meant he went for his normal poop. But I did not bring a bag! We had no choice but to leave a little "treasure" on the ground…
…until after the workout when I sprinted around the block, picked up the "Bally Treasure", and then sprinted down the street with it (waving at all the neighbors out walking their dogs – ha!), dropped off the treasure in the garbage, and sprinted home. Time = 8 minutes. I was whooped.
Please don't call the poop police on me! I swear I picked it up – eventually.
After the interval I added in a leisurely bike ride around the Avon River in my hometown of Stratford, Ontario, and spent the rest of a beautiful summer Saturday reading, visiting with neighbors, and grilling delicious steak.
By the way, I also made a really odd, but delicious Gluten-Free cereal for post-workout breakfast. Here's what it was…
The "cereal" was:
– 3 oz walnuts
– 1/2 cup blueberries
And the "milk" was:
– 10oz water
– 4 ice cubes
– 2 scoops of pea protein
– 1/2 avocado
– 1/4 cup blueberries
– 1/2 cup kale (you can't taste it!)
That's just one of my weird paleo/gluten-free breakfasts that I make. I'll have a lot more nutrition info for you starting tomorrow during our 1st ever "TT Advanced Nutrition for Fat Loss" week. Stay tuned.
Until then, I hope you had a great weekend. I know your week will be fantastic because it will be boosted by that workout and the nutrition secrets that start tomorrow.
Now go and enjoy that metabolic treasure
Stay strong,
Craig Ballantyne, CTT
Certified Turbulence Trainer
PS – This week's Morning Morning Kick-Butt Mindset Tip:
"Without commitment, you cannot have depth in anything, whether it's a relationship, a business or a hobby." – Neil Strauss
So…
Step-Up. Commit to fixing the big obstacles in your life today. Make the call, do the work, pay the price. It won't fix itself. Its up to you!
Never ever give up on what is important to YOU!