10 Minute Fat Loss Workout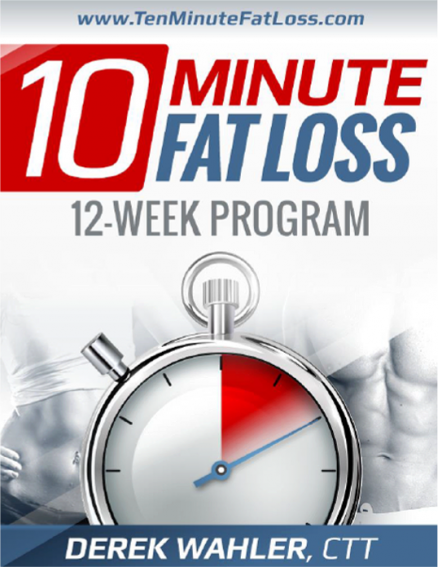 Let's cut to the chase. After all, I made you read quite a long nutrition article yesterday, and since it's Monday, you're busy. Some of you have Leprachauns to chase, while others have basketball brackets to fill out.
So let's get you your weekly Monday circuit workout. This one comes courtesy of Certified Turbulence Trainer, Derek Wahler, of beautiful Madison, Wisconsin (always one of the healthiest cities in America, as rated by Men's Health magazine).
No-Equipment 10-Minute Fat Loss Circuit Workout
    Do each exercise back to back with no rest between each.
    But take a break within the time allotted if you need to.
    Use easier exercises (regular squats, kneeling pushups, etc.) if needed
    Do not rest at the end of the circuit.
    Do the circuit 2x's for a 10-minute.
    You can do the circuit up to 4x's if you have 20 minutes.
    Finally, if you have access to a TRX, use bodyweight rows instead of Cross-Body Mountain Climbers as the 5th exercise.
1) Prisoner Punisher Squats x 2 rounds (20 seconds of squats followed by 10 a second hold in bottom position)
2) Punisher Pushups x 2 rounds (20 seconds of pushups followed by a 10 second hold in the top position)
3) Prisoner Lunges x 60 seconds (alternating legs)
4) Total Body Extensions x 60 seconds
5) Cross-Body Mountain Climbers x 60 seconds (alternating sides)
That's it.
And it gives you plenty of time to read this article by Derek Wahler, CTT:
Read how you can lose fat in just 10 minutes per workout
You'll discover…
    How an exercise physiologist from the University of Virginia discovered the magical exercise SPARK of 10 minute workouts
    The power of High-Intensity Density Training (HIDT)
    Why longer workouts do NOT mean better workouts
Enjoy your Monday workout.
I'll be sending you a new free circuit each week.
Talk soon and make it an AMAZING week. And remember…
Never quit. If you stumble, get back up. What happened yesterday no longer matters. Today is another day, so get back on track to your goals.
Stay strong my friend,
Craig Ballantyne, CTT
Certified Turbulence Trainer
PS – Derek is…
…another member of our growing Certified Turbulence Trainer family, and I'm really proud of all the action he's taken in the last year. When I first met him, Derek worked in the IT world. But now he's turned his passion into his career, and runs a fitness bootcamp in Madison.
Thanks to Derek, and other Go-Giver CTT's like him, we're going to achieve my 10 Million Transformation Mission, helping 10
Million Men and Women from all over the world to transform their lives.
If you want to learn more about how you can be a part of the TT 10 Million Transformation Mission, watch my video story here. Thank you!