10 Minute Circuit Workout for Women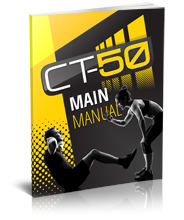 Saturday morning rocked. After an amazing superfoodz breakfast, I did three different 10-minute circuits for the new TT for Women monthly workout.
These workouts are strong enough for a man, but slightly specialized for a woman. To make a "female" workout, you'll do more bodyweight exercises, fewer sets per exercise (but more exercises), and more total body ab exercises. These little shifts guarantee that you put curves in ALL the right spots. And I'm an expert in where all those right spots are, BTW.
This workout rocked, according to two experts that reviewed it (Okay, it was me and my dog, but hey, we loved it!) So here's a 'rough draft version' of one of the three circuits I did (the final versions going in the manual are harder and better, of course).
10-Minute Circuit Strong Enough For a Man But Made for a Woman
    Do all exercises for 30 seconds.
    Do not rest between exercises.
    Repeat the circuit 2 times for a total of 10 minutes.
If you want, rest one minute at the end of the 2nd circuit and repeat two more times for a 21 minute workout.
Alright, here are the awesome "garage-gym" exercises…
    Prisoner Squat
    Toughest Pushup You Can Do
    Prisoner Lunge
    DB Chest-Supported Row or DB Rear-Delt Raise
    Slam Ball Slams or Total Body Extension
    KB Deadlift or Dumbbell Squat
    Stability Ball or TRX Mountain Climber
    Jumping Jacks
    Stability Ball or Ab Wheel Rollout
    Total Body Extension
But can you really burn fat in just 10-20 minutes?
Yes, in fact one fitness expert is claiming that Cross-Fit and Cardio are a waste of time because the workouts are too long, and that you should never exercise more than 10 minutes.
Read his controversial workout program here
By the way, YES, I got whooped by the above workout…and I'm a manly, man, man, man, as the theme song to 2-and-a-half men (kind of) goes. So yes, guys, you'll love it too. It's all about pushing yourself.
Click here for another Manly Workout Challenge
Be back tomorrow with a SURPRISE announcement,
Craig Ballantyne, CTT
Certified Turbulence Trainer
PS – Oh, about my Superfoodingz breakfast on Saturday?
Well, first, don't forget that I'm super weird.
And I have to follow a super-weird, gluten-free diet for my digestive health.
So, I enjoyed an amazingly weird breakfast bowl of:
Raw Coconut Oil (better than eating peanut butter from the jar)
Raw pecans
Raw almonds
Chia seeds
and my "secret" gluten-free replacement for breakfast cereal
I had that breakfast bowl along with a shake of:
BioTrust Whey Protein
Spinach
Blueberries
1 frozen banana
Athletic Greens
So I guess there were 10 different SuperFoodz in that meal alone. More than most folks in Mississippi eat in a month (sorry, had to pick on someone!).
Lots more supercool superfoodz nutrition content coming soon.
Until then, train like a MAN (or a hot, fit, TT-loving WOMAN) in under 20-minutes with this controversial new workout program:
Never exercise more than 20 minutes? <= article
Have an amazing week by starting with this workout.