10 Minute Belly Fat Blaster and 3 Rules of Exercise When Sick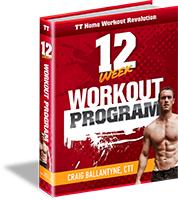 She was pretty cute, maybe a few too many tattoos for my liking, but working hard, super-setting box jumps with pulldowns. And then…
…she sneezed. On her hands. And grabbed the pulldown bar for her set.
That's gross. And just one of the main reasons you might want to consider staying out of the gym this December.
I get asked all the time, "If I'm sick, should I still go to the gym?"
Some folks just want me to say, "No, stay at home and put on When Harry Met Sally again." Others want me to give them permission to go workout, and that's better.
But the truth is…
a) If you have a cold, you can go to the gym, but do NOT spread your germs!
b) If you have the flu, STAY home!
c) And no matter what your health, always make sure you wash your hands thoroughly, with soap and water, before you go sticking your
fingers up your nose, in your mouth, or around your eyes. (Hey, we all do these things when no one's looking…I bet even Duchess Kate does!)
Those 3 rules are common sense approaches to preventing illness.
Of course, you can still burn fat, lose weight, tone up, and get back in shape without equipment all in the comfort of your own home, or in a tiny hotel room, like I often have to do while traveling.
(I spent over 113 days sleeping in hotels or guest bedrooms in 2014, and 2015 could see me DOUBLING those numbers…so I know a thing or two about using bodyweight workouts to stay fit.)
So do NOT go to the gym to use one of those disgusting cardio machines. Believe me, those things are filthier than an airport restroom. Back in 1996, when I was a personal trainer in college, our gym shut down for the holidays, and I stuck around with the maintenance guy to cleansome equipment.
We took apart a stairmaster…and it was like a scene from CSI when a rookie cop sees under the sheets in the morgue for the first time. I could barely hold my stomach together. The cardio equipment was caked in a mixture of fuzzballs, human sweat, and 'gunk'. We had to use power tools to remove it.
Gross! Just imagine all of the illnesses transferred from user to treadmill. No thanks! I'll skip the gym and do THIS instead…for example, here's a sample workout from my Home Workout Revolution NO-equipment bodyweight video workout series:
10-Minute 20-10 Calorie Blaster
1A) Prisoner Squats
1B) Close-Grip Pushups
1C) Total Body Extensions
1D) Cross-Body Mountain Climbers (alternating sides)
– Do each exercise for 20 seconds & rest 10 seconds as you go to the next.
– Go through the circuit 8 times for a total of 4 minutes of workout time.
2A) Jumping Jacks
2B) Run-in-Place
2C) Burpees
2D) Prisoner Reverse Lunges (alternating sides)
– Do each exercise for 20 seconds & rest 10 seconds as you go to the next.
– Go through the circuit 8 times for a total of 4 minutes of workout time.
3A) Pushups (or hold a Pushup Plank)
3B) Total Body Extension
– Do each exercise once for 60 seconds.
The (Brutal) End. 
You likey?
Get 51 NO-Equipment Bodyweight Workouts here (follow-along videos)
It's a lot faster, cleaner, and healthier than going to the gym. And I want to hear your success stories like these ones…
"Your workouts are fantastic: short, yet powerful. And the follow-along videos are great; they make it easy to get the workouts done without having to read a program and watch a clock yourself. Also, the customer service is second to none!!" – Brandon Dreiman
"Your workouts have really helped me with mental inspiration and overcoming the need of using weights. Thanks for workouts I can do anywhere." – Brigette Sullivan
"In one month my body has taken cuts I never knew I had! Love it, and so much more fun than the treadmill and elliptical!" – Sylvanne Migneault
"Thank you so much!!! I've become accustomed to Craig and the gang kicking my butt twenty min a day, four days a week. I've lost over twenty pounds, three inches off my waist, and I feel fantastic. My fitness levels are improving every day. Thank you, you're a life saver!"- Ryan Zamzow
"I have loved working on getting in better shape with your workouts. I love that it is short–but it actually works. Between diet and your workouts, I was able to lose 15 pounds. I still want to lose another 20+ pounds. I'll keep you posted. Thanks for the simplicity of your program. I look forward to stepping it up!" – Renee Voll
I love it. Your success stories are the best Christmas gifts ever.
Get 51 NO-Equipment Bodyweight Workouts here (follow-along videos)
Stay healthy and lose weight this December,
Craig Ballantyne, CTT
Certified Turbulence Trainer
PS – Wait…what was the 3rd reason not to go to the gym
#1 was…to avoid illness.
#2 was…to avoid dirty (and useless) cardio.
#3 is…because it's okay to take some time off so that you are ready to jump in to the 22nd TT Transformation Contest on the day after Christmas. Yep, we're starting January Fat Burning Season early. And as always, you can win up to $1000 just for losing weight with my workouts.